Entertainment
Gillian Turner, 35, Engaged! Who Is She getting Married To?
American journalist, Gillian Turner is a successful name in journalism, who has worked as the former National Security Council staff of President George W.Bush and Barack Obama. 
The famous reporter's talents might need no introduction but same is not the case for her personal life. She has kept her personal details very secretive but everybody after she hinted about her engaged status.
Has she leveled her engaged relationship further by getting married to her fiance? 
Find out yourself by digging down below!
Media Personality's Engaged: Opens On Social Media!
It goes by no question that the gorgeous media presenter has a successful career right under her palm. Contrary to the fame of VP of Fox News, her personal life seems a box of secrets. 
However, she broke personal life's silence on her social media. One such instance was on 30 Mar 2018, when Gillian talked about his mother via a tweet. She jokingly stated she and her mother joined imagination library in the tweet. 
The 35-years-old reporter, who reigned in the media for a long time, also dropped a massive hint about her relationship status via social media. She addressed the engagement rumors by confirming she does share romance with someone but denied the engaged rumors via a tweet on 2 Jul 2016. The tweet read, 
"It's true! Except for the part about always being engaging."
However, that changed on Gillian's another tweet!
She took to Twitter to share unraveling feelings and confirmed she has been engaged by mentioning her fiance was on the phone 4 hours with Xfinity in October 2016.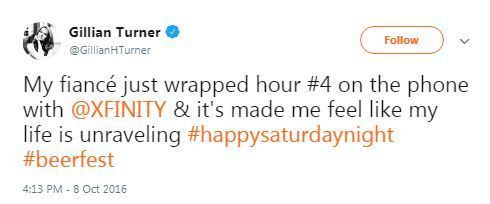 Gillian Turner's tweet about Fiance in October 2016 (Photo: Gillian Turner's Twitter)
Not only tweet, TheHill magazine has also uncovered Gillian's engaged status and reported that she enjoyed paddle boarding with her fiance in 2016. Some sources claimed that Gillian has been sharing the romantic relationship secretly with her boyfriend from the past two years.
However, the beautiful journalist did not unmask the fiance's identity yet.
Went On Vacation: As Engaged Or Married?
Well, the well-known face on FOX News Channel, Gillian Turner made her spot safe in the 'top 50 beautiful ladies' in 2016.
She seems to be doing the same in her fiance's heart too! 
Gillian has certainly kept her fiance's identity a mystery but not his face. She shared a picture with her fiance on 3 August 2017 revealing the moments of their Spain vacation.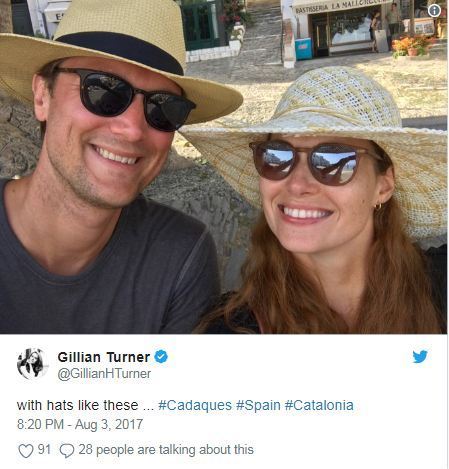 Gillian Turner with fiance in August 2017 (Photo: Gillian Turner's Twitter)
The couple seemed cozy on their vacation in Spain and was sharing smiles in the picture. By the looks of it, the engaged couple spends quality time; however, the duo is yet to reveal whether they are married or not. 
It has been two years since their engagement news surfaced in tabloids, which might pose that the duo might be secretly married by now. However, until the journalist makes a call on it, it would be too early to claim.