Entertainment
Gina Gershon's Wiki: Does She Have A Married Life to Fade Away Lesbian Rumors?
When someone portrays the character of gay/lesbian character onscreen, then with no doubts the celebs will be amid the news of them being gay/lesbian in real life too. But that thing might not be right all the time. American actress Gina Gershon knows that very well, as she is also going through the same phase.
After the sensual lesbian scene in few films, now people are speculating her being lesbian off screen too. But how true are the speculations? Does she have a married life to share to fend off the lesbian rumor? Let's dig in to find out!
Has A Husband To Fizzle Out Lesbian Rumors?
Gina Gershon is one of the fine actresses who has been able to maintain a firm position in the industry. The star, who often experiments with her hair style, is also used to play different characters and roles.
The Los Angeles-bred is often regarded as the "gay icon," as she has portrayed the role of gay and lesbian in the series like Bound, Prey for Rock & Roll and Showgirls.
Caption: Gina Gershon portrayed the lesbian character in 1996's Bound. (Published on Oct 9, 2010)
However, the commendable work of Gina Gershon as a lesbian character has raised the speculation of her being lesbian. But how true is it?
The 55 years old star is currently in a relationship with Belgian-German Entrepreneur Robert "Bobby" Dekeyser. The pair has not been so vocal when it comes to their personal life, but the pair did have an on and off again relationship. Moreover, her relationship with Robert fends off any lesbian rumors that surrounded her.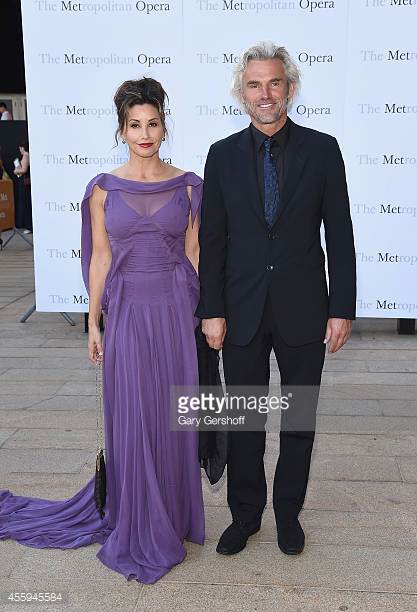 Caption: Gina Gershon is currently in a relationship with Robert "Bobby" Dekeyser.
Photo Credit: gettyimages.com
As per sources, the very reason behind that is the long distance relationship of the couple. A source said,
"Bobby lives abroad, so they're off and on."
Well, the duo has been dating for quite a long time now, but are they planning to get married? Will Showgirls actress turn her boyfriend into a husband?
The answer to that question is yet to be answered by the lovebirds, but hopefully, they will soon come out with the news.
Gina Gershon's Short Wiki-like Bio:
Born on June 10, 1962, Gina Gershon was raised by parents Mickey Gershon and Stan Gershon. She is youngest of the three children; she has a brother Dan Gershon and sister Tracy Gershon. S
he went to Beverly Hills High school. Moreover, she attended Emerson College in Boston but later got transferred to New York University, from where she graduated with a BFA.
Gina started acting at the very young age of 14. Before her career on a big screen, she was also famous for her thespian skills.
The actress, who started her career working in Beatlemania in 1981, has got a list of work credits; including Cocktail (1988), Showgirls (1995), Bound (1996), The Insider (1999), House of Versace (2013), etc.
Besides acting, she is an author as well. Gina, along with her brother Dan, she has written Camp Creepy Times, In Search of Cleo: How I Found My Pussy and Lost My Mind, which was released on October 11, 2012.
As of now, in 2017, the brunette is busy in series Crashing and Brooklyn Nine-Nine. Furthermore, her other projects include Bad Kids of Crestview Academy, Lost Cat Corona, Permission and Inconceivable.