Entertainment
Giovanna Yannotti Wiki: Her Husband is Famous and She Should Be Too
If you are a WWE fan, there is no way you would not have heard about Kurt Angle. The legendary wrestler, currently General Manager of RAW, is an inspirational athlete figure who many young wannabe athletes look up to. 
But very few know about Giovanna Yannotti, the spouse of Kurt Angle. She has a famous husband, a perfect marriage, and, with no surprise, a hidden romance story. Don't you want to know how the romantic tale of your famous athlete started to bud? 
Giovanna Yannotti's Wiki: She is famous too!
Giovanna Yannotti was born on March 26, 1987, in Pittsburgh. Better known as the spouse of the legendary wrestler, Kurt Angle, she is an actress, stunt-performer, and model by profession. 
Before she made her way to becoming an actress, she was an aspiring figure in modeling profession.
Her first on-screen role was of a party-goer in the 2009 movie My Bloody Valentine. She also got an uncredited role in the remake of Sorority Row in the same year.  
A year later, she portrayed the role of a gang member in the TV series Justified and as a lawyer in the horror film 6 Souls. 
As a stunt performer, she became a stunt double for Rosario Dawson in the 2010 movie Unstoppable. 
Moreover, she had a minor role in the 2012 film Death from Above which also starred Kurt Angle.
Life After Giovanna Yannotti Met Kurt Angle
It comes off without any surprises that the actress should meet her hubby at a film shooting as she had devoted her life to movies. 
She first met Kurt Angle while filming End Game in 2009. While Yannotti played a customer at a restaurant, Angle played the murderer in the film.
Recalling their first meeting, Yannotti remarks that it was purely by chance that she and Kurt Angle met. Yannotti was luckily cast because her best friend's dad needed an extra person on set: she played the role as a favor.
Yannotti explains her feeling after the first glance at Kurt Angle as,
"And all of a sudden I saw Kurt walk in, big blue eyes. He was so handsome…I was just like, 'I gotta have him.'"
To top it off, she had no idea that Kurt Angle was the legend of WWE. The duo did not jump into dating immediately as they remained friends for a while. 
Their friendship bond was strong for sure as she would later help him when he got injured.
"Through his rough times, I kept coming over his house and I kept checking on him. He didn't really want to leave the house, and I always kept coming over, and we watched movies for weeks. I was just always there for him."
Finally, Kurt waited for the right time and asked her out realizing that the bond the two shared was more than friendship. She had her first date with Kurt Angle at Arby's which she claims is one of her favorite memories.
Well, it might be fate after all: the couple got engaged in 2010 driving the love into marriage. They tied the knot on 20 July 2012. The original wedding, however, was to be in 2011, but due to Yannotti's pregnancy with her first child, the wedding got postponed to 2012. 
The couple welcomed their first child, Giuliana, on January 22, 2011. Their happiness doubled when, on December 31, 2012, Yannotti became a parent to her second child, Sophia. 
That was not the end of it, for she went on to mother another child, Nikoletta, on November 5, 2016. As for Kurt Angle, he has two more children, Kyra and Kody, from his previous marriage to Karen Smedley.
The actress is currently a happy mom, already sending Giuliana to kindergarten. And she is only making more special memories with her husband and children.
Giovanna is enjoying her motherhood to such an extent that she might be hinting that she is no longer an actor. Her Twitter bio says it all.
Proud wife, mommy, used to do that acting thing.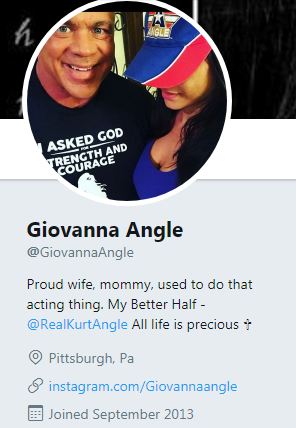 Well, she is definitely a family person, keeping her family as her top priority. She was happy to sacrifice her career for her husband who enjoys a net worth of $25 million.