Entertainment
Girlfriend Alert ! Is Quincy Brown Dating Keke Palmer Or Are They Just Friends?
Many times when a male and female actor work together either they turn out to be good friends or eventually fall in love with each other and come out as a couple. The similar case got identified with Quincy Brown who surfaced in the gossip story for his romantic involvement with actress Keke Palmer.
But with low key life and completely outcasted personal details, the confusion has elongated on the actual relationship they share followed by their dating status. For the baffled fan followers of Quincy and the single ladies out there, we bring in the real relationship of him and Keke before you.
Dating Off Screen or Only Confined On-screen?
While working for the movie "Brotherly Love"(2015) Keke and Quincy shared an on-screen relationship where the character Chris (Quincy) was head over heels in love with Jackie (Keke). When revealing about the character Chris, Quincy spoke about having similarity with the character to the heavy.com where he said:
"I play Chris, who is loving and genuine. I fall in love with Keke's character, Jackie. The character is similar to me because of his smooth approach on things. He is someone you will become attracted to through his demeanor and charming personality."
Since then Keke and Brown tagged along more frequently and were enjoying each other's company while source reports about the existence of their relationship since the year 2013 and not separated yet. The relationship tangled into a rumor when Brown gifted a puppy" Nala" on 1st April 2015 and posted its picture captioning it as a surprise to my"Baby." While at the same time Keke responds to Brown expressing her gratitude for the cute little puppy.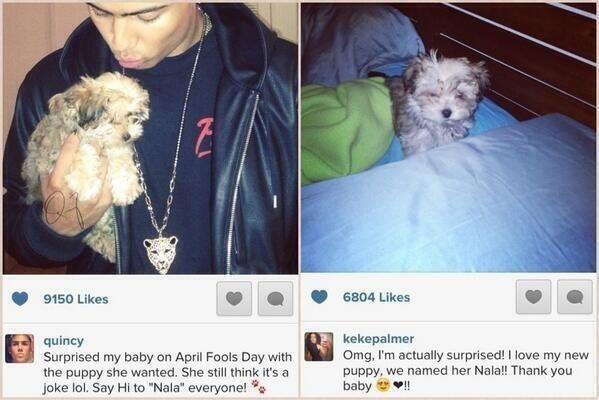 Caption: Surprise gift from Quincy to Keke on April Fool's Day (2015). 
Photo Credit: gumbumper.com
The series followed with the beautiful pictures on Instagram,
In spite of posting several pair picture, neither Keke nor Brown spoke anything about their relationship. But by looking at the surface what we see is a genuinely friendly relationship. If he and Brown were severely involved, then he'd be celebrating Keke's Birthday together and spending some more time with her in the recent years. But things don't look like that as no such thing has got obtained, while recently Brown shared the picture of his "Brotherly Love" with Keke stating it to be a throwback.
Well, if they were or are in a relationship they'd somewhat speak about their relationship in any of the media or flaunt their love life in this and previous valentine's day, so by revelation we can say that their relationship got only confined to friendship. He has no girlfriends in the past and is neither in a relationship with any random man even though he shared several pictures with his male friends. Hence, he is not gay.
Born Star Or Struggled To Get Fame?
Quincy Brown is the biological son of Kim Porter and the adopted son of Sean Combs while his biological father is Al B. When talking about his family background, Brown got blessed with two sisters D'Lila and Jessie and a brother Christian. He was named after his godfather music legend, Quincy Jones.
Chris taking a break with his siblings, a short day off with his little girls.
When strolling through his Instagram, he seems to be a loving family man who is in love with his mother and his siblings. But no involvement with his father has ever been identified. A lucky man with a loving mom and jolly siblings, Brown is wealthy regarding domestic happiness which is a strength for him to strive for more success in his career!