Entertainment
Gizelle Bryant Drops Word On Getting Married Again! Still Has Hope After Husband Issue And Going Through Divorce
Gizelle Bryant Drops Word On Getting Married Again! Still Has Hope After Husband Issue And Going Through Divorce Gizelle Bryant, who is a single mother of three children and a TV star, knows that well, as she hopes to find love even after her failed marriage. But has she strumbled upon a man with whom she can get married? Let's find that out along with her past issues with her ex-husband.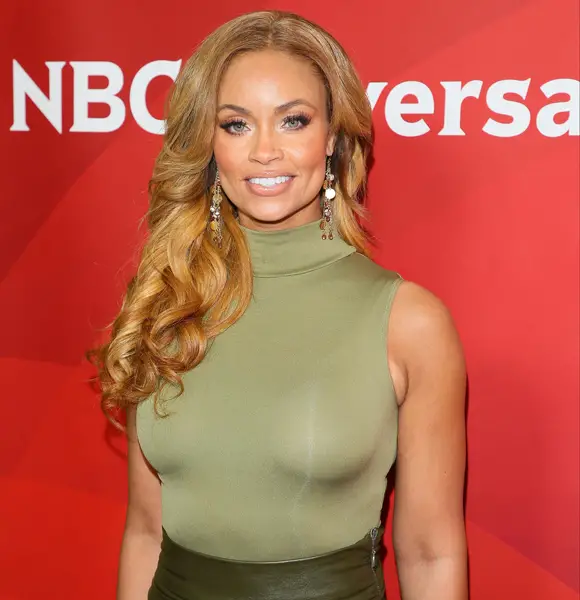 Hope is a thing that keeps people motivated to try until it happens. So hope is a thing that should never be lost!
Gizelle Bryant, who is a single mother of three children and a TV star, knows that well, as she hopes to find love even after her failed marriage.
But has she stumbled upon a man whom she can get married with? Let's find that out along with her past issues with her ex-husband.
Gizelle Bryant's Issues With Ex-husband Jamal Bryant:
Gizelle Bryant was married to a megachurch pastor/activist named Jamal Bryant in 2002. Gizelle and Jamal's married life could not survive more than seven years and ended up in divorce in 2009. Reportedly, Gizelle's ex-husband Jamal's infidelity was the reason for the downfall of the marriage.
Gizelle Bryant and Jamal Bryant are parents to their three beautiful kids. They had their first child a daughter, Grace, on Nov 4, 2004, followed by the birth of twins, Angel and Adore on April 2006.
In a recent interview with The Breakfast Club on May 2017, Gizelle opened about her divorce with her then husband, Jamal; where she clarified,
"At the time, I had two 1-year-olds and a 2-year-old. Three girls. They're beautiful. And I said, 'I'm not doing this. I'm not gonna be disrespected,'"
She added,
 "So yes, I packed up and left."
Gizelle, even though a single mother, was able to raise her daughters well and takes out time from her busy schedule to spend quality time with them.
She even flaunts her beautiful daughters through Instagram.
Setting her differences from her ex-husband aside, Gizelle made her daughters' father's day special as she mentioned in her caption as,
 I wouldn't want my children's father to be anybody but @jamalhbryant Happy Fathers Day! #family
Following that, she shared an image of her daughters on Christmas 2015, expressing the love they share for one another.
After all the issues, Gizelle spoke on her current relationship with her ex-husband Jamal and stated that they are really good friends.
Good to know they remain on good terms even after the failure of their marriage.
A Hope of Finding Love Again!
As per reports on April 2017, Gizelle is back in the dating pool and is geared up for the new season of The RHOP.
Gizelle went on a date with her friend Kevin on RHOP. So will it be the initiation of a new relationship? Will Kevin be Gizelle's new boyfriend?
Only time will tell!
However, Gizelle has revealed about the qualities of her dream man as,
"I think that you'll see in Season 2, I want to make a great decision as far as my dating life is concerned, because it doesn't [just] affect me; it also affects my children. I want to be able to find somebody that loves my kids, loves me, and that I can have in my life potentially forever." 
Moreover, talking about the man in her life, Kevin; Gizelle said,
"My mother is in love with him. She's known him as well, and she thinks he's a great guy, she thinks he's a great dad, he'd be a great father figure for my kids. So she's all on board. I'm still treading lightly, but so far, so good."
The photo credit "BAE" of her Instagram post suggests the flick of romance in her life.
Although it hints the possible relationship of the couple, it just remains a speculation until the confirmation from the involved party.
More about Gizelle Bryant:
Gizelle Bryant, who stands as an independent woman, was born on Sep 9, 1970. She is a daughter of father, Curtis Graves, and mother, Joanne Graves.
In the professional front, she is currently developing her makeup line, "Every Hue Beauty." She even featured on the reality television series The Real Housewives of Potomac, which premiered on Jan 2016.
As per reports on April 2016, Gizelle commented on the clash between her and Katie regarding race, to which Gizelle said,
Unfortunately race will always be a hot button for most people in this country. However, it doesn't have to be so heated. If you're SECURE in who and what you are then there's no discussion. So clearly Katie will be talking, and taking and talking until the cows come home.
With her career as and television personality and socialite, Gizelle Bryant has accumulated a net worth of $4 million.
Stay with us for the emerging updates on Gizelle Bryant!