Entertainment
Gloria Carter Identified As Lesbian/Gay In Her Son's New Album! How True Is That
With no doubts, one might find it hard to come out of the closet where she/he has been hiding for a long time. Within Hollywood, we have a number of examples where many find it's hard to make a come out as lesbian/gay.
Eventually, many do make the right decision and handful of celebs have done it. The name we are relating on this very topic is the mother of famous rapper Jay-Z, Gloria Carter.
The mother of four kids, who was speculated as a lesbian from a couple of years, is believed to make her "come out" as a lesbian through her son's new song. But how true is that? Well, stick around to find out!
Gloria comes out as a lesbian in son Jay-Z's new song!
Gloria Carter, the mother of Jay-z, has given the new album of her son, Shawn a.k.a Jay-Z a heart touching moment to the song. The new album '4:44' has a lot to share about Jay-Z's infidelities with his wife Beyonce, who recently welcomed twin kids.
But along with that, in one of the song "Smile," Gloria Carter comes out as a lesbian.
Yes, you heard it!
Gloria Carter single parented four kids Andrea, Eric, Michelle, and Shawn (Jay-Z) after her partner Adnes Reeves left her and children. At the time, Jay-z was at the very tender age of 11.
Gloria Carter struggled a lot to raise her kids alone. But who knew, along with the struggle to parent kids, she also had been struggling with her own identity.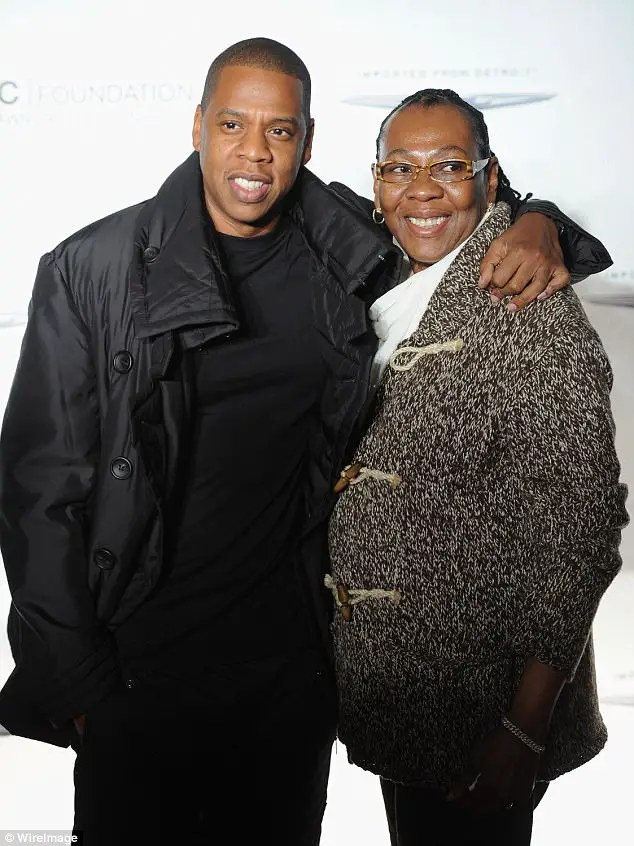 Caption: Gloria Carter comes out as lesbian in her son Jay-Z's new song 'Smile.' 
Photo Credit: dailymail.co.uk
Later than never, Gloria Carter has clarified about her sexuality as a lesbian. The rumor of Gloria Carter being gay sparked when she allegedly dated Dania Diaz in 2013.
They came to know each other when Diaz joined Shawn Carter Foundation run by Gloria. Everything was just an assumption about her sexuality then, but everything is cleared out now.
In the later verse of the song "Smile," Jay-z has rapping lines which say,
"Mama had four kids, but she's a lesbian

Had to pretend so long that she's a thespian

 Had to hide in the closet, so she medicate

Society shame and the pain was too much to take
Further, he went on to say; it doesn't matter whether his mother is him/her. He sings,
"Don't matter to me if it's a him or her

I just wanna see you smile through all the hate

Marie Antoinette, baby, let 'em eat cake.
Smile starts with snippet from Stevie wonder and ends with the poem which describing Gloria Carter which is recited as,
"Living in the shadow
Can you imagine what kind of life it is to live?
In the shadows, people see you as happy and free
Because that's what you want them to see
Living two lives, happy, but not free
You live in the shadows for fear of someone hurting your family or the person you love
The world is changing and they say it's time to be free
But you live with the fear of just being me
Living in the shadow feels like the safe place to be
No harm for them, no harm for me
But life is short, and it's time to be free
Love who you love, because life isn't guaranteed
Smile
Many appreciated Gloria coming out as Lesbian and GLAAD President Sarah Kaye Ellis is one among them. She wrote,
"Lesbian women are all too often erased or excluded from narratives surrounding LGBTQ people. By sharing her truth with the world, Gloria Carter is increasing visibility of lesbian women of color at a critical time and sending a powerful message of empowerment to the entire LGBTQ community that is perfectly timed with the end of Pride Month."
By sharing her truth, Gloria Carter is increasing visibility of lesbian women of color at a critical time. Thank you, Gloria. ?? https://t.co/MixUAOu02N

— Sarah Kate Ellis (@sarahkateellis) June 30, 2017
Lastly, we would like to give a round of applause for the decision of Gloria Carter. Well! Thanks to her son and his new song which must have helped her a lot in her decision.
Stay with us for further updates on Gloria Carter!