Entertainment
Glory Johnson Ends Her Married Life With Her Lesbian Partner, Meet Her New Boyfriend
What is marriage? Is it a joke or a holy binding between two partners to spend highs and lows of life? But it's different in the case of Glory Johnson and Brittney Griner, both American basketball player for Dallas wings and Phoneix Mercury respectively.
Interestingly, Glory Johnson ended his one-month marriage with her lesbian partner Brittney Griner.
Glory ends her relation with ex-boyfriend turned husband, Griner!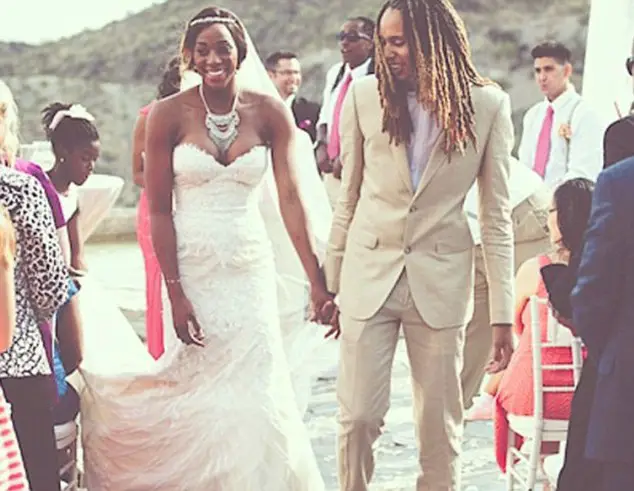 Caption: Johnson (left) wore a white strapless gown, and Griner wore a beige suit and white Converse.during their marriage ceremony on May 10, 2015.
Source: dailymail.co.uk
Finally love life between sports women is over. Britney married Glory on May 10, 2015. But their marriage couldn't last for a month as it ended on June 5 of 2015. 
Everything started in April of 2015 when Griner told cops that they had been fighting for two days and were having some serious relationship issues. The fight went on to be a physical one. Both of the players were arrested for assault. 
Despite their physical assault, the couple married on May of 2015. Their marriage only lasted for 28 days as Griner blamed that Johnson cheated on her when she was pregnant. 
A judge from Arizona finally finalized the divorce between Brittney Griner and Glory Johnson. It was only a year ago when they were a couple and split comes less than one month of their marriage.
The divorce deal was finalized on June 5 of 2016, only month after their lesbian Wedding. The deal was Grinerresponsible for the two IVF babies that she gave birth to twins after their split - Ava and Solei. Both twins were born through IVF treatment through her egg and a donor's sperm. The part of the deal was that Griner would be paying close to $8,000 a month for the next 18 years. Both of their children were born after their divorce on October 12, 2015.
TMZ reports that Griner must pay $2,516 per month for their child support for each of the ex-wife's Johnson's two twin kids and moreover $2,835 per month for their daycare.
Both ex-beaus meet on the court after their divorce!
Two sports person played against each other earlier this month with Johnson once again scoring the victory as her Dallas Wings beat Griner's Phoenix Mercury.
She did speak about playing Griner a few days before the match, saying:
'In the end of the day even when we were engaged, I was still playing as aggressive as I do now and still plan on being aggressive. It's going to be an aggressive game.

'I don't know that I'll be guarding her or she'll be guarding me. But if that does happen that will be the fun part.'
Johnson later said of her relationship with Griner:
'You can't help who you care about and help who you marry. At the end of the day, everything happens for a reason.'
The divorce was on the cards as both had earlier been involved in the violent altercation, both attacking each other in their AZ home.
New Boyfriend Alert?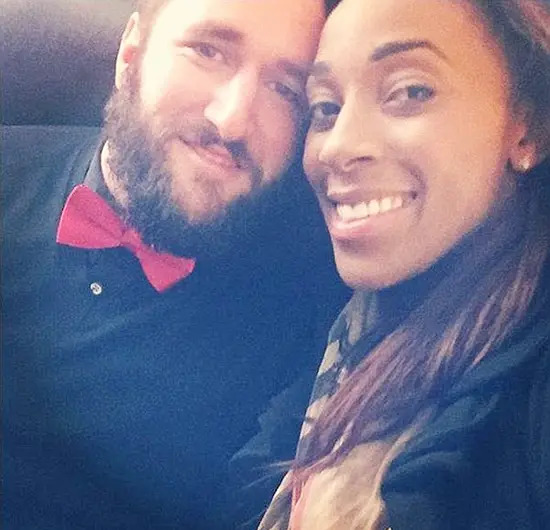 Caption: Glory Johnson with her new boyfriend posted on 24 May 2016.
Source: dailymail.co.uk
Only after three months after their divorce, Glory Johnson has found love with her new boyfriend. Johnson has found her happiness with 30-year-old Christopher Fry. He lives in Seymour, Tennessee which is in a short distance from Glory's family home in Knoxville.
Christopher Fry is currently with Johnson in Dallas and Johnson plays for the Dallas Wings.
Dr. Bill Fry and Cathy Fry, Christopher's parents, has made it clear that their son was Johnson's boyfriend when asked by Daily Mail Online.Dr. Fry said.
'He's with her in Texas,'
Cathy Fry his mother also said she knew Johnson and described her as a friend. Cathy further said her son was dating the basketball star but added:
'I don't have anything to say about it.'
Simultaneously, Brittney Griner is single as of the date, and any name hasn't been linked with her.
Glory's net worth is that of $270,000 and salary is to be $90,000 as per 2015. Glory Johnson being one of the highest paid players in WNBA has market value as that of seven million dollars and also has signed a contract with Tulsa Shock.