Entertainment
Gong Yoo Hoping To Get Married With? Heart-Throb Hints Dating Scenario To Last
Gong Yoo, born Gong Ji-chul, is a pukka Korean film and drama star, titillating audiences since 2001 in a series of rom-coms starting with his first lead in Hello My Teacher (2005) and culminating in The 1st Shop of Coffee Prince (2007). Soon, Gong Yoo, who was born as Gong Ji-Chul, is the star of the Korean entertainment industry earning him much success with dating and getting married rumors.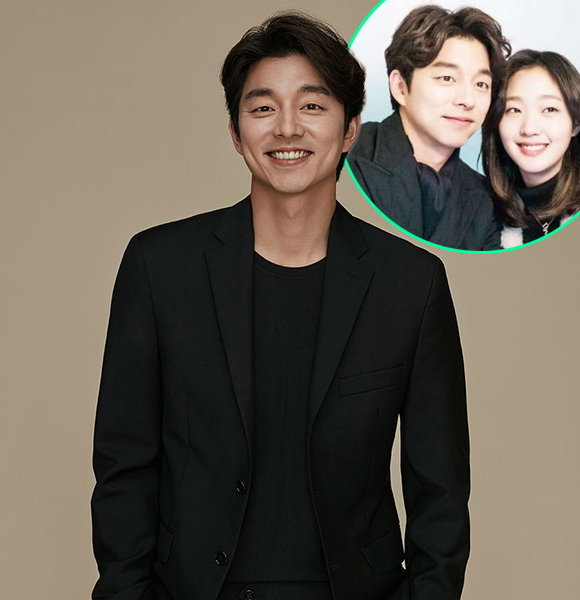 Korean actor Gong Yoo has entertained the audiences since 2001, however, he got his first lead in Hello My Teacher (2005) and finished in The 1st Shop of Coffee Prince (2007).
Gong Yoo, who graduated from the Kyung Hee University in Theatre, embarked into the military service in 2008. After completing his period into the compulsory military service in 2009, he made his come back with the box-office success movie, Finding Mr. Destiny.
Soon, Gong Yoo, who was born as Gong Ji-Chul, is the star of the Korean entertainment industry earning him much success with dating and getting married rumors.
Dating With Surprise; Hints On Getting Married
The actor, Gong Yoo prefers to keep his personal life on the bay and prefers to live the normal life. The 39-years old actor was reportedly rumored to be dating the co-star Kim Go Eun after starring in the same television series, Goblin: The Lonely and Great God.
The Goblin of the series was praised by the co-star Kim and also shared her happiness to work with him. She said:
"To be honest, I was a fan of Gong Yoo. I liked him since Coffee Prince. I was extremely happy that I got to work with him on a production."
With the above statement of Kim, their fans made speculated about Kim to his girlfriend. The foul news about their relationship blew the horn after the actress broke her connection with her boyfriend of 8 months and the breakup was instinct reasoned as the closeness between Gong Yoo and Kim.
Moreover, the rumor got stronger after Kim deleted all the pictures with her boyfriend from her Instagram and then uploaded the picture with the Gong Yoo in a wedding dress in January 2017. The rumors got more wildfire after the picture went viral on the internet.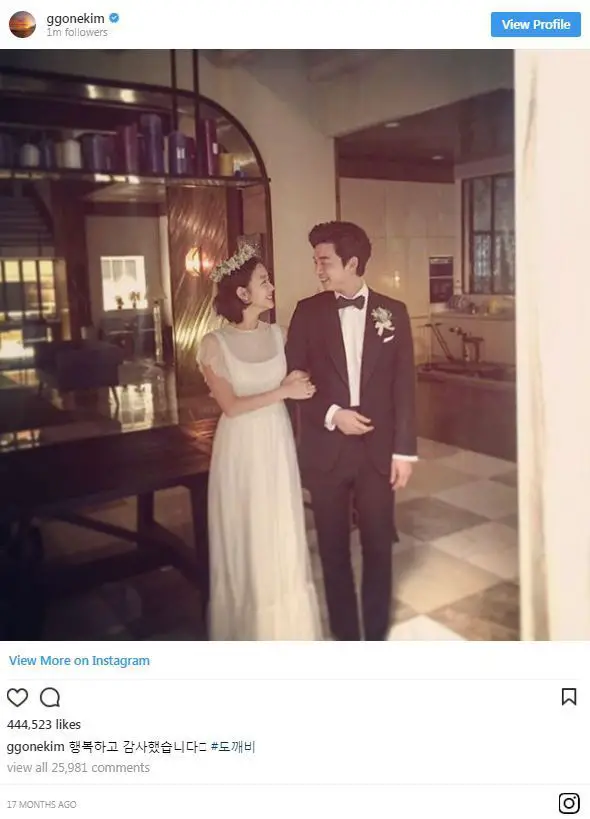 Gong Yoo with actress Kim Go Eun on the wedding dress (Photo: Kim Go Eun's Instagram) 
However, their agencies released a statement denying their relationship. The founder of Gong Yoo's agency, Soop Entertainment shared a post on Instagram in February 2017, claiming the dating rumors to be groundless.
"False information.. Things that never happened.. Who's responsible for making these groundless rumors appear true.. Where there's smoke, there's fire… And a lot of it…" 
Similarly, the actress' agency HODU&U Entertainment also revealed that the  Gong Yoo was not the reason behind Kim Go Eun's and Shin Ha Kyun's break up citing:
"Please don't misinterpret her relationship with Gong Yoo. That's merely a groundless rumor. The two only worked together in a drama. This breakup was because of their schedules and not because of someone else."  
After getting over the rumor, the actor, who talked in an interview with CNN about his preference to have a normal life, entered into another majestic scandal which says, "He is getting married." 
Getting Married; Regards "Wife" Like A Brother
Engaging in the rumors is not a new thing, so the dashing actor Gong Yoo's rumored of getting married might have taken the breaths of many fans. 
After the news about his affair with Kim was assured to be a fake one, he rolled onto another rumor of getting married to the actress Jung Yoo Mi in earlier 2018. It was reported that the actor is getting married and hence has made a reservation at Shilla Hotel and the information about their secretive wedding was leaked by the staff of the hotel.
And in response to the rumor, Gong Yoo and Jung Yoo Mi's agency Soop Entertainment stated:
"We are releasing a statement regarding the rumor that's spreading on social media and various online community sites right now. The rumors about Gong Yoo and Jung Yoo Mi are totally false. From here on out, we will be taking firm legal action against rumors and malicious comments."
A source from the agency further commented that Gong Yoo take Jung Yoo Mi as her younger brother instead of a wife:
"The marriage rumors between Gong Yoo and Jung Yoo Mi aren't true at all. The two aren't even like siblings; they're like brothers. Gong Yoo treats Jung Yoo Mi like a younger brother."
After the official statement, the rumored about Gong Yoo getting married is off for now. Well, Gong Yoo and the 34-years-old Jung Yoo Mi has starred together previously in the films 2011's Silenced and 2016's Train to Busan. 
 Notably, the actor was repeatedly engaged in the relationship rumor but none of his romantic life has been affirmed yet. In an interview with MBC's Section TV in 2016, he denoted his single life and noted the reason behind being single. He said:
"My ideal type changed. When I was younger, I liked women who had popping emotions. But now, I like women whom I can be comfortable with. I think if someone had big mood swings, that would be hard to manage."
Furthermore, his co-star from the Drama, A Man and A Woman, Jeon Do Yeon revealed the reason behind Gong to be single as:
"Women would get fed up with him, which was why he didn't have a girlfriend."
 Well, the interview took place back in 2016, but still, he is single and has not been with anyone.