Entertainment
Hal Sparks: Straight But Acting in Gay Scenes. Enjoying $2 Million of Net Worth With Son and Mysterious Wife
Television celebrities have a very staggering net worth but for a reason. Just look at Hal Sparks, who is worth every penny of his net worth. He acts very well even in gay scenes when he is straight. It's a good thing he has his wife and son to spend it with.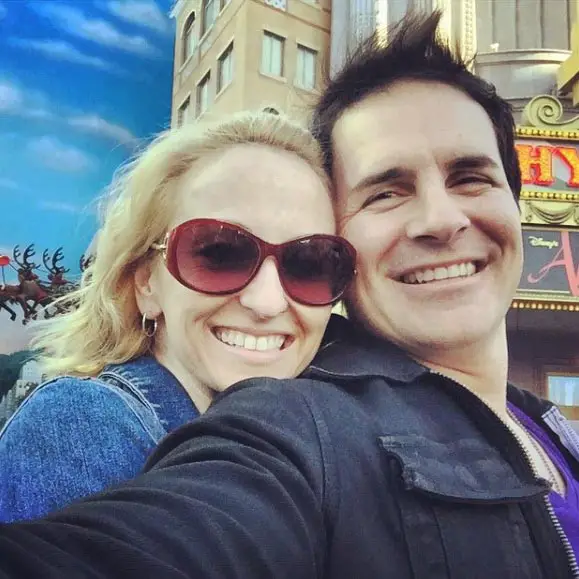 Quick Information
Net Worth

$2 million (Estimated)

Profession

Actor

Birth Place

Cincinnati, Ohio

Nationality

American

Official Site

https://www.halsparks.com

Eye Color

Dark Brown

Hair Color

Dark Brown

Height/ How Tall? 5' 8" (1.74 m)
High School

New Trier High School

Career

1987-present

Date of Birth Sep 25, 1969
Gay

No

Partner

Summer Soltis (2012-present)

Ex-Girlfriend

Samantha Humphreys (2006-2009)

Relationship Status

Dating

Son/s

Camden Harrison Spark

Ethnicity/Race

White

Zodiac Sign

Libra

Birth Name

Hal Harry Magee Sparks III
Television celebrities have a very staggering net worth but for a reason. Just look at Hal Sparks, who is worth every penny of his net worth. He acts very well even in gay scenes when he is straight. It's a good thing he has his wife and son to spend it with.
Caption: The meeting scene of Michael and David in 'Queer as Gay.'
His Net Worth and Salary:
Hal Sparks has enough a net worth of around 2 million dollars. He is an actor, but the fact that he is a comedian and a musician also add to his net worth. He has acted in both TV series and films.
He is known as a great actor and comedian who always delivers excellence in every sector. On top of that, he also appears in reality shows like 'Celebracadabra,' 'Celebrity Duets and 'Survival of the Richest' which adds to his net worth as well.
Uncomfortable doing Gay Scenes?
Hal Sparks, portrays the role of a gay character, Michael Novotny, in the Showtime television series, 'Queer as Folk' so well that many would be fooled that he is gay in real life as well. As the show turned to its 15 years last year, Sparks took to his Youtube series to spill some secrets of the show. He wanted to answer all the burning questions about the sizzling show starting with the queries about the sex scenes.
Caption: Hal Sparks are answering if sex scenes are uncomfortable.
He wanted to start with a familiar question, "Are sex scenes uncomfortable?" Sparks drifted from the main issue many times during the interview although what he meant is that it is uncomfortable.
However, even though it is uncomfortable to him, he has to do it as it is part of the job. He isn't confident doing even a straight scene or walking around his house in a tank top, and he doesn't even sleep naked. But according to him, a sex scene is not just a display of sexuality. Instead, the sexuality is a part of the character's nature that the actor plays.
Is he Married? Girlfriend or Wife and his Son:
Hal Sparks may be gay in his TV life, but he is a straight one in real life. He has been in a 4-year long relationship with Summer Soltis,@Summer_702. Many people think that they are married, and she is his wife, but she is just his girlfriend. They already have a son together who is named Camden Harrison Sparks. He must be around five years of age now. Not much is known about his wife.
Caption: Hal Sparks with the girlfriend, Summer Soltias.
Hal Sparks Talks About Son And After Math of Queer As Folk:
In an interview, Sparks gave a long and heated interview and talked about all sorts of things, from his experience with The Prince To His opinion on the current Comedy Industry.
Hal also talked a bit about his personal life, especially his 4-Year-Old Son and spoke of him saying,
No question. My kid is funny and my kid is funny largely because I'm teaching him to be funny. He learned timing at 2 years old. I would teach him how to turn his face and do a dramatic [head turn]. The kid is funny. He's going to make it no matter what he does. 
and further talked about his experience changing his diapers stating,
Half of them? I changed a lot of diapers. The idea that you would somehow have a problem with changing a diaper on a child as a male is absurd. To not be too frank, you wipe your ass three times a day, you can do it once for a kid you're trying to keep alive. I don't understand. It's less disgusting because it's you? Forget it.
The comedian was also asked if he experienced being hit upon after his role in 'Queer As Folk' to which he responded with,
Snapchat, all the time. It's horrifying. When we were shooting the show there was a lot more of that. Now people know who I am as a person and they are as respectful as men can be. MEN. It's not a gay thing, it's a man thing. Men think they can turn you no matter what your thing is. If they want you they think they can have you. Doesn't matter, gay or straight. Has nothing to do with sexuality; it's a masculinity thing. Think about all the straight men who think about lesbians and say: Oh, she just hasn't had me, yet. Same thing.
He also requested to share how he dealt with it, and Hal replied with,
Ahh. Ah. "No thanks. I appreciate that but I'm straight." Pretty simple. It is an awkward thing because you want to be honest and you realize you are in a bit of a power position because you're on television and they are approaching you. It takes nerve to approach somebody you've had an attraction to on film or on television of any ilk. You don't want to be rude about it. It varies on whether they are coming on strong and being aggressive and odd or just nice. There is no pat way of dealing with it.
Happy Father's Day:
Hal Sparks was born on September 25, 1969, in Cincinnati, Ohio as Harry Maggy Sparks III. He is an actor, comedian, and musician. He entered the theater at the New Trier High School when he moved to Chicago at 14 years of age. He has been busy attending various functions. Some of the recent ones are his performances in the Fremont Theatre for the San Luis Obispo's Pride week on July 9 to celebrate the LGBT community.
He recently performed stand-up at the Zanies Comedy Night Club in last July 24. He was also seen in Lab Rats/Lab Rats: Bionic Island(2012–2016 ), an American television sitcom, as Donald Davenport and now is seen in Lab Rats: Elite Force in the same role.