Entertainment
Hale Appleman Dating Someone As Gay Man? Here's His Relationship Status
Rumors start to swirl when celebrities indulge in the secrecy of personal life. Sometimes, such stars get accused of being gay because of their mysterious relationship status and the colorful characters they portray.
Facing a similar scenario is the American actor, Hale Appleman, who is speculated to be dating a gay man because of his portrayal of the sexuality on screen. But, how accurate is it? Dig in to find out!
Gay Rumor About Hale True?
The American actor, Hale Appleman seems to update his fans about his professional life actively. But when it comes to his relationships status, Hale likes to keep things under his hat.
Celeb Facing Similar Allegations:- Arjun Gupta Gay, Dating, Wife, Ethnicity
Because of his mysterious personal life, many guess Hale to be gay. The fact that Hale's character on The Magicians, Eliot is best friend with Quentin (played by Jason Ralph) makes him a compelling target.
Since the start, the fans have entirely drooled over the pair's undeniable chemistry. And, some went as far as developing a plot where Eliot and Quentin's relationship takes a romantic turn.
However, the case seems to be different as Hale has kept his Instagram updated with a girl hinting her as his partner.
Relationships - Dating Girlfriend Or Married With Life Partner?
Back in December 2012, Hale posted a picture on Instagram with the 2017 comedy movie, 'Lady-Like' actress, Stephanie F Simbari, who seemed like his girlfriend.
Action speaks louder than words, and it is clear as daylight on Hale's Instagram. The way Hale and Simbari stare at each other convinces us that the two are enjoying each other's company immensely well.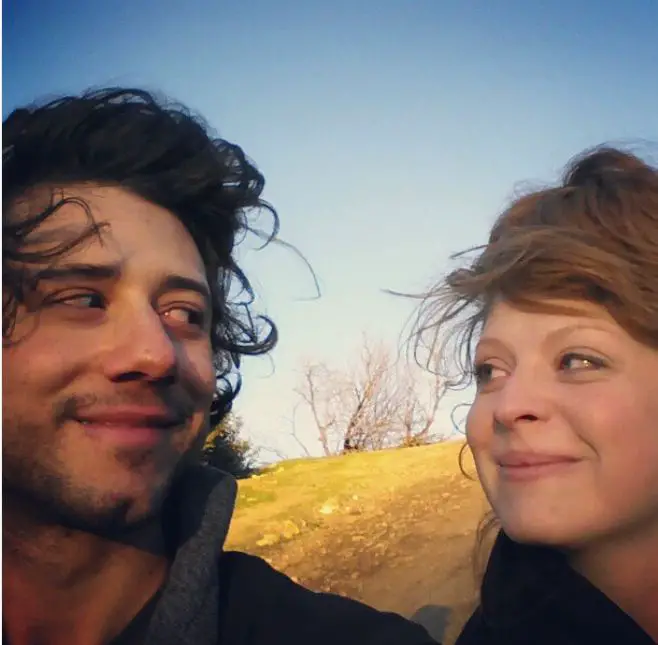 Hale Appleman looks into his wife Stephanie F Simbari' eyes in a photo dated back to 2012 (Photo:- Hale Appleman's Instagram)
Likewise, in June 2015, Hale took to Instagram again with the same girl, and this time his caption gave away the actor's marital status. It read:
"Love your wife love your life... "
It seems that he is married to the girl and is hinting to his followers that he is married. Not just this, one of Simbari's responses to posts on Twitter suggests that Hale is Simbari's husband.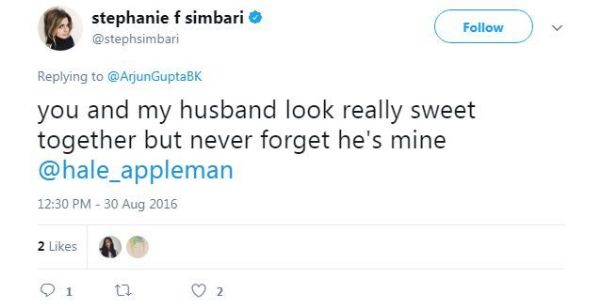 Stephanie F Simbari addresses Hale Appleman as a husband in 2016 (Photo:- Stephanie F Simbari's Twitter)
Neither Hale nor his life partner, Stephanie has publically spoken about their relationships. The details of their dating history remains a mystery. So does the information about when and where they got married.
But, judging by the social media posts, the duo must've been married before 2016 and must've begun dated after 2012. Nevertheless, The Magicians actor is enjoying his marital bliss with his partner, Stephanie F. Simbari.
Another The Magicians Star:- Jade Tailor Ethnicity, Husband, Dating
Away from his real life, actress Brittany Curran portrays Fen, Hale's wife, on the series The Magicians.
Net Worth & Interview
Hale is an American actor born on 17 January 1986. He is the son of Ara Fitzgerald and Richard Appleman. Hale attended Carnegie Mellon University's School of Drama and graduated from LaGuardia High School of the Performing Arts.
Hale's passion for acting started at a very young age. When he was just ten years old, he began attending TADA! Youth Theater. Hale made his first appearance in the film, 'Beautiful Ohio' in 2006. He is best known for portraying the role of Eliot Waugh on The Magicians.
In an interview with the Huffington Post, Hale said that it was his childhood dream to play in a magical fantasy series like The Magicians.
"I enjoyed auditioning for it so much I decided to pick up the first book and quickly discovered Eliot. I found him to be funny, sharp, powerful, vulnerable, complex, full of secrets."
With his striving career, Hale must be earning a reasonable sum, but his net worth is under review.