Entertainment
Halle Bailey Bio: Personal Details From Parents to Possible Dating Affair
In the present context, social media are turning out to be one of the most obliging and awarding platforms for newcomers to showcase their talents, and the beautiful singer Halle Bailey is no different!
The cover for Beyoncé's "Pretty Hurts" brought her right at the spotlight, and since then, she has been working collaboratively with her sister to hike through all the heights of stardom.
So, today let's explore Halle's bio and get acquainted with her personal life!
Halle Bailey's Wiki-like Bio!
The R&B singer Halle Bailey, who runs the YouTube channel 'Chloe X Halle' with her older sister Chloe Bailey, was born in 2000 and celebrates her birthday every on 27th of March.
The 17-years-old teenager, Halle, was born to her parents Doug and Courtney and was raised in Atlanta, Georgia with her sister Chloe. Halle spent her early years at Atlanta and later moved to Los Angeles California to pursue her career on singing.
Halle, who made her screen debut in the 2006 feature film 'Last Holiday,' shares a beautiful bond with her sister. The sibling duo made their official YouTube channel 'Chloe X Halle' in the year 2006 and started dropping wondrous covers.
However, the release of their cover on Beyoncé's 'Pretty Hurts' in 2013 became the one to make them famous. It went so viral that it drew the attention of Beyoncé herself, who later signed the duo to her management company, Parkwood Entertainment for $1 million.
Chloe x Halle Cover on Beyonce's "Pretty Hurts." (Published on Dec 22, 2013)
The girls were into singing from the time when their age was just in single digit. In an interview with the RollingStone in June 2016, Chloe and Halle talked about their musical passions where Halle revealed that her older sister helped her distinguish her love for singing and dancing.
Explaining how she was encouraged by watching her older sister, Halle said,
"I realized after I started [following her] that I'm not just imitating. I really had a passion for singing, acting and all this stuff we did together."
In the same interview, Chloe added that having Halle around has always been helpful.
I was so happy to have someone (sister) there to tell me what sounded good and to give me a confidence booster because trusting in yourself is important.
Undeniably, Chloe and Halle are very close to each other. Though the siblings were born years apart, they can quickly skip into actual twin mode completing each other's sentences.
Talking about their bond in an interview with the Entertainment Weekly in December 2017, Halle cited,
"Me and Chloe, we feel like we're twins all the time. Sometimes we forget that I'm the younger sister, We talk the same, we interrupt each other, and say the same thing when we're watching shows all the time. It's really trippy, but it's a blast. She's my best friend."
Moreover, the Bailey sisters have demonstrably set a siblings goal, and the pair also shares a blissful bond with their parents. Their parents have always helped them grow independent and have motivated them to follow their dreams. Their father, Dough was the one who taught them necessary structures for writing songs.
As of now, Doug lets his children handle their work themselves so that they can be independent. In an interview with Vulture back in May 2016, he said,
I tell them, 'Girls, I'm not going to say anything. I'm going to sit here, and I'm your crutch if you need it, but I want you to lead because you need to learn how to conduct your business this way. I notice lower-stakes shades of this in my own interactions with them as we wander around L.A.; when we go to the restaurant, Chloe is the one who negotiates with the hostess (while also complimenting her glasses), and she's the one who manages our appointment with the nail salon where we'll wind up at the end of the day.
Well, the family are all up while supporting each other. Back in 2015, Halle and Chloe shared a picture of themselves with their father on their Twitter page during his birthday. They dedicated the caption with the appreciation for Doug's presence in their life, saying,
"happy birthday to our magnificent father! we love you so much, dad. thank you for always loving us unconditionally."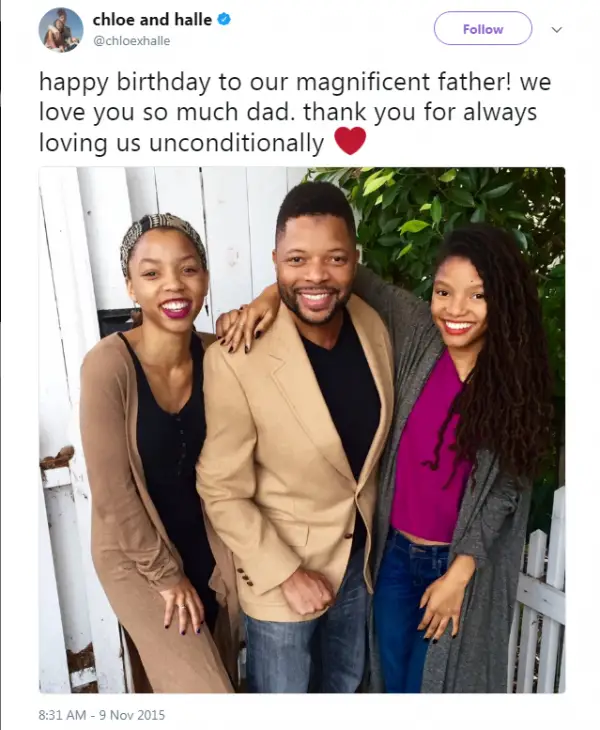 Halle and Chloe Bailey wishing 'Happy Birthday' to their father, Doug Bailey on 9 November 2015.
Photo Credit: Chloe and Halle's Twitter
Apart from the blissful personal life, Halle has a career that she has been nurturing for quite a time now. She, along with her sister, made their debut on Freeform's new show, "Grown-ish," which went on air from January 3, 2018.
Moreover, recently in 2018, the duo released the audio of their new single, "The Kids Are Alright" on their YouTube channel.
Halle and her older sister Chloe let out their first audio of 2018, "The Kids Are Alright." (Published on Jan 2, 2018)
At the age of 18, Halle has already accomplished a lot of success and is demonstrably working for her career right now. Her god- gifted voice and ability to capture other's attention has credited her with so much of success.
Furthermore, looking at the pace of how well she is doing at her career, it seems like she doesn't have any extra time to weave a love-life. Well, no news regarding her dating and boyfriend has surfaced in the media, so for now, the teen seems to be only concentrated in inclining her career to the new height of success!
Stay with us for the emerging updates on Halle Bailey!