Entertainment
Hamish Macdonald: Has A Married Life And Wife Hidden Behind Successful Life?
Talking about the journalist Hamish Mcdonald, his professional life does not need any further establishment, but his personal life is quite off the news.
So let's take a peek at the mysterious personal front of Hamish and find out if he has a wife behind his successful career, or is he just too caught up with his work!
Hamish Mcdonald's Status: Married or Just Occupied with Work?
Some people have both outstanding career and exceptional personal life, but there are some professionals, who get caught up in either one of them.
The latter scenario connects entirely to Hamish Mcdonald, as he too remains utterly occupied with his work.
Hamish started his career at the age of twenty while he was still in college and worked for WIN Television in Canberra along with his colleague/cameraman, Ben Emery.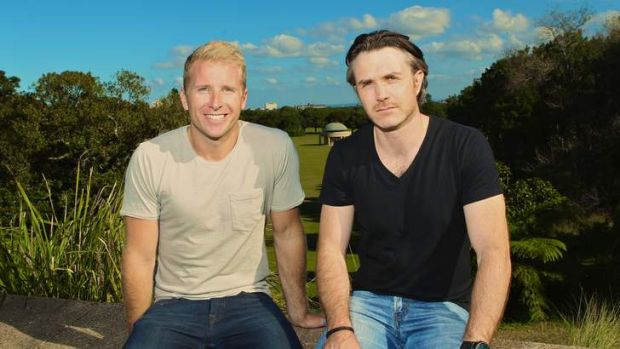 Hamish with his work partner, Ben (smh.com.au)
Hamish later moved to Channel 4 in the UK. But he got his big break after Al Jazeera English was launched back in 2005. Hamish and Ben, who was working for Sydney news at that time, came on board and the duo started traveling around the world covering its happenings.
Recalling his experience doing his first live cross, Hamish said,
I'd never even done a live cross. My knees shook so much, I thought I'd fall from the box I was standing on. But when I'm at my most stressed, Ben's calm. Within six months, he was the go-to cameraman for all the foreign correspondents, and I was so proud.
His dedication towards his career paid him off as well; the Australian reporter was awarded the Young Journalist of the Year title back in 2008 by the British Royal Television Society.
Later, in 2010, Hamish joined TEN. During his tenure at TEN, he even won 2012 Media Personality of the Year.
After working for three years with the TEN and covering some amazing issues and story, Hamish announced that he was joining ABC news in the US.
"It's a dream job and not one that I was expecting would ever come my way. I can't wait to get stuck into it,"
The journalist further announced his new venture with his fans via Twitter.
After 3 wonderful years at Ten, I have decided to move on. Thursday 26th September will be my last day on-air.

— Hamish Macdonald (@hamishNews) September 16, 2013
Moreover, he thanked his team at TEN through another tweet that said:
Thanks to everyone at Ten for the incredible opportunities they've afforded me. I'm extremely grateful.This was a hugely difficult decision.

— Hamish Macdonald (@hamishNews) September 16, 2013
As you can see, Hamish's career does not need any establishment, and his flourishing success might be the reason why he is not getting married and settled with a wife. Although the silence raised questions about his sexuality, he has not confirmed anything, so it remains unclear if he does belong on the gay side.
However, he is an advocate of LGBT rights and is quite vocal about it.
Hamish Mcdonald Bio:
Hamish Mcdonald was born on May 17, 1981, in Australia. He was raised along with his four siblings in Jindabyne, Australia in Sydney and studied journalism at Charles Sturt University.
Though Hamish is associated with journalism, which requires its practitioner to be outgoing, the journalist is very low-key about his personal life, and there are few details available about his family. But he did mention his parents in an interview when asked about his hometown, Jindabyne.
We could ski by the time we could walk. Mum and Dad ran pharmacies and you were either inside helping them or out on the snow. We grew up with Zali Steggall and Torah Bright and all those kids who've gone on to compete in the Olympics. It was a very competitive childhood on the slopes.
Think we're missing something? Do let us know in the comment section below!