Entertainment
Hamish Macdonald: Has A Married Life And Wife Hidden Behind Successful Life?
Hamish Macdonald: Has A Married Life And Wife Hidden Behind Successful Life? Talking about the journalist Hamish Mcdonald, his professional life does not need any further establishment, but his personal life is quite off the news. So let's take a peek at the mysterious personal front of Hamish and find out if he has a wife behind his successful career, or is he just too caught up with his work!
When it comes to journalist Hamish Macdonald, his work life is well-established, but his private life is a bit of a mystery. And this has the general public on the edge of their seats.
However, he recently made news when ABC announced that he would no longer anchor Q&A and leave the public network. So what does the Australian journalist have planned for the future? Was there a reason behind his decision?
So let's go into his mysterious persona and see what we can discover about his decision and himself as a whole!
Hamish Macdonald, The Q+A Host, Decides To Leave ABC?
It may come as a surprise to some, but you read that right. The 40-year-old journalist's tenure as a Q&A host has come to an end, with the ABC confirming that he has departed from the public broadcaster.
After nearly 18 months as host, he hadn't hosted Q&A since June 24, and he last appeared on ABC on July 7 when he aired a news report.
In Macdonald's absence, the broadcast has indeed been presented by a rotating board of guests, and the ABC has confirmed that this will persist for some time.
He expressed his delight at the prospect of moving on to a unique start and working very closely with ABC in the future, but he did not comment on his post-Q&A plans.
"I am enormously grateful for the opportunity I've been given to host Q+A and to work alongside wonderful, talented and passionate people."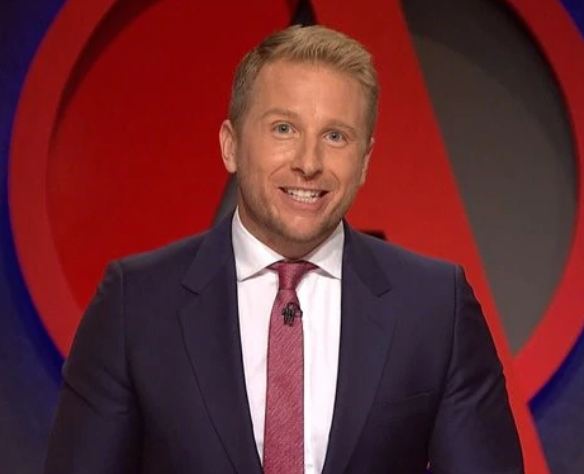 Hamish Macdonald as ABC's Q+A host (Source- ABC News) 
According to The Sydney Morning Herald, when the topic of why he departed was brought up, he chose to leave ABC because of the "scrutiny and abuse" on Twitter.
However, following the surprise move that he'd be departing ABC, the in-demand TV reporter is now heading to Channel 10's The Project in early September. It's incredible how quickly he's able to earn work for himself!
"I am over the moon to be returning to 10 and thrilled about the opportunity to make great local and international content with this dynamic group of producers and presenters."
Now that we've seen the presenter's professional side, let's see if he has a lover hidden behind his job or is too preoccupied with his work!
Romance Status: Dating or Just Occupied with Work?
It's hardly rocket science to realize that some people have great careers and even better personal lives, while others get caught up in one or the other. And, at the outset, things were similar for the broadcast journalist.
But now, things are very different. So much so, a few years ago, Macdonald openly acknowledged his romance with his partner Jacob Fitzroy.
Even though Macdonald is not married or has a wife, the two seem to be in love. Because, on the red carpet, the 40-year-old reporter and his boyfriend strolled, and the two flexed their romance at the GQ Gentlemen's Ball in Melbourne in 2019.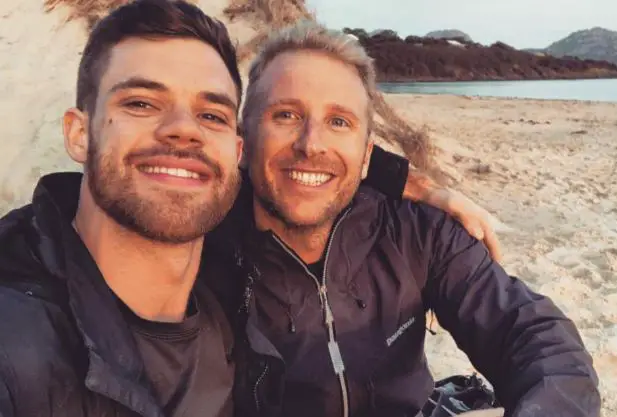 Hamish Macdonald and Jacob Fitzroy on a date (Source- Hamish's Instagram) 
Also, him being a vocal activist for LGBTIQ+ rights, had a one-on-one conversation with a panelist, Steve Price, regarding religious prejudice in faith-based institutions.
In an interview with GQ, Macdonald remarked that talks like theirs helped form one's own opinions.
"Of course, we shouldn't be giving open platforms to hate speech, that's definitely a consideration in today's world."
Besides, he's enjoying his life with his sweetheart, and that shouldn't bother anyone. The couple is frequently spotted out on dates and having a good time.
The journalist appears to be pleased and enjoying what he does as a career, just as he seems to be in his personal life. Are you interested in learning more about him? If that's the case, let's get started.
Additional Details About The Australian Broadcaster 
Hamish Macdonald was born on May 18, 1981, in Jindabyne, a town in the Snowy Mountains. He left Australia in 2003 and worked for Channel Four News in the United Kingdom before actually joining the Al Jazeera Network.
He was raised in Jindabyne, Australia, with his four siblings and went to Charles Sturt University to study journalism.
Despite his link with journalism, which demands that its experts be extroverted, the journalist is very private about his personal life, and little information about his family is available.
When questioned about his hometown, Jindabyne, he specifically mentioned his parents in an interview.
"We could ski by the time we could walk. Mum and Dad ran pharmacies and you were either inside helping them or out on the snow. We grew up with Zali Steggall and Torah Bright and all those kids who've gone on to compete in the Olympics. It was a very competitive childhood on the slopes." 
Spending lengthy amounts of time reporting from the frontline of the Afghan conflict and street uprisings across Asia have been highlights of his journalistic careers thus far.
It doesn't end there, though. Macdonald looked into covert border crossings between India and China and corruption in the Cambodian oil business.
With a stellar career and happy love life, Macdonald is well compensated and enjoys a comfortable lifestyle. As of 2021, the Australian television journalist and news presenter is projected to have a net worth of around $1 million, according to reports.
Think we're missing something? Do let us know in the comment section below!