Entertainment
Hannah Lee Fowler Wiki: Age, Wedding Details And Other Facts About The Woman Who's Got The Best Husband
Hannah Lee Fowler Wiki: Age, Wedding Details And Other Facts About The Woman Who's Got The Best Husband. The American country singer and songwriter Sam Hunt is currently all over the tabloid for his recent progress in his personal life. Yes, ladies! Sam just got married to his long time on and off girlfriend who is no other than Hannah Lee Fowler.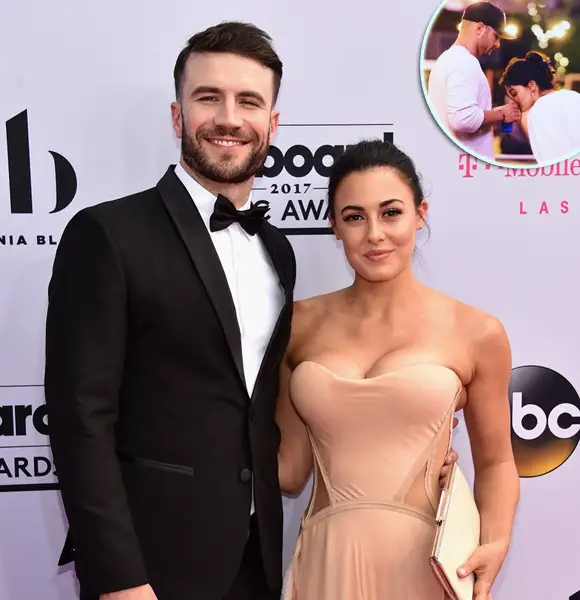 The American country singer and songwriter Sam Hunt is currently all over the tabloid for his recent progress in his personal life. Yes, ladies! Sam just got married to his long time girlfriend, Hannah Lee Fowler. 
For the fame that Sam has garnered through out his career, we already know pretty much about him. But, ever since he tied the knot, there are rising curiosities regarding his newly-wedded wife, Hannah.
So today, we will be serving everything there is to know about the gorgeous lucky lady, Hannah Lee Fowler along with some information on their 'perfect' wedding day.
Hannah Fowler and Sam Hunt's Relationship Journey.
Hannah and Sam have come a long way of their relationship to be where they are now.
According to sources, the couple first saw each other at the University of Alabama in Montevallo, where Sam was playing football. Apparently, they started dating since the year 2008.
Sam even named his debut album 'Montevallo,' which happens to be Hannah's hometown as well.
According to EOnline back in 2014, Sam said, 
"I didn't actually live in that town, I had never visited Montevallo, but right before I left to go to Nashville I met a girl from there. A lot of the experiences I had with her and the relationship I had with her, that inspired a lot of the songwriting on the album."
However, their affair was not always smooth, and they were on and off for a decade long.
Winning Hannah's heart was not always easy for Sam Hunt. It took a lot of efforts for him to finally convince his lady.
On 2015, Sam flew to Hawaii 7 times to convince her after their tragic split. Sam told the EntertainmentTonight at CMT awards,
 "I think last summer I went out [to Hawaii] about seven times in about three months, Trying to talk to her about coming back. And the

seventh trip I convinced her."
Well, Sam did an excellent job at convincing the love of his life, which led the couple to rebound their love in 2016.
They even took several vacation trips including Hawaii and Israel. On December 2016, Sam Hunt shared a picture of them during their visit to Israel. 
The pair got engaged in early January. But, sources state Sam and Hannah had disagreements before he got down on his knee. 
Sam expressed,
"I think because I felt like this disagreement spoiled my big plan to ask her to marry me, it irritated me a little more, which contributed to making the little fight worse, and it escalated to the point where it actually worked out. We got real for a minute, after this little riff that we had. In that moment, it just felt perfect. Everything — after I asked her to marry me — just fizzled away, and we celebrated and got excited together." 
Despite some ups and downs, the two lovebirds finally shared their "I do"s in April 2017. 
However, unlike many celebrities who spend millions of dollars on the wedding, Sam and Hannah had an intimate and small ceremony in Cedartown, Georgia where Sam grew up. Only family and their close friends were present at the ceremony.  
Although the special day was very private, the wedding was "perfect" according to the way Sam described. He divulged,
"There are emotions that you can't really plan for that just sort of sneak up and almost knock you off your feet.  Like, when you're standing there… And they don't come in the big moments, I feel like it's just little things, like seeing your mom sitting beside your grandmother who needs help getting up to walk down to aisle and like [Hannah's] little brother is escorting my grandmother down the aisle and just to see our families come together in that way was really special for me." 
Hannah looked mesmerizing in a beautiful white and long wedding dress with her hair without a veil in a simple side braid and white flowers in her hands.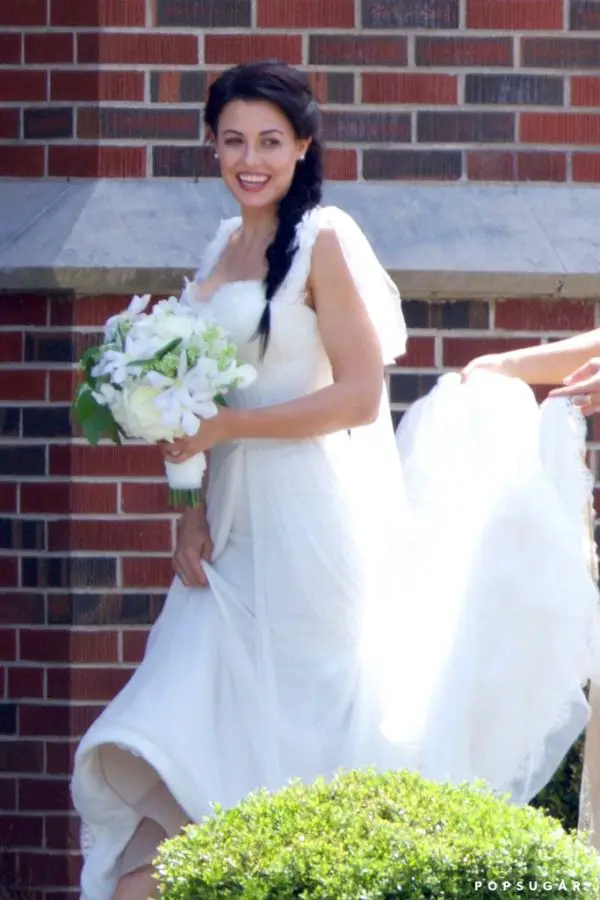 Caption: The beautiful and happy bride Hannah Lee Fowler in her stunning wedding dress on her special day. 
Photo Credit: PopSugar
Hannah's fan page on Instagram shared a picture of her special day with her brothers back on August 2, 2017. 
Well, big congratulations to the newlyweds! 
A Closer Look at Hannah Lee Fowler.
While getting to know Hannah Lee's wiki, she is originally from Montevallo, Alabama, and has a different profession than her husband. Unlike glamour and fame, she is a nurse devoting her service to the people in need.
She is a hard-worker and a fitness oriented woman. Consuming carbs and working out are her favorite things! 
Hannah hails from a large family and has seven siblings, including three brothers Joshua, Jonathan, Daniel and three sisters, Rebekah, Sarah, and Elizabeth, who are very close to each other. Although Hannah's age remains confined; it has been revealed that she celebrates her birthday on 27th October.
Hanna's sister Rebekah posted a picture wishing Hannah on her birthday with a sweet caption that expressed her love.
Moreover, Hannah is the woman behind her husband's debut album's inspiration, which is also named 'Montevallo' after her hometown. The fact that the couple was on and off for ten years, a lot of songs on the album were about her.
In an interview with ABC news radio, Sam said his woman, Hannah approved a lot of his songs,
"I spent a lot of time talking to her about songs. I probably should have included her as a co-writer on a lot of these songs because I spent a lot of time chatting with her, I got a lot of insight into females in general from being in a close relationship with her. I used a lot of that when writing the songs because a lot of the songs are relationship-based. I didn't want it to be just extra-macho."
Although Hannah is married to a famous celeb like Sam, she prefers to maintain privacy in her personal life.
However, in Sam's song, 'Drinkin too much,' he apologizes to Hannah for publicizing their private relationship,
I'm sorry I named the album Montevallo
I'm sorry people know your name now and strangers hit you up on social media
I'm sorry you can't listen to the radio
I know you want your privacy
You've got nothing to say to me
But I wish you'd let me pay off your student loans with these songs you gave to 
But, as the saying prevails; "If it's meant to be, it will be," the couple now shares a blissful married life despite the disagreements they faced in the past. 
May they be blessed with life long togetherness! 
Stay with us for the emerging updates on Hannah Lee Fowler!