Entertainment
Hannah Quinlivan & Husband Proud Parents After Exquisite U.K Wedding & Immense Love
Taiwanese actress, Hannah Quinlivan, who is best known for her work throughout the Taiwanese film and TV industries, has been blessed with a happy family apart from her shining career.
A married woman, Hannah now shares a family of four with her husband which includes a daughter and a son. Hannah is going strong with her relationship with her husband as it turns out they share quite a bond together.
Well, apart from her marital life, there have been rumors that she has had gone through plastic surgery. 
Intense Marital Bond With Husband, Proud Parents
The model who began her career by appearing in Blackie's Teenage Club, Hannah Quinlivan has been married to her longtime boyfriend Jay Chou, a Taiwanese musician, and actor. They have been married for almost three years.
According to a report on NetEase, Hannah and Jay first crossed path when Hannah was working part-time at a fashion store, Phantaci, which is co-owned by Jay. The report also revealed that a friend close to them set up their meeting. The pair got closer as Jay encouraged her to learn piano. 
As Jay and Hannah both preferred to remain quiet about their relationship, they did not share how they first met. But their good friend, choreographer Ice Cream took credits for introducing them to each other for the first time.
At the beginning of their relationship, the couple remained low-key with their relationship. In Januray 2011, Hannah slipped into Jay's party for director Michel Gondry at rapper Jef Huang's nightclub Primo. In the following month, they were photographed together in a car, which Jay clearly denied at the time.  
But later in May that year, Hannah visited Jay on a film set in Kuala Lumpur where he first time described her as his girlfriend. Years later, in 2013, the media speculated of them living together as they were snapped buying groceries. 
Well, they sure seemed going strong with their relationship even though they preferred keeping it a low-key.
Wedding In Northern England; Blissful Family Of Four
Their relationship made a buzz in the media when Jay got down on one knee and proposed his wife to marry him. In the beginning, there were rumors that the proposal took place in Hyde Park in London. But later Jay clarified that the proposal actually took place in England but not at the Hyde Park.  
According to Apple Daily, Jay presented Hannah with a ring and got down on one knee and asked her to marry him. There were fireworks and Hannah was so touched she cried and said yes to the proposal.
A year after the proposal, the couple was set to tie the wedding knot. Hannah and Jay walked down the aisle at Selby Abbey in Yorkshire, northern England on 17 January 2015. The ceremony took place just before Jay's 36th birthday.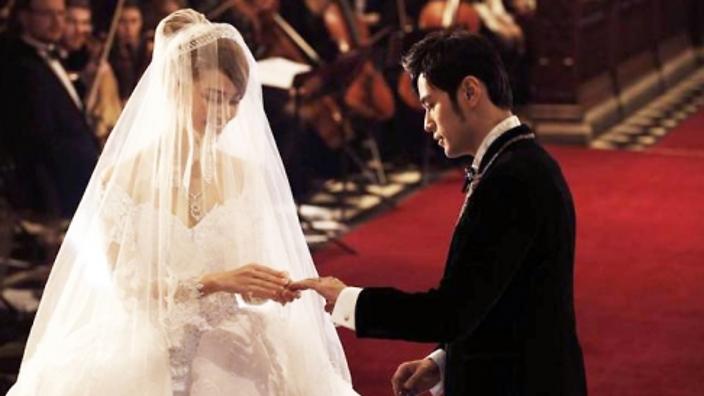 Hannah Quinlivan with husband Jay Chou on their wedding day at Selby Abbey in Yorkshire. (Photo: sbs.com.au) 
On her big day, Hannah appeared in a bridal gown by Taiwanese bridal boutique while Jay wore a Tudor-inspired tuxedo.
After their marriage, the couple was looking forward to having a family of their own. In the very same year in July, they were blessed with parenthood as Hannah gave birth to their first child Hathaway.
Two years after the birth of their baby girl, Hannah and Jay were again looking forward to welcoming a new member into their family. In June 2017, the proud parents welcome their second child Romeo.
Well, as of now, the couple is blissfully enjoying their family of four.
Plastic Surgery Rumors
Apart from her delightful married life with Jay Chou, there have been rumors that Hannah had a plastic surgery. The rumors first surfaced when Netizens compared her current photos with the old ones.
From the comparison, it seemed that the model has noticeably smaller eyes than before. Adding to it, previously she had a flatter and broader nose but has a sharp bridge now. 
There even has rumors that she might have gotten double eyelid surgery. Well, to clarify the flying rumors, the report even asked Jay if his wife had got any plastic surgery but Jay called his accompanying party "idiot" for wasting the time in such things.
As for Hannah, her manager denied that the model went through any cosmetic surgery.