Entertainment
Hannah Waddingham: Family Person With Child - Is It With Husband?
If you are a fan of Game of Thrones and have desperately waited for each season, then you might be very familiar with its plot and every character. Similarly, you must have noticed Hannah Waddingham who played the role of Septa Unella, a devoted follower of the High Sparrow.
Well, if you think Hannah is cruel and is like Septa Unella in her real life, then the message by Hannah which is stated below is for you,
"I'd be pretty offended if they thought I looked so miserable and plain in real life."
Now, you might be wondering what kind of person she is in her real life. Well, if you are searching for the answers, then you have come to the right place!
Hannah Waddingham Enjoying A Family Life With Her Husband or Boyfriend? 
The British actress, Hannah Waddingham was in the romantic relationship with Gianluca Cugnetto, who comes from the family of restauranteurs, since 2012.
Hannah was expecting the first child from the one and half years dating relationship with her boyfriend, Gianluca. But she had a less chance of conceiving, so the news of her pregnancy was beyond the happiness.
Waddingham went on to reveal her fertility issues to Lorraine Kelly back in 2014. She gushed,
"I know plenty of women go through it. They (the doctors) kept telling me that my fertility was so low, it might not happen. I feel massively privileged and blessed. It feels more important than any other job I've had and it's incredible how it just hits you suddenly. It's taken my breath away. I'm so pleased."
Well, the actress and her partner Gianluca Cugnetto welcomed their first child, a baby daughter, Kitty, in 2014. But do you know that she had her infant child while shooting for the series, Game of Thrones?
She had a 10-week old baby in tow when she went to Croatia to film her scenes.
"Nothing can come anywhere close, she's the joy of my life. I've loved it all and, luckily, she's a very cool chick and we've got a good little system going."
Likewise, even on the set of "Partners in Crime," she carried her baby along with her. And the baby seems to love her momma's acting skills. She further explained in the interview with the Sunday Post saying,
"I take her along with me when I go away to film and she seems to love it."
Actress Hannah Waddingham and her daughter on the set of "Partners in Crime" (Hannah's Twitter)
Well, they looked like a perfect family when the actress was accompanied by her daughter Kitty and her partner on the 20th Anniversary of Teletubbies, back in 2017.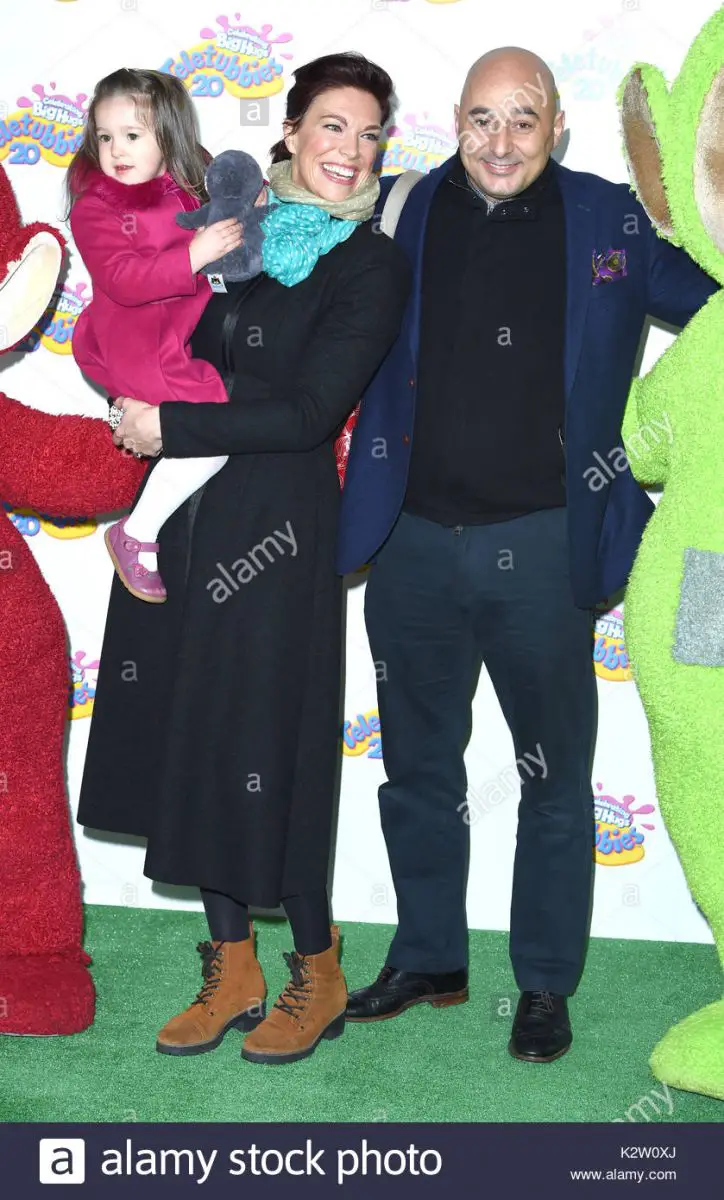 Actress Hannah Waddingham, daughter Kitty and partner Gianluca Cugnetto at the Teletubbies 20th Anniversary Party held in London (Alamy)
Even on the Father's day, the actress uploaded the picture of her daughter with her father.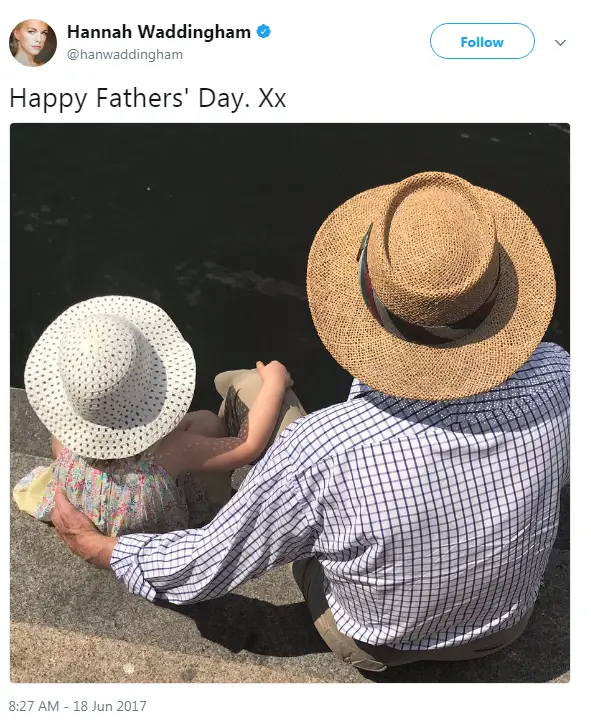 ​​​​​​​
Actress Hannah's daughter and her partner (Hannah's Twitter)
Well, after all their glorious years, they have been together in their ups and downs. But they have not talked about their plans for getting married. Although they have not exchanged the vows, they live together as a happy family and seems to be in content in their relationship.