Entertainment
Have A Look At Rent Actor Jesse L. Martin; A Bio That Has Education To Possible Married Life Covered
After being in the fame, not only one's professional life will be in the eye of people, but there will be a concern on their private one as well. Some of the celebs' personal lives are as clear as crystal whereas some celebs' secretive life has made people perplexing.
We will try to peek and have a closer look at the life of the actor who often remains tight-lipped. We will shed some light on the life of American actor Jesse L. Martin in our story. Let's find out whether he is a married man or not? And know more about the Rent Actor along with his bio.
Still Single or has already Married? Wife!
Virginia native Jesse L. Martin has done remarkable work with his portrayal as a gay philosophy professor Tom Collins in the Broadway musical "Rent." The actor has attracted eyes of fans with his acting talents, but has he been able to attract someone whom he can call his other half?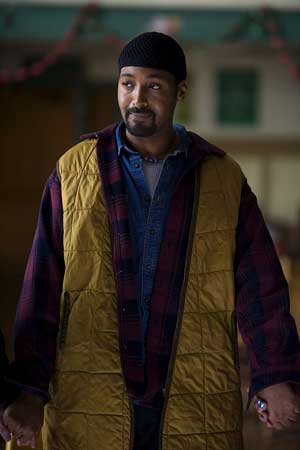 Caption: Jesse L. Martin in his avatar as Tom Collins in the Broadway musical "Rent." (2005).
Photo Credit: chod.com
Rather than the fact, Jesse L. Martin is often linked with few hotties of the industry, but no vocal is heard from the actor about his dating life. The low-key life of the artist often leaves a question whether he is a married man and has a wife or not?
But in answer to that, Jesse L. Martin has kept his personal life as clandestine as possible. And as per the records till date, he is not a married man and is possibly single for now,
More about Jesse L. Martin:
Born on January 18, of 1969, Jesse L. Martin was born to parents Jesse Reed Watkins and Virginia Price in Virginia. But the two divorced when Jesse was young, and his mother later remarried, and Jesse adopted the last name from his stepfather.
Talking about his education background, he attended The Buffalo Academy for Visual and Performing Arts and there he was also voted as "Most Talented" in his senior class. Later for higher studies, he enrolled in New York University's Tisch School of the Arts' Theatre Program.
Furthermore, Jesse L. Martin has now established himself as a blooming actor. Before getting into the various television shows, Jesse has made his appearance in many stage shows, soap operas, and commercials.
In 1998, Jesse soon landed in the short-lived 413 Hope St. he further got his breakout role in the crime drama series Law & Order (1999-2008).
Moreover, he has also appeared in the several televisions like The Cake Eaters (2007), The Philanthropist (2009), Puncture (2011), The Flash (2014-present) and much more.
Caption: Jesse L. Martin as Detective Joe West in the superhero fiction series "The Flash." (Published on Jan 24, 2017).
All his work on stage and various series must have helped a lot to make a sizeable figure of net worth. Despite all this, the exact number of his net worth is yet to be officially revealed.