Entertainment
Hayley Kiyoko Has Some Dating Affairs Or Boyfriend? Music Videos Hinting On Lesbian Sexuality?
Famous American singer Hayley Kiyoko has been nothing short of a sensation in her career. She has a huge fan following and has a huge queue of admirers. But does she have a boyfriend in her life amidst those admirers or is she on the other side and is a gay/lesbian? Her music videos lead the fans to assume that she butters the wrong aspect of the toast but what is the actual truth? Is she a lesbian or is she just another victim of the rumors? Let us find out!
Does Hayley Kiyoko Have A Boyfriend? Or Is She Rather A Lesbian-Like Her Videos Suggest?
The life of Hayley Kiyoko has been something which only a few people know. She has been confidential about her life, and thus, she has not revealed if she has a boyfriend in her life. But what she has done is often let her fans know about her past romantic life.
In a tweet back in 2010, she answered a fan's query in which she said that she had a boyfriend when she was in the 5th grade.
RT @ItsAshlynDude: when was ur first real kiss? --->my first kiss EVER was in 5th grade...my 'boyfriend' and I planned it in advance. LOL

— Hayley Kiyoko (@HayleyKiyoko) July 17, 2010
She never called out any names, but she surely did make her fans know that her first ever kiss his her boyfriend when she was in the 5th Grade.
Also, she was once rumored to have hooked up with American actor Nick Palatas. 
Nick Palatas and Hayley Kiyoko were co-stars in "Scooby-Doo! Curse of the Lake Monster".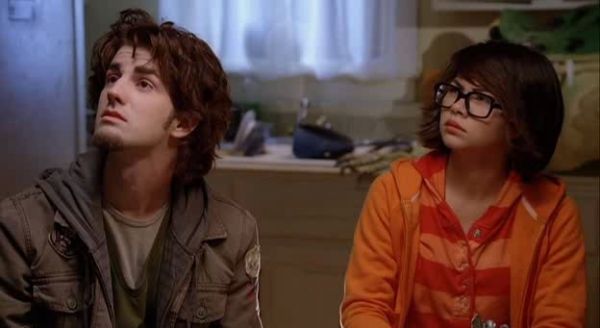 Caption: Co-stars of  "Scooby-Doo! Curse of the Lake Monster" Hayley Kiyoko and Nick Palatas were rumored to be dating one another.
Photo Credit: celebritypictures.wiki
Reports suggest that those rumors were indeed true and the two dated one another but the relationship was never publicized in front of the fans, and it is also said that they are long separated from one another now.
So is this enough to make the lesbian rumors that often surround Hayley just rumors? A relationship with a man, a male, a boy certainly does silent the lesbian rumors.
The rumors that surround her sexuality were ignited as her videos often include pieces of stuff like that. She has played the role of a lesbian in her video "Sleepover."
Caption: Hayley Kiyoko; Sleepover, Published on Mar 2, 2017
Also, her video for "Girls Like Girls" is about lesbian relationships.
Caption: the Music video for Girls Like Girls performed by Hayley Kiyoko.Published on Jun 24, 2015.
These sort of videos have often made her being tagged as a lesbian. But she has not addressed the rumors by herself which is why no major conclusion could be reached at this point.
But what she has done is spoken about her music's impact on LGBT people.
For me, I never set out to do that. I wasn't like, "I'm going to be a musician, and this is going to be my message." I did think that as I continued to grow as an artist I would be in the public eye. I didn't think that I would have as much meaning and purpose, though, so that's been an amazing gift. It's given me purpose. Not only can I write music I love, but I can help people get through life and promote that positivity in there.
Glad to know that she has been able to touch the nerve of people positively. 
A Short Bio on Hayley Kiyoko:
 Born on April 3, 1991, in Los Angeles, California, United States, Hayley Kiyoko are an American singer, actress, and songwriter who is best known for her singing career. She is the daughter of Sarah Kawahara and Jamie Alcroft, and she is half Japanese and half Scottish in ethnicity.
Apart from her personal life, she has been a sensational singer, and if you are a fan of her and have plans to catch her live, you might need to wait for some more time as she has just finished her tour and has not revealed any dates yet.
Her career as a singer and her career as an actress has helped her finances the world of good. The success of her singing projects like "This Side of Paradise" and her acting career like "Insidious: Chapter 3" has helped her accumulate a hefty sum of money. But still, she has not revealed the exact figure of her net worth yet.