Entertainment
What Is Hayley Wickenheiser Doing Now? A Look Into Her Life Career and Relationship With Son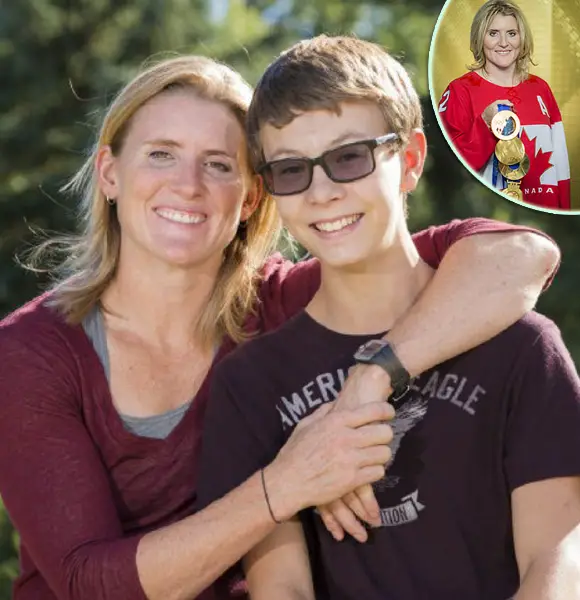 Upon promotion to the senior director position of the player development department for the NHL's Toronto Maple Leafs and AHL's Toronto Marlies, retired Canadian Female Hockey Player Hayley Wickenheiser hires her former teammate Danielle Goyette as a director for the same department. 
After the team's general manager- Kyle Dubas, allowed the former hockey player to hire anyone she wants she immediately chose her teammate Danielle. She states-
"Right away, the first person I thought of was Danielle...I worked with her a lot in my time with the Marlies when she was working in player development. She really helped bring a lot to the player development program, and I learned a lot from having conversations with her." 
She further added by saying that adding Danielle to the development program leadership position would be a huge success for the team. 
"So to have her take a significant step into a leadership position now within the player development program is a huge win for our organization."
Hayley also took to Instagram and expressed her excitement about working with her teammate once again. In the caption, she wrote- 
Me: 'So you may not be able to drop the French accent , but you know where your alliance lies now. It's playoff time!'

Her: ' oh mondieux!' ....oui.

Very excited to be working with someone I have literally shed blood, sweat and tears with for 25 plus years. Welcome to Leafs Nation Danielle.
Hayley Wickenheiser's Unmarried Life With Her Son
The world has known Hayley as one of the best female ice hockey players, and she has also proved it by claiming the tournaments' most valuable player title a couple of times in 2002 and 2006. But besides these tremendous career figures, there lies her less popular marital life, which avers that she is still unmarried.
Hayley is an unmarried lady, but sources reveal that she had maintained a relationship with a hockey coach named Tomas Pacina, who coached Hayley before. The two even parented a child named Noah Pacina, a child from Tomas and his past relationship.
The past lovers called off their relationship in 2012 while agreeing on sharing Noah's custody. Hayley often posts about her son Noah, who she adopted in 2001. 
On Noah's 21st birthday, Hayley shared a picture of his son holding his birthday cupcakes on Instagram, and in the caption, she wrote- 
Happy 21st birthday my old soul! Sucks to spend your 21st birthday in a garage party but hopefully soon you can take that vegas trip.. Love you Noah!
Further, Noah also got an opportunity to represent Canada and Canadian forces in the year 2014.
More About Hayley Wickenheiser
Born in Shaunavon, Sask, Canada, on August 12, 1978, to Tom and Marilyn Wickenheiser, Hayley played in the first of 13 Women's World Hockey Championships. She even won first of seven gold for Canada. Continuing an impressive career, she led her team to four gold and one silver medal.
Hayley has been a successful player throughout her hockey career and has accumulated outstanding stats in the international arena, with 68 points in WWHC and 51 points in OLY.
Further, she decided to retire from the tournament and announced her retirement via a tweet on January 14, 2017.
It was not just the retirement of a hockey player, but the retirement of the most respected athletes in the world who got bestowed with one of the highest civilian honors of her country, The Order of Canada, in 2011.
Besides hockey, she has a strong educational background and has a Masters's degree in medical science from the University of Calgary. Upon retirement, Hayley hinted on pursuing a career in medicine, and as of 2021, she has received her medical doctor's license and will soon start her residency at the Toronto Hospital.