Entertainment
Hip Hop Artist Heather B. Gardner: Is She Married? Husband? Boyfriend and Lesbian Rumors!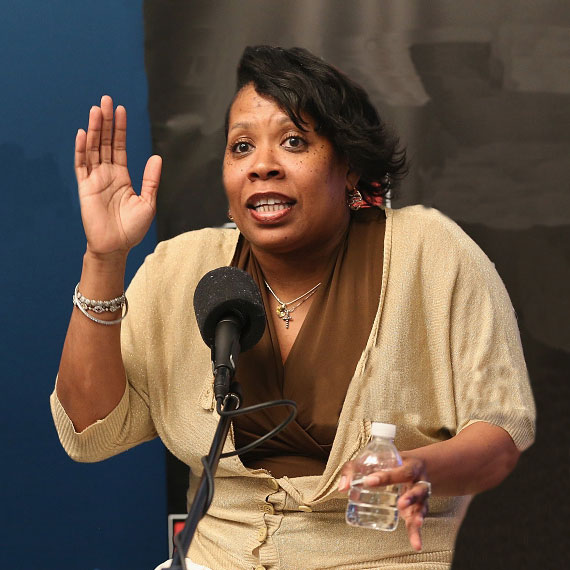 At the time when female rappers like Lil Kim and Foxy Brown did all they could by showing off their skin in rap videos, spitting some sick bars, but somehow proving the discrimination of male rappers over females, there were some who had the ability to save the hip-hop game for females, fully clothed. One of those names was of Heather B. Gardner.
Personal Life: Married, Husband or Boyfriend, Dating?
 We've known Heather on a professional level as a rapper for years, so now let's get to know her a little more on a personal level.
We know she is a great rapper and even greater co-host, but what about her married life? To spill the bean, Heather is a married woman. In fact, she is married to a fellow rapper, Horse (E. Gray) from the rap group 'Bravehearts'.
The two apparently met in a subway train station 21 years ago, and they were as real as they could be when they first met. They are married for 15 years now, happy and supporting each other and the career they have.
You might think that they might have a difficult relationship, they're both celebrities and rappers, and so what is the secret? Heather reveals in the above video that the secret to their marriage is honesty and honesty is what keeps their marriage going.

Who Is Her Husband?
Now if you're wondering who Horse is and what he does, he is a fellow rapper and a former member of the rap group Bravehearts, who were from the Queensbridge, New York City. The group is especially known for their gold-certified song "Oochie Wally". He was also famously known as Nas' bodyguard, which he clarified he is not in an interview with Sway Calloway.
Lesbian Rumors!
And to all those people who think female rappers who don't show off their skin much are lesbian, you are wrong. You might say Queen Latifah and Missy Elliot are, but hey Heather B. is not either of those women. She is a happily married woman, who had the luck to get married to her long-time boyfriend.

I hope the doubts are cleared out now.
Heather B. is said to be the first lady of reality TV as she was one of the original cast member of MTV's first reality show The Real World: New York.
Currently, she does a few shows here and there and co-hosts Sirius XM show 'Sway in the Morning' and also hosts a cocktail show "Happy Hour with Heather B."
And with all the work under her belt, she is one happy woman. We don't have the exact figure of her net worth, but we sure know that it might be in millions since she is one busy artist ever since her rap days.
Heather B. was born Heather B. Gardner on November 13, 1971. She is an American rapper, radio show host, and reality TV personality. She started her career as a rapper in 1992 when she joined KRS-One and his rap group Boogie Down Productions. She currently serves as a co-host of the Sirius Satellite Radio show 'Sway in the Morning' with Sway Calloway.