Entertainment
Hoodie Allen Dating Now? Five Reasons Why His Girlfriend Is Luckiest
Hoodie Allen Dating Now? Five Reasons Why His Girlfriend Is Luckiest. If the questionable dating status of Hoddie Allen has dragged you here, then this one is just for you. Not only that, we have listed five reasons why Hoddie's girlfriend would be the luckiest one.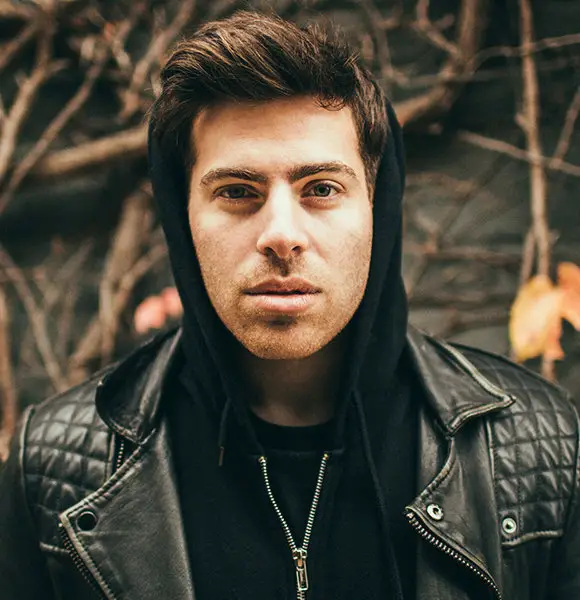 If the questionable dating status of Hoddie Allen has dragged you here, then this one is just for you. Not only that, we have listed five reasons why Hoddie's girlfriend would be the luckiest one.
Hoddie Allen, an American rapper, has been able to raise questions among his dearest fans regarding his romantic relationship.
However, he has been posting pictures with a model, Sadie Newman. These two have been sharing their pictures together on their respective Instagram accounts which sparks thier dating affair.
Moreover, Hoddie shared their picture on October 2017, which was captioned as,
"hey i like u"
From the Instagram posts, Hoddie's fans have speculated Sadie to be his girlfriend and called her "Hoddie's girl" in the comments to their photos. Despite that, the pair has not yet made their relationship official.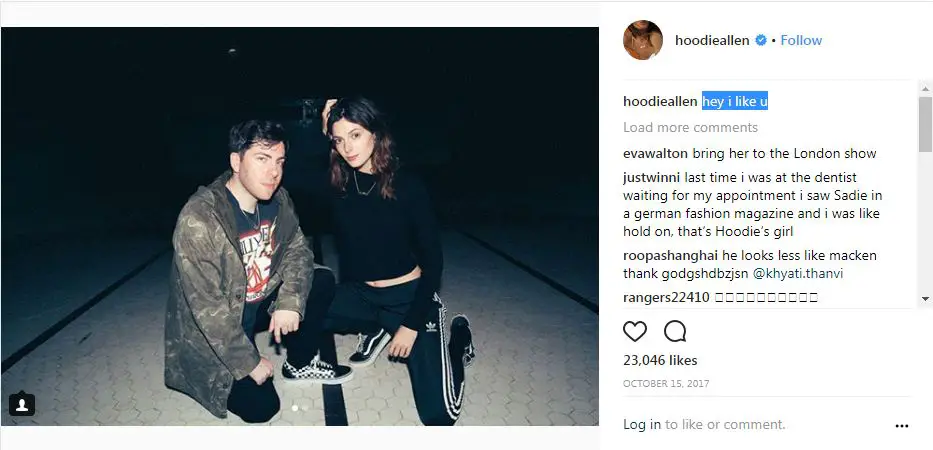 (Photo: Hoddie Allen's Instagram)
Well, if Sadie is his girlfriend, then she is one of the luckiest ones around. Here are the five reason to justify it.
1) Hoddie, A Succesful Rapper
Hoddie Allen's real name is Steven Adam Markowitz. Hoddie later changed his name so that it would stick in people's mind. He began his career when he first released 'You Are Not A Robot' in 2010. Since then, he has been going strong with his music career; creating and releasing different songs and albums.
Hoddie debut album titled 'All American' was released in 2012 which landed at number 1 on the iTunes charts within hours of its release. He released his studio album 'Happy Camper' in 2016 and 'The Hype' in 2017.
Moreover, his songs as a lead artist include No Interruption'(2012), 'Fame Is For Assholes'(2013), 'Dumb for You'(2014), 'The Moment'(2015), 'Are U Having Any Fun?'(2016), and 'Know It All'(2017).
Similarly, Hoddie has an upcoming concert on 21 April in 2018. He is set to perform at Penn State Behrend. 
2) He Has A Dating Experience 
Hoddie has already tasted the bitter-sweet romantic relationship with his ex-girlfriend, Taryn Elyssa Levenstein. They started dating around 2011 and had shared a strong bond. They both seemed comfortable with each other and even went on a tour together.
However, their relationship could not end happily as the two broke up sometime in 2015. His fans speculated their break up after they stopped posting their pictures on the social media. 
Already having a dating experience, Hoddie, can balance the cons with pros in the following relationships.
3)He Is A Charming Personality
With no doubt, Hoodie has a charming personality. The rapper, who is shinning in his career, has been able to "aww" most ladies with his beard face and green penetrating eyes.
Moreover, he is the man who can grasp attention with his killer looks. Hoddie, with his quick wit, could make any girl fall for him. 
At the end, who doesn't want a man whose personality could grab any heart?
4) He Left His Job At Google For His Love For Music
Hoddie, who is a well-known rapper now, previously used to work at Google. He started working at Google in April of 2010. During his time in Google, he worked as an AdWords associate in the company's START which stands for "Standardized AdWords Reseller Training."
Before joining Google, Hoddie graduated from the University of Pennsylvania with a marketing and finance degree. He spent his four months at the tech giants building his career, but that was not his dream. He aspired to become an artist and moved to Manhattan to incline his journey to become a rapper.
5) His Fans Address Him As "Dad"
Hoddie, the person who charms many people with his words, has his nickname like any other popular star. His fans address him with "Dad" tag. Back in 2014, when he debuted with his studio album 'People Keep Talking,' he took it in the social media where he tweeted saying that people can call him "Dad."
 "If your parents don't love you, steal money from them for my album and I'll be your new dad."
After this tweet, he has been addressed as "Dad" by his fans.

(Photo: Hoodie Allen's Twitter)
Well, Hoddie has backed this act of him by calling it "personal investment" towards the fans. Hoddie, while talking with New York Post in 2014, expressed that fans are more interested in buying the album if they feel personally attached to the artist. He stated, 
"I think people do buy albums from artists that they feel personally invested in. They know they can stream my album or steal it, but by buying it, it feels like they're supporting me and my ability to make music."
However, it surely has taken him to the heights of success.