Entertainment
Hot Rapper Charli Baltimore's Daughters Following Their Mother's Footsteps! Her Boyfriend Issues And Dating History
With red fiery hair and raunchy lyrics, rapper Charli Baltimore made sure to leave a mark in the hip-hop business. Though she never achieved mainstream success, she was one of those female emcees who was worth a record deal. Even though she had to struggle as a rapper, she made sure that her daughters get what they deserve, i.e. a better life.
The 42-year-old rapper who is barely seen performing is a proud mother of two daughters, India Lane and Siaani Lane. Charli, who is very active in social media, especially Instagram, never fails to show love to her daughter and let them know how proud she is of her daughters.
Just like their mother, both India and Siaani are making a name for themselves in the business. Charli's older daughter India is a model who is signed to Next Model Management. She recently walked the ramp at LA Fashion Week for Savnoir.
While her second daughter, Siaani is stirring up the fashion and music industry as a professional makeup artist as well as a DJ (according to her Instagram bio). Back in August, Siaani paid homage to her mother on her birthday by recreating some of her iconic looks and showcasing her makeup skills.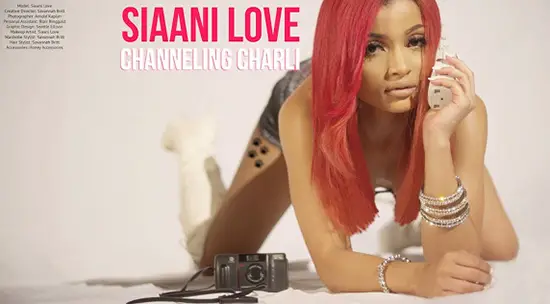 Caption: Siaani Lane paying homage to her mother Charlie Baltimore recreating her iconic looks.
Photo Credit: photobucket.com
Now that both her girls are following their mother's footsteps and looking out for themselves, Charli is sure to be a proud mom. But there is a few information of hers that her fans are dying to find out about. What are they? Let's see below.
Charli Baltimore : Boyfriend Husband and Dating History.
Charli has never been married, which means that she has never had a husband. She gave birth to her daughters at a young age but has never revealed the name of their father(s).
But she has had an interesting run when it comes to dating. She has been romantically involved with some of the big names in hip-hop. As she was first noticed by the late rapper the Notorious B.I.G., everyone speculated that the two of them are dating, which she confirmed in an interview with askmen.com. Besides Biggie, Charli was also romantically linked with the CEO of Untertainment, Lance "Un" Rivera, rappers Jay-Z and the Game.
Recently, Charli stated that her longtime boyfriend (name not disclosed) has been claiming that he has had a relationship with one of her daughters, talk about the scandal.
Charlie Baltimore: Brief Sketch
Charli Baltimore was born Tiffany Lane on August 16, 1974, in Philadelphia. By profession, she is a rapper and a songwriter. She graduated from Peirce College and pursued a career as a paralegal. But she ultimately shifted towards rap and kick-started her career as the Notorious B.I.G's protégé in 1995.
From her two decades long musical journey, she has been through a lot of tough times. From failing to top the charts to album delays and altercations with the record label, she has been through it all. But she's not all about the downfalls, she is a Grammy-nominated artist who was nominated for the Best Female Rap Solo Performance in 2003.
From her short-lived rap fame and her multiple features she has been able to collect a net worth of $500,000.