Entertainment
Hot Mixed Ethnicity Actress Malese Jow's Dating: Get Acquainted to Her Boyfriend and Affairs
When a hot, super talented actress gets into dating someone, it sure becomes the talk of the town. And what else can we do then cover the news?
Malese Jow, an actress who has been able to make a name for herself have had quite a history when it comes to dating. And we have all the information right here for our reader's simplicity.
Boyfriend and Dating History:
There is no doubt that many Hollywood stars have no problem flaunting their multiple relationships publicly. But in Malese's case, it's somehow confusing. Now let's take a look at her relationships history so far.
1: Kevin Jonas:
The first name on our list is the eldest member of the Jonas Brother trio, Kevin Jonas. Though their relationship is merely a rumor, we highly doubt it if they deny having a relationship, seeing the chemistry they have when they're together. The rumors started flying around in April 2006, as they were seen almost everywhere together. But since we don't have any valid evidence that states that the two were dating, we should let this one slide. Currently, Kevin is happily married to Danielle Deleasa and has a daughter together.
Caption: Kevin and Malese posing for a photo together
Source: whosdatedwho.com
2: Carter Jenkins
Jow and Jenkins first met on the set of Unfabulous, a Nickelodeon children's TV series. But they actually started dating in 2009 while filming the movie Aliens in the Attic, starring both of them. The relationship somehow ended the same year without anyone knowing about the real reason behind it but hope they still remain good friends.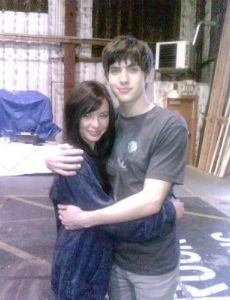 Caption: Carter and Malese pictured together
Source: whosdatedwho.com
3: Steven R. McQueen
Another rumored beau of Malese is her Vampire Diaries co-star, Steven R. McQueen. They apparently started dating around February 2010. Though both deny that they ever were in a relationship, they are said to be separated in May 2010 ( a short-lived vampire story).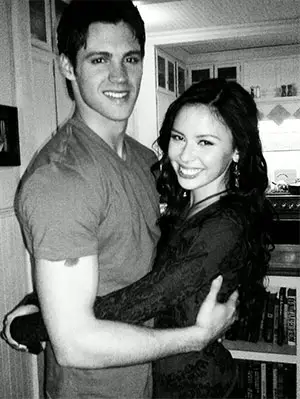 Caption: Steven and Malese hugging each other 
Source: teen.com
4: Ian Somerhalder
The final name on our list is yet another vampire (not the actual one just one of the co-stars) Ian Somerhalder, the ocean-blue-eyed hunk. Ian and Malese rumored to have an affair after Ian's relationship with Nina Dobrev ended.
They apparently started dating in April 2013. But the relationship wasn't as fruitful as hoped and sadly separated two months later, in June 2013.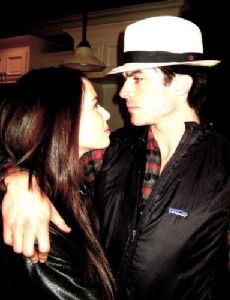 Caption: Ian and Malese cozying up for a picture
Source: whosdatedwho.com
Currently, Malese does not have a boyfriend and is not linked to anyone. But that doesn't mean she will never fall in love and maybe settle down someday.
Malese Jow's Short Bio:
Malese Jow (real name Elizabeth Melise Jow) was born on February 18, 1991, in Tula, Oklahoma. Jow belongs to Chinese-Cherokee-American ethnicity.
Though she always wanted to be a singer and perform on stage, she eventually became an actor, appearing on Barney & Friends and Dellaventura only when she was six years old.
She is best known for her role as Geena Fabiano in Unfabulous and Anna in the Vampire Diaries. She has appeared in more than a dozen television series and films since she first began in 1997. Currently, she is set to appear in Sisters of the Groom.