Entertainment
How Is Kimberly Stewart Co-Parenting Her Baby Daughter With Ex-Boyfriend Benicio Toro? Any Feud Between Them?
Not every one of us can live a solitary life. As life is long, we need a companion to spend the rest of our life. Some people prefer to wait for the arrival of their perfect partner while some choose to date different person to find the right one.
But the gorgeous Kimberly Stewart is neither enjoying a solitary life nor is waiting for the arrival of her Mr. Perfect. The reality TV star, socialite, and model who has always kept dating affairs under wrap is co-parenting her daughter with her ex-boyfriend Benicio del Toro.
Kimberly Has A Daughter As Her Companion!
Previously, Kimberly was linked with some celebrities but made no any comments on those rumors regarding her affairs. However, she was engaged to MTV reality show Laguna Beach star Talan Torriero in the year 2005 after knowing him for just a few weeks.
Kimberly who was then twenty-six years old called off her engagement with Talan Torriero (then 19) less than two weeks after announcing their engagement.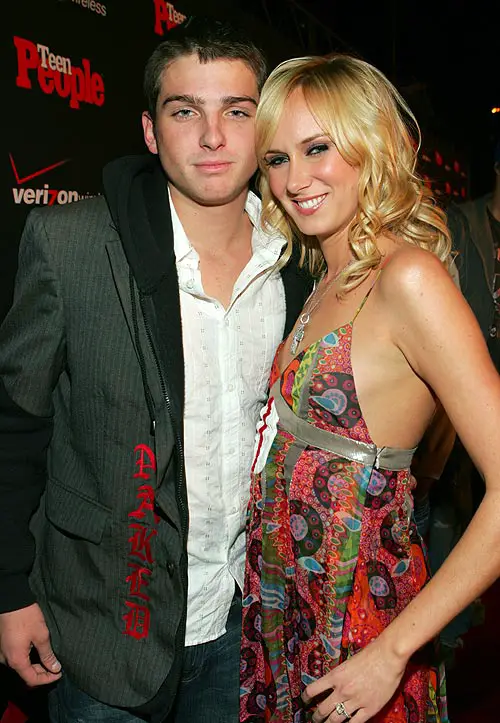 Caption: Kimberly Stewart and Talan Torriero at the 33rd Annual American Music Awards in 2005.
Photo Credit: Hello Magazine
Later, in April 2011, she suddenly gained fame all over tabloids because of her pregnancy. Actor Benicio del Toro's publicist announced that Kimberly is pregnant with Benicio's child.
This news was a matter of surprise to many people as Kimberly and Benicio were never witnessed together spending a quality time. Kimberly gave birth to her baby daughter Delilah Genoveva del Toro later on August 21, 2011.
Co-parenting Daughter With Ex-boyfriend:
Stewart, who is not yet married, is nurturing her daughter Delilah with Benicio. Both Kimberly and Benicio are devoted to their daughter despite the fact that they were never in a committed relationship.
In an interview with Hello! Magazine, Kimberly revealed that Benicio was beside her when she gave birth to Delilah. She explained-
"The whole family, including Benicio, was at the hospital and my mom and Benicio were in the delivery room with me."
"Benicio's very involved; he and Delilah have a very special bond. She definitely looks like her dad, but she has my legs and eye colour."
In the year 2013, Star Magazine covered news about Kimberly's relationship with Benicio where they revealed that Kimberly wants Benicio to father her second child. According to an insider-
"She (Kimberly Stewart) said she wants to give Delilah a sibling."
"She said she couldn't imagine having a baby with any other man. She said they have a great system going, and she really wants Delilah to have a full blood sibling."
Well, they do not have another kid but are still co-parenting their five-year-old daughter. In January 2016, Kimberly and Benicio were spotted spending quality time with their daughter as they headed towards the California Science Center in Los Angeles.
Caption: Kimberly Stewart and Benicio del Toro with adorable Delilah at the California Science Center in LA in January 2016.
Photo Credit: Dailymail.co.uk
It seems that they are giving all the love and care to Delilah that she deserves. We hope that Kimberly and Benicio keep parenting their daughter in the days to come with no any feud between them.