Entertainment
How Much Salary Does the CNBC Editor Rick Santelli Earn to Have a Whooping Net Worth of $6 million?
Do you remember CNBC's "Fast Money Halftime Report" of July, 2014? If not, let us remind you one more time. You might know the person who is going crazy out there in the video.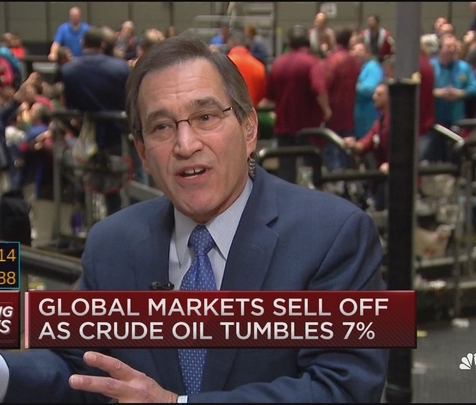 Do you remember the July 14, 2014, episode of CNBC's "Fast Money Halftime Report"? If not, let us remind you one more time. You might know the person who is going crazy out there in the video.
Caption: Rick Santelli blows up live.
Yes, he is none other than the modern-day Tea Party inspirer, Rick Santelli, who is an editor for the CNBC Business News network. Best known for his aggressive and impassioned financial reporting, Rick is also a regular contributor of "Squawk on the Street." This veteran financial reporter is also known for his high paying salary. Rick has a high net worth of $6 million. 
Did he accumulate this fortune only from CNBC's salary? Or, is he engaged in other professions as well? Let's rewind back to his professional life.
He joined CNBC in 1999 as an on-air editor. Since then, Rick has reported numerous stories live from the American stock markets. After continually ranting in July 2014 on the topic of Fed's lowering interest rate and asset purchase policy post-2008 financial crisis, he was demoted to an on-air editor from a financial correspondent.
Before joining journalism, Rick was the vice president of Institutional Financial Futures and Options at Sanwa Futures, L.L.C. There, he handled hedge accounts for different futures. 
Before that, he was the vice president of Institutional Futures and Options at Rand Financial Services Inc. Because of his knowledge on interest rate futures and options, he also served as managing director at the Derivative Products Group of Geldermann Inc.
When he felt that financial industry was not beneficial for him, he joined CNBC where he could share his knowledge with the viewers. Santelli has not been involved in any other profession after he chose journalism.
His fame shot up during the financial crisis when Rick ranted against the government about subsidizing "Losers' Mortgage," condemning the "bailout policy" of President Obama. 
I Want to Set the Record Straight
Creator of "Tea Party Movement," Santelli, now 63, is happily married and has three daughters.

Though many people have criticized him for his controversial positions and his wrong predictions, he and his followers have pursued and attached to his syllable
A preview of his rant can be seen below:
Rick Santelli: A Short Bio:
Rick Santelli, who comes from an Italian Descent was born on January 12, 1953, in Chicago, Illinois. He graduated from the Universit of Illinois at Urbana- Champaign and even was a member of the Alpha-phi fraternity in his college years. His career in finance started early with his tutoring in futures trading, foreign exchange and customer relations from his then mentor and employer, RJ Abrams.
Since then he has worked in large scale businesses such as Chicago Mercantile Exchange and Drexel Burnham Lambert. After portraying an overly aggressive nature and a up-front personality in financial arguments, he joined CNBC in 1999 and has been a major part of it since.