A year after landing his most significant role to date as Porthos in the 2014 BBC's modern take on The Three Musketeers, actor Howard Charles got involved in a life-threatening motorcycle accident.
Following two years of rehabilitation, in 2017, the London United Kingdom native resumed his acting career and went on star in numerous high-profile pilots as well as roles alongside some of the biggest names in Hollywood.
So, a question begs: Was his wife - assuming he has one - an instrumental figure in the recovery process? Or was it his parents, who looked after him following the tragic accident? Read along to find out including Howard's height, age, and net worth!
Girlfriend-Cum-Wife Key In Recovery? Dating History
Someone as talented and genetically gifted as Howard can't be single and unmarried for an extended period, or can he? Forget wife; going by his Instagram activities, the Beautiful People actor doesn't even seem to have time for dating. However, this wasn't always true though.
Back in 2016, while still recovering from a motorcycle mishap which almost took his life, Howard would drop subtle hints about his then-girlfriend on social media. Commemorating Valentine's Day that very year, he posted a cryptic post on Instagram -- one matchstick with a red cap over another that symbolized the universal signal of love.
Another High-Profile Accident:- Injured George Clooney Hospitalized After Accident In Italy! Scooty Meets Car
Eight months later, he outdid his Valentine's Day post by providing a rare insight into his dating life as he uploaded a scenic photo of a "Beauty (my)" -- believed to be his girlfriend.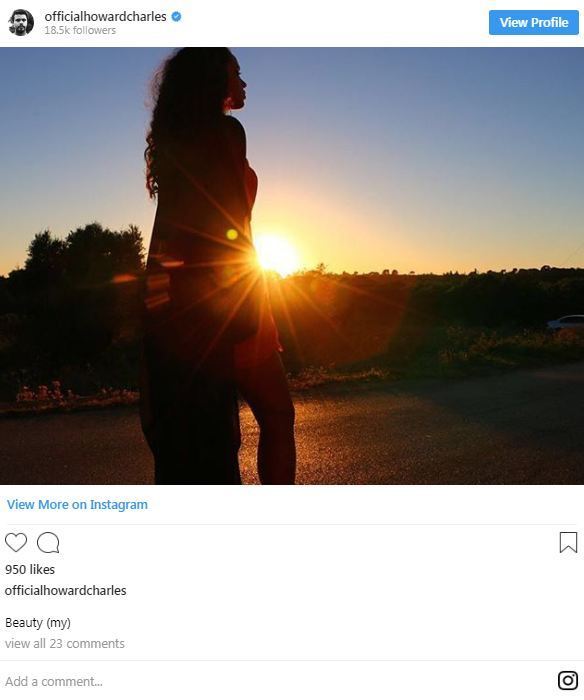 Howard Charles shares a picturesque image of his assumed girlfriend while still recovering from the accident in 2016 (Photo:- Howard Charles' Instagram)
However, the stated post was the last time his fans got to hear about his mystery wife prospect. Though instrumental in his recovery, his yet-to-be-identified girlfriend appears to be no longer a part of his social circle.
Undoubtedly, Howard is thankful for what he was able to accomplish through her support because his partners in the past haven't always been the most supportive.
Working Class Parents; Height & Net Worth Revealed
The same is true of his working-class parents, who got distraught once the Red Line actor told them about his acting aspirations.
Celeb With Similar Family Background:- Amber Rose Revah Married Actor Boyfriend? Parents, Ethnicity, Net Worth
His mother and father, however, began to see his career choice in a much lighter mood after he won a scholarship to attend the revered Drama Centre London.
Summing up the whole debacle with his parents in the 2014 interview with Daily Mail, the star of the play Blackta - who stands at the towering height of six foot and three inches (184 cm) - quipped:-
"They are very working class and weren't exactly thrilled when I told them I wanted to be an actor. They and my then girlfriend thought it was a phase that I'd grow out of. But once I got accepted at drama school they began to take me seriously, and now they couldn't be more proud of me."
If mama and papa Charles - a mixed-race couple - weren't proud of his film catalog, they are indeed happy with Howard's burgeoning net worth -- a figure likely to surpass the six-figure mark.