Entertainment
Ian Beattie, Happily Married Man With A Family! Actor On And Off Camera
Ser Meryn Trant's of the HBO series Game of Thrones, who is the knight of the Kingsguard under Robert Baratheon, Joffrey Baratheon, and Tommen Baratheon is indeed a familiar face to the fans. But how well do you know about Ian Beattie, the man who delivered justice to the said role?
Let us tell you, off the camera, Ian is blessed with a family and is enjoying happy married life. Want to find out more? Just keep reading!
Ian Beattie: Behind The Camera
Ian has let only few information surface regarding his family to the media. But, the details regarding his marital life isn't a complete mystery; Ian is a married man and has kids as well.
Replying to a Twitter post back in September 2017, Ian mentioned his wife; however, no further information was provided.
Ian replies to Twitter post mentioning wife (Photo: Ian Beattie's Twitter)
Likewise in a Twitter post back in December 2017, Ian shared a picture with his son Joshua at Barbados, giving an insight into his family.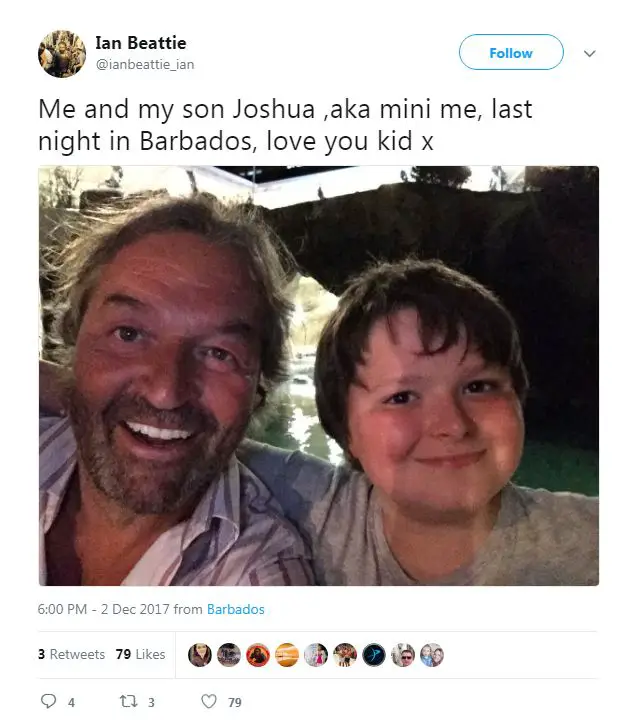 Ian expresses love for son Joshua (Photo: Ian's Twitter)
Though Ian hasn't entirely veiled his personal life, the details regarding when and where he got married, remains confined. Moreover, it is arduous to figure out where he currently stands in his conjugal life.
Well, the secrecy that he has maintained over his private life allowed the gay rumors to swirl for him in the past. But now that we know he is a married family man, concluding on his sexuality, otherwise, may not be a wise thing to do.
More To Know About Ian Beattie
Ian was born on 3 March 1965 in Belfast, Northern Ireland. He began his acting career from an early age when he used to tour Northern Ireland in a circus with his father. Later, Ian went on to study drama at the London Academy of Music and Dramatic art.
Besides Game of Thrones, Ian has appeared in numerous television and film, including Alexander, Line of Duty, The Journey, and Doctor Who to name a few.
Think we're missing something? Do let us know in the comment section below!