Entertainment
Ian Hanomansing Of CBC Changed His Last But Is It For His Wife? A Married Man Hiding Personal Life
Normally it's the wives who change their surname after marriage, to show their love to their husbands. But when a man does it and keeps a different surname, people often tend to speculate if he is married and is doing it for his wife.
It is weird when a man or a husband changes it surname because man doesn't do that. Today we have a celebrity who did the same, and he is none other than CBC's Ian Hanomansing. After Ian has changed his last name, people are assuming he has done it for his wife. Well! Let's find the fact of his surname whether he has done it for his wife or there's another reason.
Changed the last name for his wife?
CBC News Now with Ian Hanomansing host's name had been the major topic after he changed his last name. Easy-on-the-eyes Ian Hanomansing changed his name from Ian Harvey. As we are familiar that he is a married man, then many speculated that he must have done that for his wife. But is it true when we say that?
Caption: Ian Hanomansing talks about the reason behind changing the last name. (Published on April 14, 2011)
Gemini Award-winning host has his reason to do so. You heard it. He, in fact, didn't change his name for his wife but probably for a chick, as mentioned.
Trinidad-born Canadian newsman Ian Hanomansing first started working on air with his real name Ian Harvey. But when his schoolmate, who graduated with him in High School didn't recognize him, then he got to change his surname.
That's wise idea from the handsome host who has maintained his body probably with weight loss as changing the last name "Hanomansing" undoubtedly made him more popular, today.
More about him and his Career:
Born on 1961, Ian Hanomansing is Canadian journalist. He completed his graduation in B.A. Political Science and Sociology from Mount Allison University in Sackville. He also has a law degree from Dalhousie University in Halifax.
He got married to Nancy Hanomansing, and they share two children together. His marital life has been moreover behind the curtains as he is not seen talking much about it.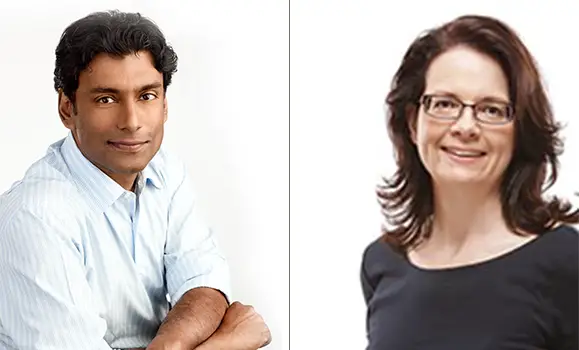 Caption: Ian Hanomansing got married to Nancy Hanomansing.
Photo Credit: dal.ca
Talking about Hanomanising's parents, he hasn't shared much about them, but he did mention some information about them over his Twitter.
I just discovered its 4628 steps from my house in Vancouver to my parents' house in NB. I need to double back. Before midnight. #obsessed

— Ian Hanomansing (@cbcian) September 26, 2016
Ian Hanomansing began his broadcasting career In Amherst, NS at CKDH Radio. He also worked at radio stations situated in Moncton and Halifax.
Ian Hanomansing joined CBC in 1986 and had been employed as an interviewer, anchor, and reporter. He has worked in several major stories.
He formerly hosted the programs like Pacific Rim Report (1995-1999), Times 7 (2005), Canada Now (2000-2007), Still Talking Hockey (2004), Feeling the Heat (2007), Downtown Drugs (1998) and much more. Talking specifically about the show "Downtown Drugs," that explores the problems invited by the troubled neighborhood and its potential solution too. The show won the Justicia Award from the Canadian Bar Association.
More recently, Ian Hanomansing was also honored with the 2016 Canadian Screen Award for Best News Anchor for the news show "The National."
Throughout his career and working on several projects and shows for CBC has helped to accumulate a handsome salary ultimately have contributed a lot to pile up his net worth. The exact figure of net worth is not revealed officially but is expected to be in millions.
Stay with us for more news on Ian Hanomansing!