Entertainment
In Her Early Thirties, Courtney Reagan Married Boyfriend of 7 Years Jared in 2014. Meet the Accountant Husband
Courtney Reagan is a known personality on TV and has quite a huge fan following. Even if you are not that big of a news guy, you probably remember about the surprise on-air proposal made by Jared to CNBC's hottie Courtney Reagan. But do you know they have been married for two years now?
So, how are things now? Learn about this, how they got engaged and much more below. What is deal with them being already married for over two years?
The Proposal! on Air!
Courtney Reagan was doing an on-air segment of "Nightly Business Report" about engagement rings. The show's host Tyler Mathisen was referring to the popular mid-level diamond jeweler Jared, which happened to be her boyfriend and soon to be husband 's name as well.
Suddenly out of nowhere, Jared Baker entered the set and surprised her by popping up the big question in front of millions of viewers.
He dedicated the following words to his lover as his proposal:
"It's been a long time. Seven years... I love you so much. I have since the day I met you. I've always known you were the one. I love your smile. I love your laugh. I even love the way you dance. Will you marry me?"
Needless to say, she accepted, and the couple has been happily wed since.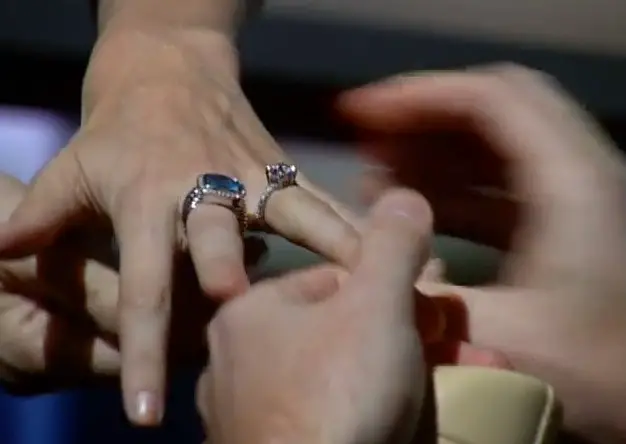 Caption: Close-up shot of Courtney Reagan's engagement ring
Photo Credit: businessinsider.com
Caption: Courtney Reagan Surprise Proposal on November 2013.
Married for 2 Years:
Tabloids have reported Courtney as a married woman. But after a thorough investigation, we found out that they have been married for almost two years now. They dated for seven years before their marriage.

Caption: Courtney Reagan and Jared Baker Wedding Registration Card.
Source: theknot.com
According to registry.theknot.com, their marriage was registered on August 31, 2014.
We found their wedding pictures on Instagram. Here are some moments of their marriage.
To see the pictures, CLICK HERE
Courtney Reagan, Pride for aspiring women
With an impressive Portfolio, Courtney Reagan is well respected as one of the most successful women in the field of Journalism. With her experience with working in various networks such as CNBC, ESPN, and NBC and even worked at Merril Lynch. Reagan graduated from Miami Universite, Ohio with a bachelor's degrees in finance and mass communication and an MBA with specializations in economics, luxury marketing, and entertainment/media/technology.
She has spent years in CBNC and has been involved in multiple programs for the network such as TODAY, NBC Nightly News and Nightly Business Report. She has also worked as the CNBC Business Day programming General Assignment Reporter since 2011.
But even though her hands are filled with work, she still finds time for her family. And it is obvious that her husband and her family has the highest priority in her life.
Caption: Courtney Reagan's MBA graduation in 2013 with parents John and Brenda Reagan.
Photo Credit: drivenforwomen.com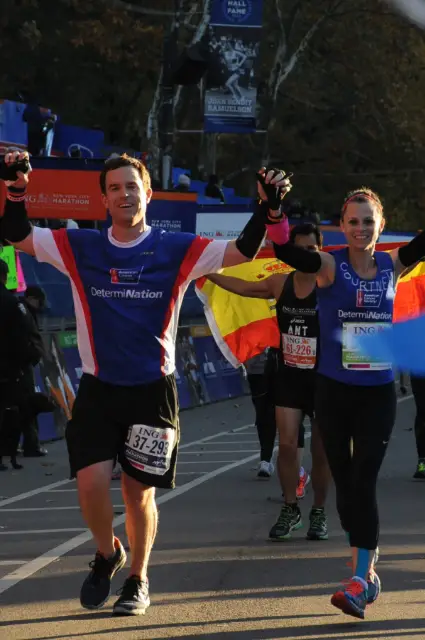 Caption: Courtney Reagan and husband Jared Reagan finishing their marathon in 2013.
Photo Credit: drivenforwomen.com
Courtney is also heavily invested in marathons and has taken part in State Marathons since 2012. She initially got involved in it during her free time during her MBA, but she obviously liked the thrill of the marathon and even raised over 13000$ for Pancreatic Cancer Action Network in honor of her Aunt Peggy in 2012.
In the later years of 2013 and 2014, she raised over $28,290 and nearly $25,000 in honor of her Aunt Peggy, Aunt Debbie and friend Rachael for the American Cancer Society's DetermiNation team. She was also crowned as the top individual fundraiser for her entire team.
American Malls:
She has been doing a set of reporting on the news related to malls in America and various concerns related to it. On August 2016, she covered a similar story where she said that numerous stores of franchises like Walmart, Sears, Macy's and such other were closing because investors considered, "The U.S was over-stocked." US prioritized anchor stores like J.C Penny, but both of their productivity and popularity have been decreasing now.
Known for her intellectuality in finance and excellent on-screen presentation, CNBC's retail reporter Courtney Reagan has made a place in the hearts of millions. Contributor of NBC's "TODAY", "NBC Nightly News" and "Nightly Business Report", Reagan has also served as the segment producer for "On the Money".