Entertainment
India Hicks With Five Children & Husband Like Figure! Bit Of Royalty, Lot Of Love
Former fashion model India Hicks had dominated the fashion industry with the fashion brands like Ralph Lauren and J. Crew. Not only that the model-turned-businesswoman is the 678th candidate to the British Throne and is a second cousin to the Prince of Wales.
Though the blood of Royalty runs through her vein, she is an independent woman; she founded her own Bahamas boutique, The Sugar Mill, designed a fragrance and launched a range of jewelry and founded lifestyle brand India Hicks Inc. in 2015.
The Bahamas, where India was grown up in, started her business in the Bahamas and started her family there. She also found another gem, her partner in the Bahamas to whom she recalls as the most precious gift.
Husband-Like-Figure; Line in Royalty
The 50-year-old India shares the romantic relationship with the former Saatchi and Saatchi ad man, David Flint Wood. She shares four children with her partner however, the couple is yet to get married. 
She proudly claims that a good relationship is not formed by getting married. She stated to telegraph.co.uk on May 2012,
 "It wasn't something I needed to do."
The couple welcomed their first child, a son named Felix Austen Flint Wood on 23 May 1997. Similarly, after two years of Felix birth, their second son Amory John Flint Wood was born on 25 June 1999. Likewise, their third son, Conrad Lorenzo Flint Wood was born on 25 April 2003.
A couple of more than two decades was blessed with three boys, and finally, they welcomed their fourth child, a daughter named Domino Carmen Flint Wood on 17 December 2007 in Miami. Similarly, with the family of six, they were cherishing the bliss of parenthood and of being a supportive partner. 
Well, pronouncing as husband and wife is not the top priority to be called good parents. Their relationship proved that good understanding could take the couple to the never-ending journey nor the sacred vows of husband and wife.
They had a complete family, however, adopted a Bahamian teenager named Wesley Cleare when he was just a 12 after his waitress mother, Lynne died of breast cancer.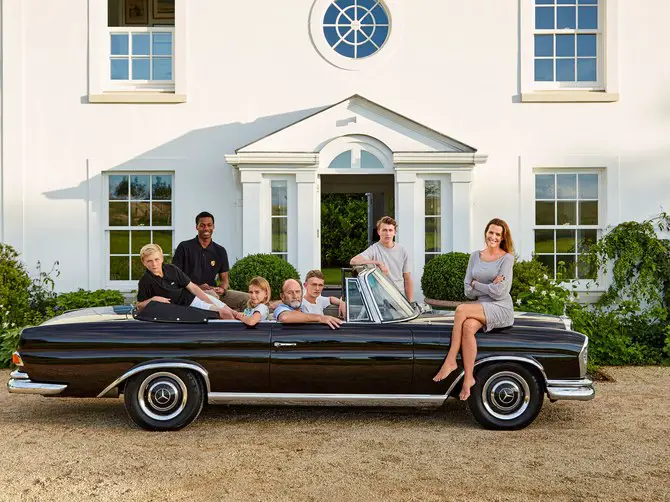 India Hicks with her partner, David Flint and their children (Photo: architecturaldigest.com)
She welcomed Wesley to the family after his father asked India to take him in. And so India imprinted his name to the 2011's Christmas Card with a message which says:
"This is Wesley. He needs to be respected, loved – and given presents!"
India, who is obsessive about running, thought the adoption might affect her children but in actual it seems normal. Her daughter Domino says:
"I have three brothers and Wesley.'"
Well, with their growing children, the couple finally decided returned to their native home England. India, the daughter of Mountbatten's daughter Lady Pamela Mountbatten and interior designer David Hicks, wanted the traditional house where her five children could learn about England's history. 
India, who is also an heiress, earns an income aside from owning a business. Well, she has also hosted the Bravo interior design TV series, Top Design. India, who was the bridesmaid of Princess Diana, also commentated as the royal commentator on the wedding of Prince William for both ITV and ABC.
India, who is a hotelier as well as the face of Viyella, might have good earnings from her diverse professional, but she has not revealed the exact amount of her earning which might be a good net worth.