Entertainment
Indo-Guyanese Ethnicity Actress Melinda Shankar's Dating History: Get Acquainted to her Boyfriend and Family
Known for the character of Alli Bhandari, actress Melinda Shankar has been flaunting her Indo skills in the North American market and has been widely accumulating name and fame. But is the love from the viewers only sufficient for the lady to survive or has she secretively mounted a love life with an anonymous person?
Just for the sake of the fans and viewers of Melinda, we are unlocking the few personal details of the star's family background and dating history.
Has she found a boyfriend or is she still waiting?
The 24 years old actress was seen romancing Luke Bilyk in the series of Degrassi: The Next Generation(2001). Even though the on-screen match created a sizzling chemistry between the pair but in real life, the actress seems to have a different preference and has no intention of dating her co-star behind the screen.
Thus, as posted by whosdatedwho.com, she is single.
As per our reports the lady had dated a fellow named D.Hundy since 24th December 2013. The lady has not disclosed any information about her meeting with her man nor has she revealed any of her dating incidences in any of the social networking sites or any online portal.
Even though the lady has not confirmed her relationship with her man, one of her fans tweeted a post on her Twitter account. She mentioned about loving the star and her boyfriend on 21st May 2013.
@melindashankar honestly you're the prettiest girl in the whole world. Ur hair and makeup is just fabulous and u and ur boyfriend are cute:)

— ?? (@story0fmylifex) May 21, 2013
Similarly, while going through the man's Twitter, we came across plenty of candid pictures taken with her. Some fans have even appreciated their relationship by showering with loads of best wishes in the relationship and by posting cozy shots of man and women in the Twitter account as on 18th June 2014.
Therefore, the lady might be still in the relationship with her handsome man, or they might have moved on in their direction.  Melinda has seriously confined her relationship status from the media. Thus, we must wait till the lady officially confirms the news about her involvement with the man or their break up.
Melinda's Dating History:
While fumbling through her dating history, the actress has a long list of co-star whom she has dated within an interval of a year or two. Even though she has made no certainty, the sources have disclosed her to be involved with plenty of men. 
In the recent year's she was caught in the rumor of dating Raymond Ablack, the Degrassi actor. The lady has neither confirmed the dating news nor has she refused or made any comment to the rumors.
However, the fan has loved the pair of the couple and is willing to see them together. While some even say that they are engaged. 
Well, till date not a word of acceptance has been received from the star so this just a rumor with no particular evidence. Raymond is reported to be single as of now, but we never know when the status of him will change.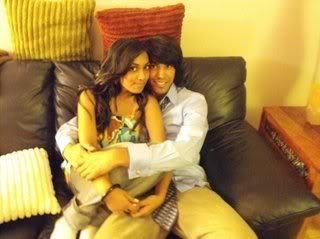 Source: Melinda Shankar with Raymond Ablack.
Source: fanpop.com
Similarly, there was a rumor of Melinda dating her co-star from Degrassi Justin Kelly from the year 2011. The lady nor the man have confirmed their relationship status nor have they revealed about their dating events or nor were they spotted in any events together.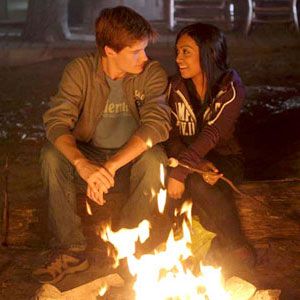 Caption: Melinda Shankar with Justin Kelly together (2011-2012)
Source: whosdatedwho.com
However, as per report that the relationship took a sway immediately after a year of dating, i.e., in the year 2012. But, as no news or concrete evidence has been obtained this can also be a fake rumor spread in the media or it might also be true. But the lady in no desire to spread her break up stories in any of the portals and the man is reported to be currently single.
The actress has kept her love life quite wrapped up. Therefore not a single reason for her breakup with all the men has been out along with the reason for dating men for a short span of time.
Maybe the reason for the break up is due to her teenage hormonal change or due to the failure of meeting her Mr.Right or may be attributable to her career.
Get to know about her Ethnicity family background:
Born to Indo-Guyanese parents who immigrated to Canada, Melinda Shankar comes from the family background of actress mother, director grandfather and production manager father.She even mentioned about her grandmother being an actress. She has two older sisters Melissa, Melanie and one brother.Michael.
On an interview posted byPost city on 28th July 2015, she said;
"My great-grandfather founded the first theater production in Guyana, where my parents are from.He would create plays and travel throughout South America performing them. And my grandmother was one of the actresses involved in his plays."
She added;
"So I think it was just always in my blood to perform."
Well, now we surely do know the secret of her acting skills and her flawless beauty. Having born in a movie oriented family, the actress definitely has an inborn quality which landed her on the doorstep of acting and made her achieve fame and name at an early age.
Melinda Shankar's Short Bio:
Melinda Shankar was born on 18th February 1992 in Ottawa, Canada.Till grade eleven she attended  Sir WilfridLaurier Secondary School in Ottawa later she moved to Toronto.
In the year 2008, she made her first debut Degrassi: The Next Generation(2008-2015) as Allia Bhandari.
Melinda has an estimated net worth of $500 thousand. She gathered the net worth by performing in various movie and television series.
She is currently working on the projects Filth City as Monica and Darker than Night(2017) as Mika.