Entertainment
Is 31 Years Old Journalist of Canadian Nationality Susan Li Married? Who is Her Husband?
Let's meet renowned and respected Canadian journalist Susan Li. Based in the USA, Li works for CNBC as a general assignment reporter appearing during CNBC Business Day Programming at CNBC Global Headquarters. Previously, she was the co-anchor of "Asia Squawk Box" and "Worldwide Exchange." She currently works as a reporter and relief presenter for the popular television channel, CNBC.
The 31-year-old Susan is popular for her excellent command of the business world. She has demonstrated her strong analytical skills in Bloomberg Television's First Up, where she had to interview business leaders and had to report on top stories from around the world. 
She has a huge fan following all because of her qualifications.
As you can watch in the video, she is so good at getting her ideas across. Moreover, she is regarded as one of the hottest women news anchors. She has maintained her fitness so well. You might think that she must certainly be married to someone!
Married Rumors? Husband?
However, the truth is far away from assumptions. So, it will be safe to say that she is a single woman at the age of 31. Rumors might raise doubts about her having a secret husband, but she has never verified such rumors.  But her fans are curious to know if she has someone in her life.
Don't worry; Hong Kong actor Donnie Yen is not her boyfriend yet! But they do look good together, don't they?
Susan Li's Ethnicity:
Susan Li is of Canadian Nationality. However, she was born in China. Her single mother moved her family to Toronto, Canada when Susan was a child. The reporter also can speak fluent Cantonese and Mandarin and seems to have embraced her heritage quite well. 
Li's Career Journey:
The Chinese-Canadian reporter debuted her Journalism career at Canadian Broadcasting Corporation working as the associate producer and freelance reporter for both radio and television. In 2003, she joined CCTV International and worked on the primetime worlds News Broadcast, Business news recap, as well as news editing.
During this time, she interviewed notable personalities such as former Venezuelan President Hugo Chávez, LVMH's Bernard Arnault, and professional basketball player Yao Ming.
In 2006, she joined Bloomberg Television where she developed her image in the international News world. She was originally the host of the primetime evening newscast in the Asia-Pacific region and eventually hosted various tv shows such Bloomberg Edge, Morning Call, First Up and Asia Stars.
Roaming around the world Li interviewed multiple political and financial personalities such as Malaysian Prime Minister Najib Razak, US ambassador to China Gary Locke and Blackrock CEO and Chairman Larry Fink, Baidu Ceo Robin Li, American casino developer Steve Wynn and many others like them.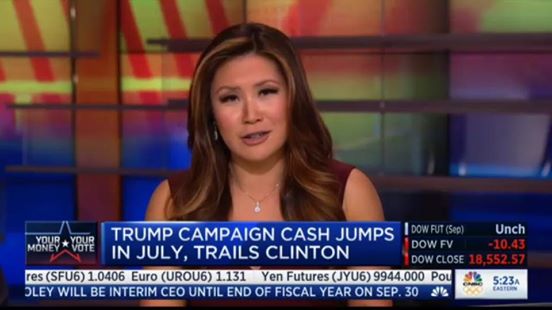 Caption: Susan Li reporting live on CNBC
Source: Susan Li Appreciation Society, Facebook
She eventually joined CNBC, specifically CNBC Asia in 2014 as the co-anchor of Asia Squawk Box. After a year in 2015, she joined CNBC Europe which got her the opportunity to interview people such as Indian Finance Minister P Chidambaram and Bank of Japan Governor Haruhiko Kuroda.
Susan currently works as part of CNBC in the US and has so far interviewed personalities such as Robert De Niro, Jet Li, Nobu Matsuhisa, etc.
Caption: Susan Li talks about her work at CNBC and how she plans to push the network forward.