Entertainment
Ivan Martínez Twin Reveals Dating Status At Age 19 For Aspiring Girlfriend Out There
Spanish social media star, Ivan Martínez, with his blue eyes and perfect jawline, has ruled the social media after he grabbed many fans and followers' attention. Just at the age of 19, Ivan runs a YouTube channel alongside his twin brother and a friend and entertains his fans throughout his remarkable content.
And on the process, Ivan's fans are also interested in knowing about the person they are seeing romantically; the mostly raised queries are about their dating status. 
However, they have not disappointed their fans as Ivan along with his brother has been upfront regarding their dating life. 
"Don't Have A Girlfriend"; "She Is A Fan"
The Instagram star first gain his followers by debuting his series of selfies on Instagram in September 2015. Within few months he was already boasting ample amount of followers base. 
As his well-wishers became curious towards his dating life, he revealed his empty love life among his fans by sharing a tweet in October 2016. In the tweet, Ivan posted a picture of him holding someone's hand. In the picture, it seemed like Ivan was holding hands of someone he loved, but the caption he wrote in the picture revealed something else.
He directly revealed that he did not have a girlfriend and he was holding a fan's hand in the picture. He captioned the picture writing,
"I don't have a girlfriend! She is a "fan""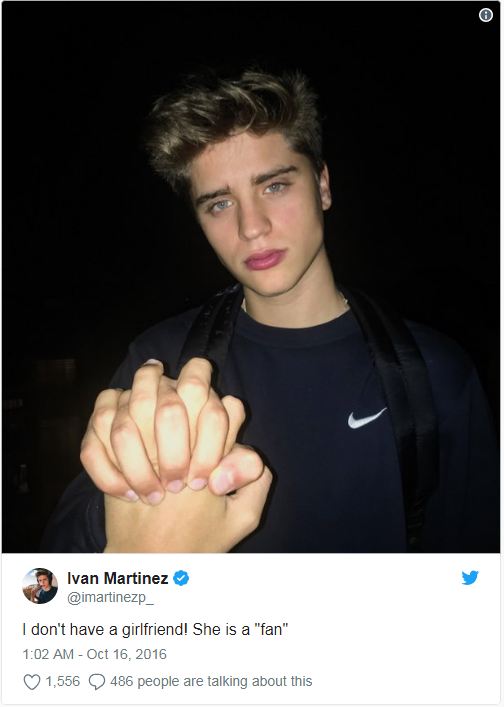 Ivan Martinez girlfriend tweet revealing dating status (Photo: Ivan Martinez's Twitter)
After a few months, Ivan posted a picture holding a bouquet of roses on his Instagram. He captioned the picture saying he could not wait for Valentine's Day. The post raised many queries among his fans as they were curious to know if he found a date for the Valentines day.
Fans Asks About Girlfriend; Willing To Find Love
Ivan, who stands at the height of 1.79 meters, made no comments during that time, but after few months Ivan along with his twin brother Emilio Martínez posted a YouTube video revealing their love life. In the video, the twin, who also has an elder sister Rebeca, answered the questions asked by fans which also included if they had girlfriends or not.
Turned out, both the Martinez brothers were single. Adding to it, Ivan had not been involved in any romantic relationship yet. At the end of the video, Ivan expresses that he is willing to find love and have a girlfriend.
Moreover, he even publicly tweeted in his Twitter account regarding his interests in having a girlfriend and a love life. He expressed that he wanted to fall in love and proudly say and he loved his girlfriend. In the tweet, he wrote,
"One day I wanna be able to say "She's my girlfriend bc I'm in love with her" one day..."
Well, he sure might fall in love with the woman of his dreams someday. But as of now, his female fans are much relieved knowing that the Martinez twins are single and ready to mingle.