Entertainment
Izabela Vidovic, 16, And Dating? Personal Life Of Beautiful Young Actress
With the rise to stardom, American TV actress Izabela Vidovic has made her name in the entertainment industry with her notable acting roles. And with every day rising fame, the curiosity of the spectators regarding her personal life also increases simultaneously.
So, if you are one of the fans of the beautiful actress and are interested in her personal life, then you have come to the right place as today we are shedding some light on Izabela's life.
Izabela Vidovic's Relationship Update
From a very young age, Izabela became well known in the industry with her notable role in the film like 'Wonder.' And it is undeniable that her fans are always looking forward to her life behind the camera.
Likewise, many have speculated whether or not the young actress is dating someone. Well, it seems like she probably is single because Izabela has not been tagged along with someone else and also she is also not rumored to be dating someone at a young age. Moreover, she has neither commented anything regarding her relationship status in any of her interviews or social media.
Meanwhile, with her aspiring career, she probably must be focusing on building a strong professional base rather than having a boyfriend.
So as for now, she possible remain single in the eyes of spectators.
Izabela Vidovic's Bio
Izabela who stands a height of 1.62 m (5 ft 3 inch) was born on 28 May 2001 in Chicago, Illinois, USA and is 16 years of age. She comes from a family with an acting background as her mother, Elizabeta Vidovic is herself an actress. Her mother was raised in the Bosnian city of Busovaca, and not to mention, she has a picture-perfect family.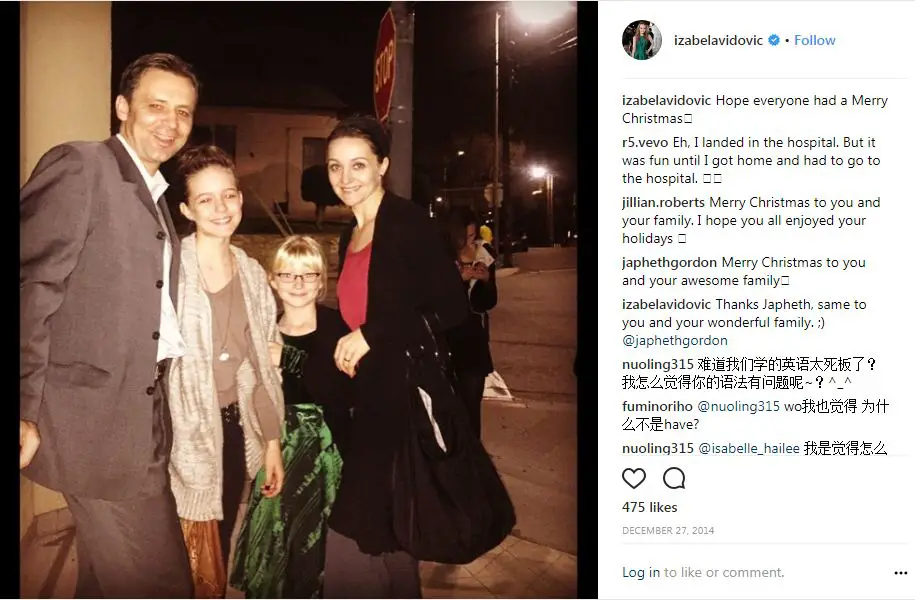 (Photo: Izabela Vidovic's Instagram)
Izabela performed in stage when she was just seven in age. And after that, she shifted onto films and television series in 2011. She has appeared in many several series on The CW television network.
Izabela's big screen debut was 'Find Me' in 2012 where her mother Elizabeta co-starred and co-wrote the film. Likewise, in 2014 Izabela portrayed the role of Charlotte on 'The 100' in the first season episodes 'Murphy's Law' and 'Earth Kills.' She also had some other television role in 'About a Boy,' 'The Fosters.'
Meanwhile, in 2017, she as well portrayed a role of a young Kara Danvers / Kara Zor-EI in the Supergirl flashback episode 'Midvale.' In the same year, she further depicted the role of Olivia in the movie 'Wonder.'
Moreover, in 2018, Izabela will have a multi-episode arc in the fourth season of 'iZombie' as Isobela.