Entertainment
Jackson Galaxy- Who Turned Addiction into Cat Love Also Got Married With Wife In An Unusual Venue! Detail
Jackson Galaxy- Who Turned Addiction into Cat Love Also Got Married With Wife In An Unusual Venue! Detail. My Cat From Hell" host, Jackson Galaxy who was once drowned in addiction but is now happily married with his wife and also is a renowned cat behaviorist. So let us address the married life of this man with his wife and also shed more lights on his love for cats. Also, mentioning what helped him win over the battle of addiction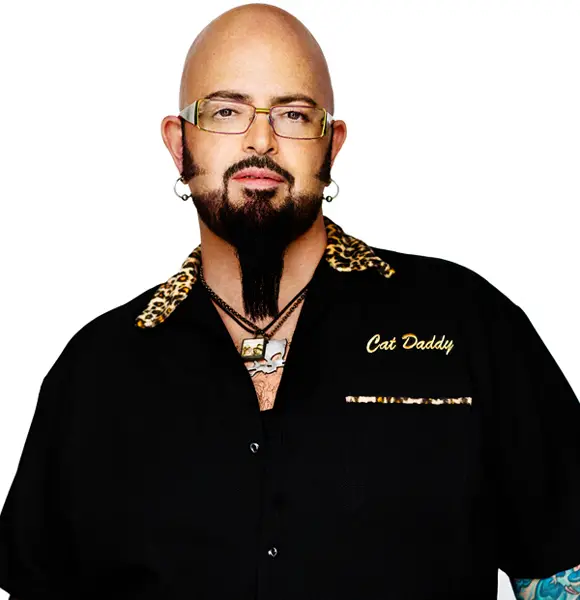 Addiction is something that people often find hard to deal with and get over. It's certainly difficult, but not impossible!
It is Just a matter of time, and people are likely to find an inspiration to abandon their addiction. Most of the times, it's the existence of an individual or thing making an impact on the addicted person.
A similar story can be used to describe the life of "My Cat From Hell" host Jackson Galaxy, who was once drowned in addiction but is now happily married with his wife and is also a renowned cat behaviorist.
Today, let us address the married life of this man with his wife and also shed more lights on his love for cats along with the thing that helped him win over the battle of addiction
The Blissful Married Life of Jackson Galaxy: Who Is His Wife? His Love For Cats:
Jackson Galaxy married his wife, Minoo Rahbar on June 29, 2014, and the venue was a bit unusual, to say the least. 
The two got married in a pet sanctuary called Best Friends Animal Society, which is a no-kill pet sanctuary located in Kanab, Utah. The exchanging of pledges took place surrounded by a handful of family and friends in an "intimate" ceremony.
The sanctuary too shared a post to congratulate the then newly weds.
Jackson, speaking on his unconventional but adorable marriage, said,
"Our dog Mooshka was the ring bearer," 
Minoo Rahbar, who is also an animal rescuer, first met Jackson while raising funds for a kitten rescue Minoo started.
Jackson recalled that as,
"We met for coffee for 15 minutes, And the rest, as they say, is history."
Since then, the couple has been living a happy relationship in LA with their dog (a rescued one, of course) and six cats. Additionally, they have been redefining their own meaning of love and have been giving lives to several rescued pets. 
Jackson wishing Minoo on their second marriage anniversary provides evidence of their relationship going strong till date.
Being in this sort of adorable relationship with a lady luck in a person's life shoves all the gay rumors for good, right? 
And the love for cats and his pets has never faded one bit.
He also has his own Youtube channel, where he makes people aware of the proper ways of taking care of their cats.
Caption: Jackson Galaxy: What You Should Do If Your Cat is Sick
Published on Jun 30, 2014.
Jackson Galaxy: Battling With Addiction: 
Jackson Galaxy is America's official Cat Daddy, but he too has dealt with a rocky past, as he was once graved in addiction. He was not the one who dreamt of being a cat whisperer. In fact, he was an aspiring rock star, who was an addict back in time. 
Sharing about his past, Jackson said,
"Alcoholic, prescription drug addict, I smoked so much pot it would kill a rhino, Hallucinogens, coke, whatever came my way, whatever altered me, whatever numbed me.
But all of it changed when Benny, an injured cat, who was brought in after she was hit by a car, arrived at an animal shelter he worked in.
He added,
"I learned how to speak cat working at the shelter, but I really learned how to speak it fluently through him, Every day of my life with him I alternately loved him and wanted to throttle him. Every problem that people come to me now for he exhibited."
He concluded,
"I made a deal with all the cats I was working with, I didn't really care about letting humans down. I cared about the fact that I built this life with animals completely out of the blue and I felt a responsibility. I would never have done it for me. I never would have done it for another human. I did it for them."
And the rest is history!
He is now living a healthy and happy life! He also seems to have undergone some weight loss, as he looks more fit than before.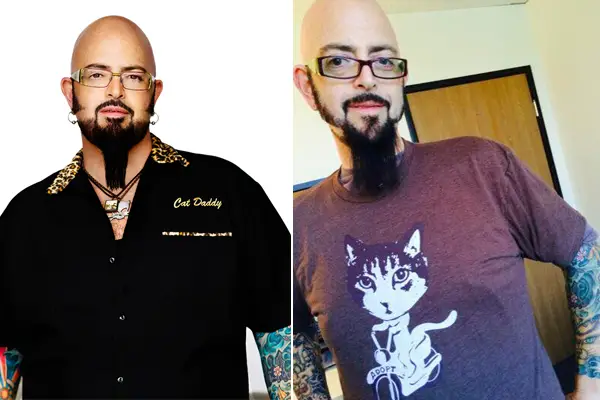 Caption: Jackson Galaxy: Then and Now.
This TV host and cat behaviorist, who has been giving a new meaning to pet love, is enjoying a healthy net worth of $1 million.
Good deeds always pay back right they say; in Jackson's case, it sure did! 
Stay with us for further updates on Jackson Galaxy!