Entertainment
Openly Gay Jackson Krecioch Dating Blissfully; Flaming Hot Boyfriend Alert!
The Internet personality Jackson Krecioch has landed himself in a dating affair he deserves after being exploited by his manipulative ex-boyfriend. Since Jackson came out as gay in October 2016, he has indulged in both heartwrenching and heartwarming romance.
If you wish to know more about Jackson Krecioch's dating affairs of the past as well as present, keep scrolling!
Jackson Krecioch's New Admirable Relationship:
Jackson Krecioch,19, is dating a high school wrestler, Dylan Geick, who is of the same age as him. The wrestler, also a published author and model, is admired for his decision to open up about his sexuality. Thanks to his coming out, his fame skyrocketed, making Jackson and Dylan a power couple now.
Though no official reports about when the duo met and started dating are available, it seems like they began to fall for each around June 2017, for both Jackson and Dylan first shared a picture with each other on their respective Instagram that very month.
In Jackson's post shared on 20 June 2017, the two can be seen locking lips while, four days before it, Dylan's post featured Jackson looking up at him lovingly. And their romantic union was apparent from the very beginning when Dylan captioned:
I met a boy by chance. Glad I did.
And their by chance meeting has proved to be a lasting relationship! The couple often takes the liberty to flaunt each other on their social media and show loud and clear to their fans the fact that they are very much in love.
Jackson and Dylan celebrated their birthday together and even stepped into the new year with each other by their side. In January 2018, Jackson took to Instagram to declare that he would want no one else but his boyfriend to be with him to mark the beginning of a new year.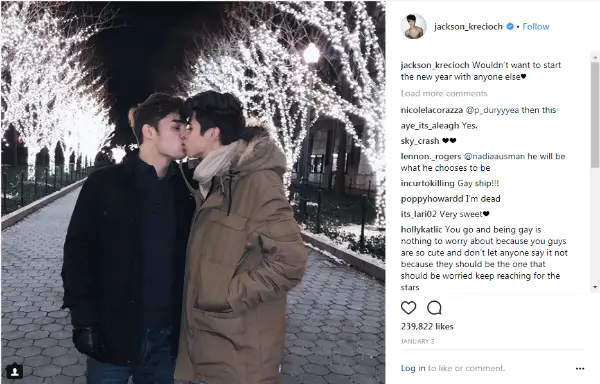 (Photo: Jackson Krecioch's Instagram)
We don't blame you if it makes you a little jealous looking at the adorable couple!
Subsequently, the two took a trip to New York, and they both shared a similar picture of Dylan kissing Jackson as the latter falls back in the former's arms. It is apparent that the lovebirds are smitten with love and Jackson has announced his gratitude to his boyfriend multiple times on Twitter. On one occasion, he wrote,
My boyfriend is so hot. Idk how I got this lucky
However, he has not always been this lucky. Before Dylan, Jackson was linked to a fellow YouTube star, Aaron Fuller but their relationship did not last long as Aaron's intentions behind dating Jackson were made public.
Merely a week after the couple announced their relationship, Trash, a group YouTube channel member Kahlen Barry exposed a screenshot of their group conversation to Twitter, where Aaron claimed that he would use Jackson for fame.
Following the revelation, their new romance lost its sparks, and they broke up. Though Aaron first tried to deny it and said that it was just a joke, he later admitted to social climbing. Despite that, he still stands by the claim that he did love Jackson!
Get To Know Jackson Krecioch's Star Sibling:
Jackson Krecioch, who stands at the height of 1.68 m (5'6"), has six siblings, five brothers, Jacob, Joshua, Jonathan, Jorge, Joseph, Julian and a sister Katherin. Among them, one enjoys stardom as much as he does.
His sister, Katherine Krecioch, is famous for her lip-syncing on musical.ly; more than 180k followers dig her on the social media platform.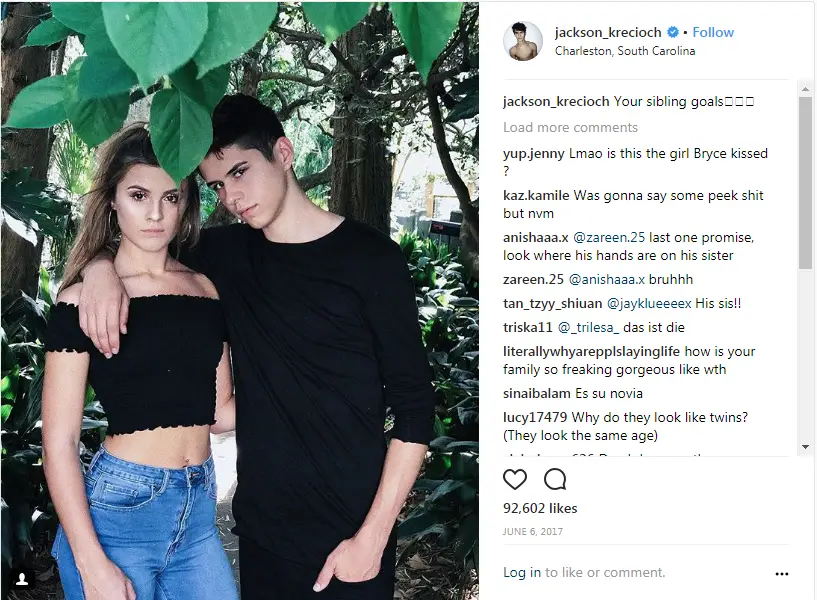 (Photo: Jackson Krecioch's Instagram)
The brother-sister duo, not just shares a strong bond but also a facial resemblance, don't you think so?
Express your views in the comment section below!