Entertainment
Jacob Hoggard, Divorced With Wife of 4 Years, Amazes Us With Splendid Net Worth!
Singer and songwriter Jacob Hoggard have been eminent with his world famous songs. His stardom is rising in many different countries around the world, and so is his fan following and popularity. Like his professional life, his matter of personal life is also of concern to many of those fans. Let's know what is going on in Jacob's life recently.
We are curious Jacob, just like your fans
@JacobHoggard you tweet so much for a man who should be having relations with his girlfriend and drinking beers

— marlee (@MarleeKonikoff) January 28, 2015
I'm saving myself for Divorce

— Jakey No Fakey (@JacobHoggard) March 6, 2014
Divorced With Wife of 4 Years; Gay?
It is a well-known fact that Jacob got married in 2005. He was known to be with his partner Tammy Hoggard. But they soon got divorced in 2008 after five years of marriage since their relationship didn't work out as planned. Currently, he is said to be dating his girlfriend, Kari Erlendson.
When searching for his partner Tammy, we also came across several male pictures that may suggest Jacob as a gay man.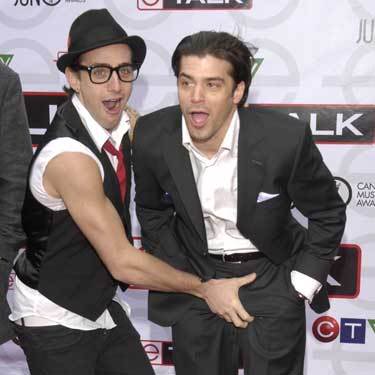 Caption: A friendly gesture during one of Jacob's music launch event in 2014.
Source: dreamwidth.org
His rumored gay status has never stopped the numbers of women proposing him. Many want to be his next girlfriend:
It looks like he has many girls as friends. Yes, Girlfriends
Amazes Us With Splendid Net Worth!
Having released six albums till now, his latest one "Hello," was released in 2015. The album earned a good profit. At 32 years of age, he has got a net worth of 1.5 million US dollars (estimated), which implies that he has enjoyed a lot of success.
More about Jacob:
Although his fame shoots high because of his solo performances, Jacob is also known for his musical band "Hedley" which he formed with his high school mates. The band has been performing and recording in Canada. It is associated with Universal Music Canada and also Capitol Records.
Jacob was also one of the three finalists in Canadian Idol, 2004.
Jacob Hoggard talks about life on the Tour and more
Jacob talked about his personal life and his work before and during his tours in an interview with Toronto 24 Hours. The energetic singer talked about how he likes to work out and get super hyper before his tour, but a week ago, he cools down and relaxes himself to prepare for the jigs.
" I just sort of go really hard and run a lot, hike a lot and bike a lot, and really get myself into top physical shape for tour. The week before we start, when the gear shifts off, almost feels like a boxer a week before his fight. He kind of stops training heavily and just sort of cools it for a second, and just kind of keeps a light regime going."
When asked what he does in between tours and when he isn't busy for his events he replied with,
I like to read a lot. I really try to find the balance early on because it's really easy to get on tour and be like, 'I'm going to do all this stuff. I've got all this music to record.' And so, I think over the years, I've really found the balance in the longevity, or at least the longevity in the balance. And so, for me, I don't rush it too much. And the show is essentially cardio for two hours every night and I don't necessarily sit still for the two hours. Physically, it's a pretty extreme. I kind of just watch my diet and spend my downtime being creative. And I do that by almost forcing my environment to be creative. So our dressing room is catered to a musically creative environment. We always have little mini-studios set up and it's really quiet.
He also talked about how he is involved with the Filmmaking of Hedley's video and even plans to try his hand in Filmmaking someday. A movie produced by one of the most eccentric song artists Canada? Cannot wait!
He furthermore talked about the importance of fitness and healthiness in his life and that while he may not be a fitness nut, he likes to watch himself and ensure that he is as energetic and healthy as ever.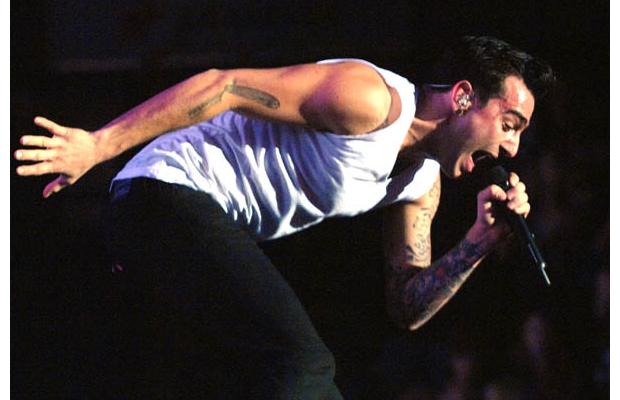 Caption: Jacob Hoggard live at the Brandt Center in Regina on March 30, 2010.
Source: Leaderpost.com
Jacob's Short Bio:
Born on the 9th of July, 1984, as Jacob William Hoggard, he was raised in British Columbia, Canada. From an early age, he was showing a deep interest in music, and by the age of 4, he had already started to learn piano from his aunt.
At the age of 12, he was a successful guitar player. After graduating from Senator Reid Elementary School, he started to pursue his career in music. As of 2016, he and the band have been performing around Canada. Jacob, the front man, is being considered the band's sex symbol.
Caption: Jacob Hoggard - I Don't Want To Miss A Thing, Canadian Idol, 2008
Source: IdleAmerikann