Entertainment
Jacob Sartorius Reportedly Budding Dating Affair! Meet His Possible Girlfriend
Jacob Sartorius Reportedly Budding Dating Affair! Meet His Possible Girlfriend One of the famous social media sensations, Jacob Sartorius, is reportedly on the run to stretch headlines on young love; as he is budding romantic chapters with "Stranger Things" star, Millie Bobby Brown.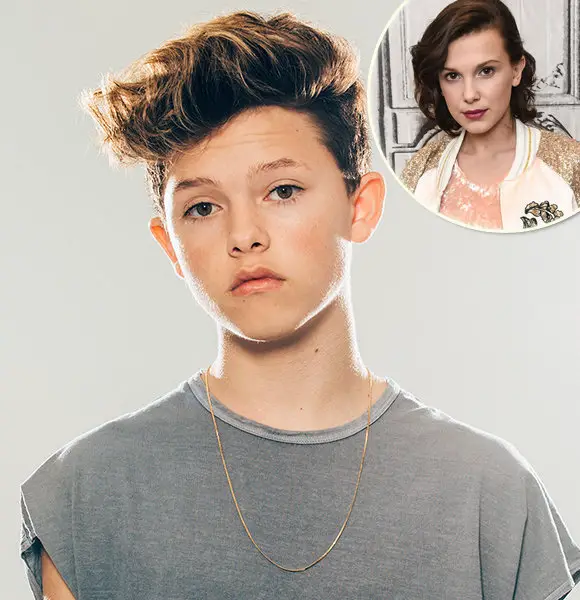 Well, you don't have to wait for another love story this  2018 because a delightful girlfriend-boyfriend relationship is early on the horizon.
One of the famous social media sensations, Jacob Sartorius, is reportedly budding romantic chapters with one of the"Stranger Things" stars. 
Best known for his singing talents, Sartorius' dating story seems to be hurdling from rumors to actual young love, creating a confusing yet beautiful tale in between.
If you're inclined to witness Jacob Sartorius' new love story, then you should probably give this post a whirl!
Jacob Sartorius' Dating Story: Embedded on Instagram and Twitter!
2018 has just stepped, and the online sensation, Jacob Sartorius seems to be planning to set the cutest relationship goals with English actress/model Millie Bobby Brown.
In early 2018, Jacob's rumored girlfriend Millie posted a photo of herself with a giant teddy bear. She wrote,'Thanks for the bear', adding a heart emoji.
However, fans might have taken it as an ordinary post if a shrewd fan hadn't found a 'devil in the details.'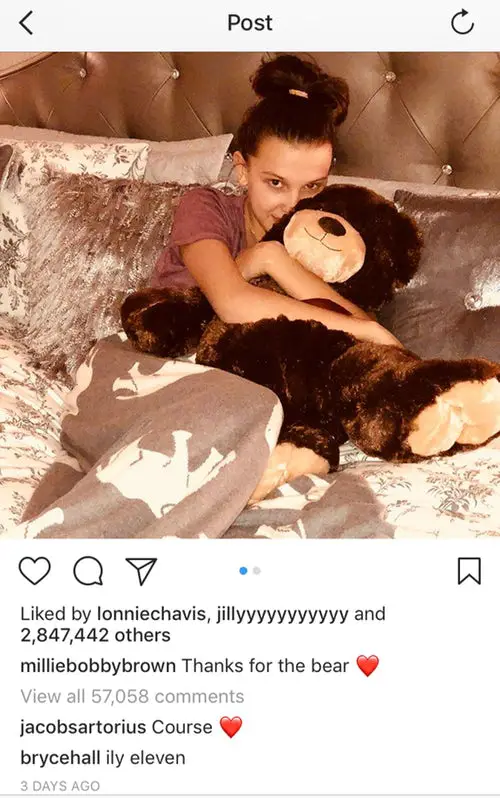 Caption - Jacob Sartorius' comment on reported girlfriend Millie Bobby Brown's Instagram post. 
Photo Credit - Millie Bobby Brown's Instagram
The rumored beau, Jacob Sartorius had commented 'Course', which hinted that  Millie was thanking him for the gift.
Early Love
Jacob is mysteriously dedicating all his tweets to rumored girlfriend Millie, even though they have not officially confirmed their dating status. 
Back in October 2017, Millie first uploaded a photo of the two together via an Instagram story. Since the incident, they have been throwing clues about their relationship on social media.
They have shared a lot of likes on each other's posts significantly. Also, Jacob has previously stated that social media posts likes are deal makers or breakers. In a Facebook Live interview, he revealed,
 "If I like yours, and then you don't like mine… it's like, it wrecks the chemistry." 
Later, on January 9, 2018, Millie liked one of Sartorius tweets. 
Bak in December 2017, both Jacob and Millie were spotted together at Florida located Walt Disney World, enjoying their time together. 
And, recently, Jacob was seen tweeting a cryptic post. Is he all in for a serious relationship? 

Jacob's past Dating Affairs
Jacob, the fifteen-year-old Youtube singer, who stands at the height of 5 feet 8 inches, was previously rumored to be dating the Disney Channel Star, Jenna Ortega, who played his love interest in the music video of his song "Chapstick."
Sartorius then denied the rumors stating that Ortega was not his girlfriend and they are just good friends.
Talking about their good chemistry to J-14 in November 2017, he said,
 "We're really good friends, and she's really nice. It was really fun to film the video. She's really nice, so we had good chemistry on camera and off."
Back in 2016, he was also rumored to be dating American actress Luna Blaise, who also appeared in one of his videos. 
Jacob's Professional Life
Sartorius made his debut online with a Vine video back in 2014. The video talked about anti-bullying.
Rising from the hit lip-syncing app, Musical.ly, he made a successful debut in the music world with his single "Sweatshirt" on May 3, 2016. His debut followed other songs like "Hit or Miss" "Chapstick" "Cozy." Recently, Jacob opened for The Vamps' Night and Day Tour.
Born in Oklahoma, Jacob's family consists his non-biological parents, who adopted him at an early age, and a sister, Caroline.
Caption: Actress Millie Bobby's reported boyfriend, Youtube singer Jacob Sartorius' expressing his gratitude to his awesome mom
Photo Credit: Jacob Sartorius' Instagram
Jacob has achieved great achievements at such a young age, thanks to the hard work on his part and continuous support from his family. They really were the support pillar who constantly encouraged him to achieve more. 
Well, his mom appears in his vine videos and also helps him to manage his social media.