Entertainment
Jade McCarthy Welcomed a Baby Boy in August 2015. Meet her MBA Graduate Husband And Their 2 Sons
What's the first sports channel that comes to your mind when we talk about watching sports on TV? Many of you might think of ESPN and why not? As it is one of the oldest serving sports channels in the television world. So now, you might easily recognize the person we are here to discuss today because she is a Sports anchor in your favorite sports channel.
You Might have already guessed that right? We are talking about Jade McCarthy, who currently serves as a sports anchor in ESPN. For your information, Jade McCarthy also worked as a host on NSEN Daily on NSEN.
Well, you won't find much information about her on popular sites like Wikipedia. So, yes, today we will do the job of Wikipedia for you.
Jade McCarthy is almost similar to every other television personality when it comes to her personal life. Not much is knows about her past affairs or what goes inside her family.
But, let's try our best to know as much as we can about the personal life of this beautiful sports anchor.
Jade McCarthy is married to Gordon Stead. Gordon Stead is an MBA graduate. He graduated from Babson College - Franklin W. Olin Graduate School of Business. Gordon is currently working as vice president at Gibraltar Ventures. He previously worked as a Director at Prudential Financial.
However, the couple got married in the year of 2008. Any further information regarding her husband is currently unavailable.
So, moving on, the couples were blessed with a baby boy on October of 2011. They named their son Mac.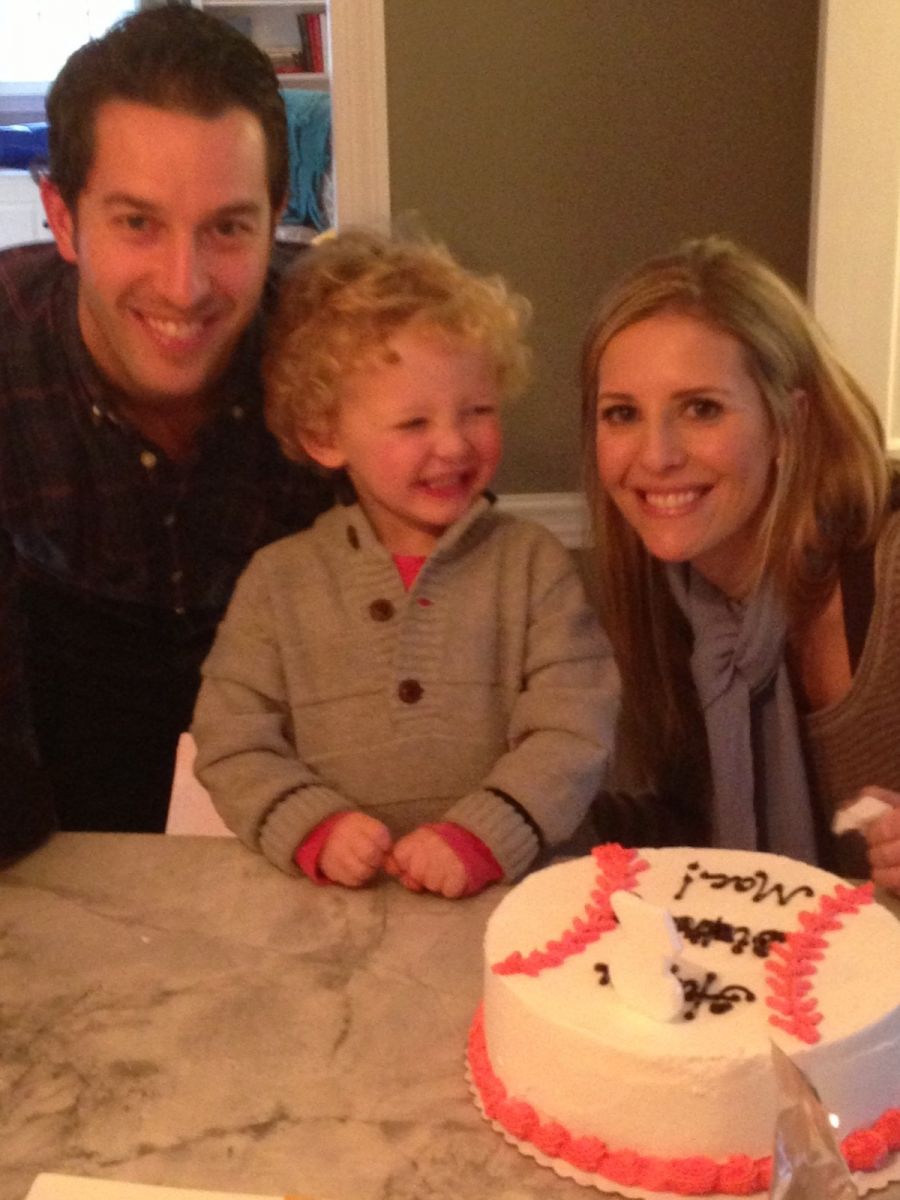 Jade McCarthy celebrating the 5th birthday of her son Mac with husband Gordon Stead in 2016.
Source: liverampup.com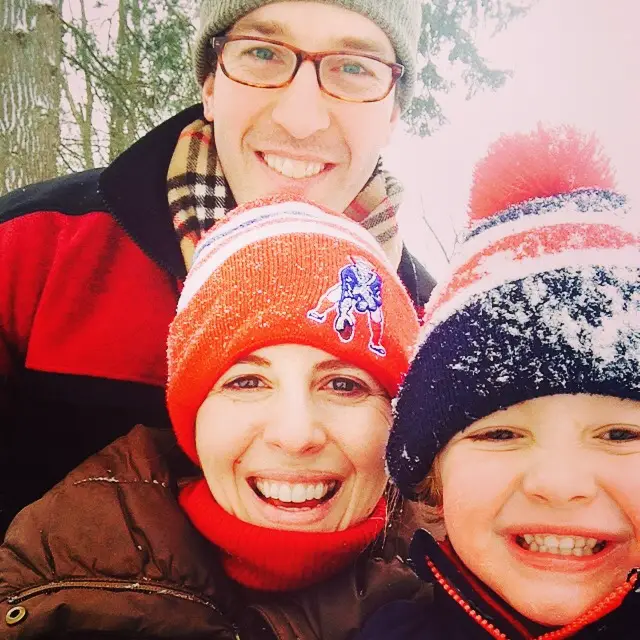 Caption: From right to left: Gordon Stead, Jade McCarthy and son Mac during snowfall.
Source: liverampup.com
In 2015, there was news that Jade McCarthy and her husband Gordon Stead were expecting their second child, but nobody was sure if that was true or not.
@JadeMcCarthy When were You going to call me to tell me and tell me your pregnant?

— Ackeem K. Duggan (@ackeemdugganPIX) June 28, 2015
It was until people began to notice the change in her body during her anchoring segments. Here is a video when she was pregnant with her second child and still delivering the news.
@JadeMcCarthy you are a beautiful pregnant espn reporter! You knock it out of the park. Thank you

— Chris Martinez (@3131761Chris) July 30, 2015
After some months, Jade McCarthy and Gordon Stead welcomed their second child who was a baby boy again, on August of 2015. Any further information about her second son is hidden from the media. Not even the date of birth is disclosed nor the name.
However, we did find a picture of the baby boy by following her on her Twitter account. Here, we have a picture of the baby boy along with his mother and big brother taken possibly by her husband Gordon Stead who's hand can be seen.
Moreover, Jade describes herself as a mom and a wife before mentioning being the broadcaster at ESPN in her Twitter info bar.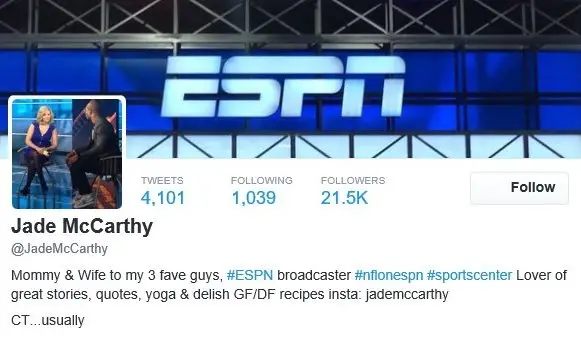 Caption: Jade McCarthy's Twitter info bar.
Source: twitter.com/JadeMcCarthy
With all these being said, we would like to add up a few more things. Jade McCarthy is happily living with her husband and her two sons. With this perfect family, we do not think that divorce will ever take place in their lives. There were rumors about the couple were to go through a divorce some years ago, but they are still together.
As always, feel free to correct us in the comment section below.
Jade McCarthy was born in Newton, Massachusetts on July 20, 1980. As a child, Jade rode horses competitively for almost ten years.