Entertainment
Jaime Pressly Reveals She's Expecting Twins with Her Boyfriend Hamzi Hijazi! Details
Jamie Pressly, who is popular for portraying the character of Joy Turner on the NBC sitcom My Name Is Earl, revealed the news about expecting twins with her long-time boyfriend, Hamzi Hijazi earlier this year in June. And now, she jokingly says that her baby boys look like somebody else's child!
The 'Mom' star recently opened up about her pregnancy with Entertainment Tonight and revealed the expectation of her birth to be more like an episode of My Name Is Earl, as one of the pictures of her babies was slightly distorted. 
"We literally just walked out of the doctor from getting an ultrasound, and one of the pictures was slightly distorted and I went, 'Uh oh, when we deliver, it might be a My Name Is Earl episode, because I don't know whose baby that is! We were dying laughing."
She continued-
"His face was smashed, because they don't have a whole lot of room in there, the boys, and so because of the smashed face, it looked like somebody else's child, and it was quite funny. I was like, 'Well, it isn't me... it could be a My Name Is Earl episode, you never know!'"
In an exclusive interview with PEOPLE, Pressly revealed that the news about her pregnancy was something astonishing as she and Hijazi, a shoe store owner, was trying to conceive a baby for quite a while.
Jaime said that she was even more shocked when she discovered that she is going to have twins, as twins don't run on either side of their family. She explained-
"This wasn't IVF or anything like that. It was just a shock, and I'm like, 'Doctor, that's impossible!' "
Pressly continued saying that she is feeling like her family is going to be complete.
"I've always wanted three kids and the older I'm getting, I'm like, 'Okay, maybe just one more would be nice. I was getting a little sad, but it was like, 'We'll give you two in one. You don't have to do another pregnancy.' "
Forty years old Pressly is already mother to a 10-years-old son named Dezi James, which she had with her ex-boyfriend turned fiancé, DJ Eric Cubiche. Dezi was born on May 11, 2007, at Cedars-Sinai Medical Center.
She even said that her son is very excited about the babies and constantly keeps kissing her belly. Furthermore, she revealed that Dezi wanted a sibling since he was in kindergarten and was begging new parents-to-be Pressy and Hijazi.
Pressly met Eric in the year 1996 and started dating him since 2004. They got engaged in October 2006, shortly after Pressly got pregnant. However, Pressly couldn't walk down the aisle to exchange vows with Eric, as they ended their relationship in November 2008.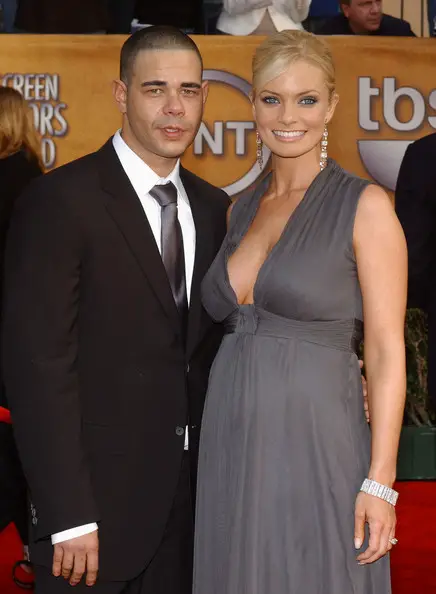 Caption: Jamie Pressly and her ex-boyfriend Eric Cubiche at 13th Annual Screen Actors Guild Awards in January 2007.
Photo Credit: Zimbio
Pressly then announced her engagement to entertainment lawyer, Simran Singh in July 2009, almost nine months after separating with Eric. They got married same year on September 26 at the Dick Clark estate.
Pressly didn't even enjoy the marital relationship for two years. She filed for divorce from her lawyer husband on January 21, 2011, citing irreconcilable differences.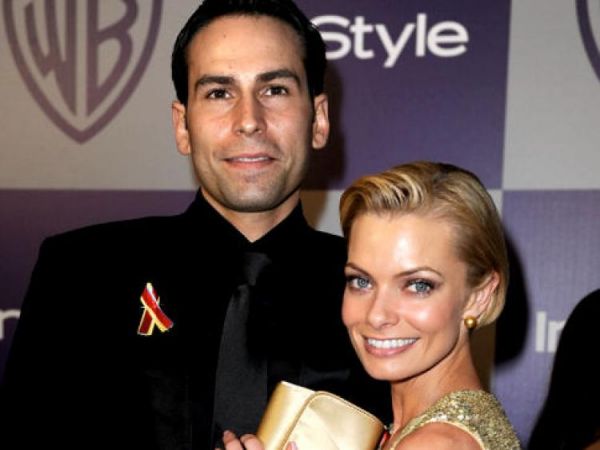 Caption: Jamie Pressly pictured with her ex-husband Simran Singh in January 2010.
Photo Credit: NY Daily News
Pressly has been dating Hijazi since 2011, and the two have been sharing a wonderful bond with each other.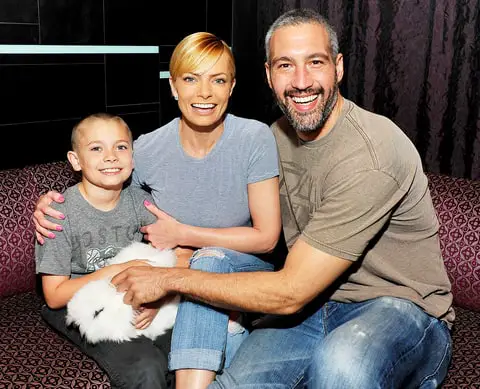 Caption: Jamie all smiles with her son, Dezi and her boyfriend, Hamzi.
Photo Caption: Usmagazine.com
We are sure that this couple will be wonderful parents to Dezi and their soon-to-be born sons!
Stay with us for the emerging updates on Jamie Pressly!