Entertainment
Jake T. Austin With Fangirl Turned Girlfriend – Real Life Fairy Tale
Better known as gay-vague wizard Max on 'Wizards of Waverly Place,' Jake T. Austin has made his real life a fairy tale by turning his girl fan to the girlfriend. Yes, it's true. Jake is dating a fangirl.
Want to know how? Have a look below!
Jake T. Austin Dating Fangirl:
Former Disney Channel star Jake is currently dating his fangirl, Danielle Ceasar, who stalked him for six years on Twitter.
It's not clear when the young couple started dating, but the star confirmed his relationship to his more than a million followers in December 2015 with an intimate Instagram selfie of the two kissing.
Jake also tagged Danielle in his post. "I'm crazy for her" declared Jake alongside a heart emoji.
Danielle, who made her Twitter and Instagram account private, began her persistent chase in December 2009. According to screenshots from the British tabloid Danielle wrote on her Twitter that she wanted to meet Jake badly.
Her persistence of over two years paid off when Danielle met Jake at a 2011 autograph signing in New York. Danielle then took it to her Twitter and shared a picture of their meeting and captioned it saying that his smile was so cute.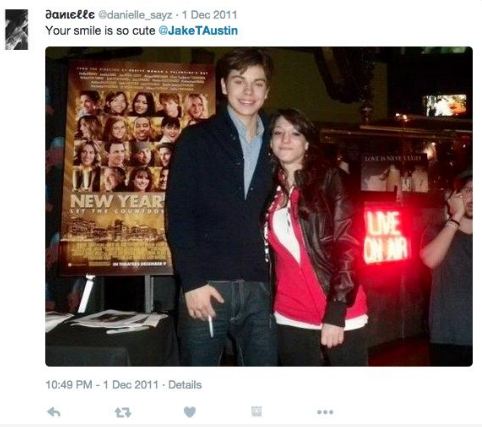 Danielle meets Jake at 2011 autograph signing in New York (Photo: capitalfm.com)
Jake allegedly followed her back on Twitter after that. Likewise, Danielle's online chase continued over the next few years.
When Jake stared in ABC Family's 'The Fosters,' every Monday Danielle tuned into her TV and would be smitten when she saw Jack in a beanie and appeared shirtless on the show.
According to Jake's representative, he downplayed the unique origin story in a statement. Jake also told Daily News in an email:
"We're young and having fun just getting to know each other. It doesn't matter how you meet someone- on set, in a coffee shop, at school, or in the business. Sometimes you connect with people at the right moment & you just click."
Danielle was the typical fan-girl for Jake like most of the girls in America. If you are curious to see Danielle's first tweet to Jake back in 2009, then have a look.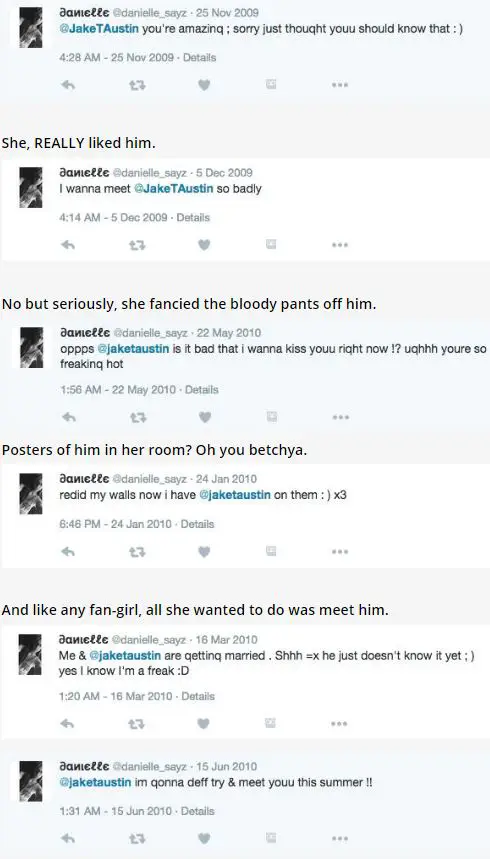 Danielle's tweet to Jake (Photo: capitalfm.com)
Likewise, both Danielle and Jack took it to their Instagram on November 2017, where they shared a picture together hinting it to be their two-year of an anniversary, against the backdrop of a beautiful beachside. Have a look.
Jake, Danielle share picture together on same day
It is a real-life fairy tale for both Jake and Danielle. As for now, the couple is enjoying a blissful relationship and a romantic life.
Jake T. Austin's Short Wiki-Like Bio
Jake was born on 3 December 1994 in New York City. Jake posses mixed ethnicity as he is born to parents from Argentina and Ireland. Jake's family owns a historic restaurant called 'The Clarksville Inn.'
Jake started his career through commercials in 2002, and after series of voice acting, he appeared in 'Late Show with David Letterman' in 2003. Moreover, his film credit includes 'The Ant Bully,' 'The Perfect Game,' 'New Year's Eve,' 'Tom Sawyer & Huckleberry Finn,' 'Grantham & Rose' and 'The Valley.'
Further, his television credit includes 'Johnny Kapahala: Back on Board,' 'Wizards of Waverly Place,' 'Happy Monster Band,' 'The Suite Life on Deck,' 'Law & Order: Special Victims Unit,' 'The Fosters,' and 'Justice League Action.'