Entertainment
Jamie Little, Pregnant With Second Child: Baby Prepping With Husband and Son
For parents, their children are everything to them. Some people are fortunate enough to witness the birth of their children more than once, and our NASCAR reporter Jamie Little is all set to welcome a permanent visitor. Let's find out.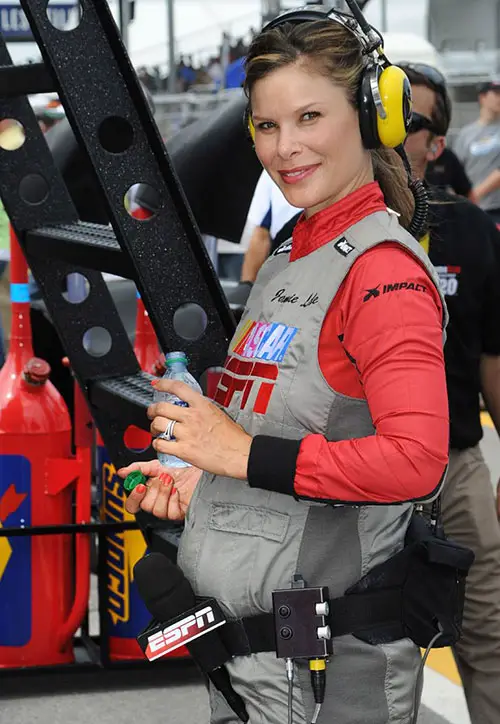 Caption: Jaime Little reporting while pregnant(2012)
Source: a.dilcdn.com
Recently, Jamie Little was seen moving around with a small bump of happiness and joy. Yes, she is pregnant with her second child with husband Cody Selman. On May 12, in an article written by Ron Kantowski, he revealed that Jamie Little was expecting a baby girl in October.
It looks like their son who is about 3 and a half years old will have himself a little sister in October.
She said,
"We tried for like a year and a half and didn't know if we'd be able to have a baby and then suddenly, boom, two days after the Daytona 500 this year, we find out we were pregnant."
She continued,
"We're having a girl this time, and the timing is perfect. When I was with ESPN, I had to travel to every race on the circuit. But now I just do the first half with Fox. I'm going to be home a few months before and a few months after (the baby is born), so it's going to work out great."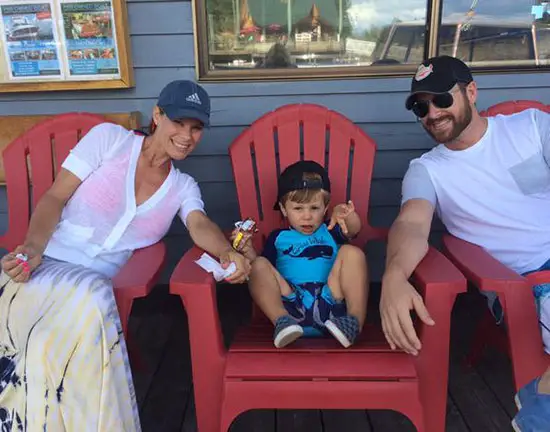 Caption: Jamie Litte with husband Cody Selman and son Carter Wayne Selman.
Source: playerwives.com
Now that the bump is clearly visible, everybody who takes a glimpse at her will know she is pregnant. In an interview with Babble.com in 2012, she had said,
"All women who get pregnant know that your personal life becomes very public, you can't hide it.".
Jamie Little with husband: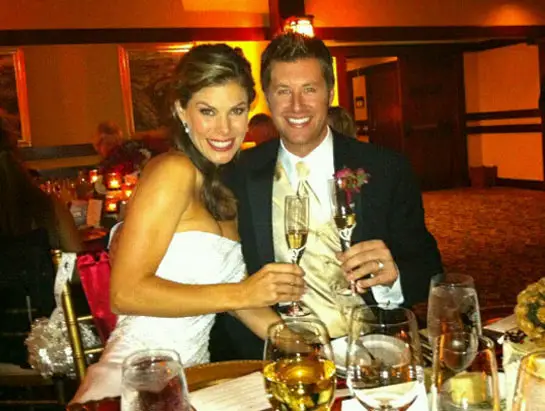 Caption: Jamie Little with husband Cody Selman on their wedding day on December 11, 2010.
Source: celebritybrideguide.com
Jamie Little is a wife to husband Cody Selman, who is a former manager of Kyle Busch. The couple got married on December 11, 2010, at the Lodge at Torrey Pines.
Cody had proposed Jamie in March with a self-designed ring. After the wedding, the couple went on a mini-moon and later went to Australia in January for their honeymoon.
Jamie Little did not see him:
On February 22, 2016, at the Daytona Beach, Jamie Little completely un-noticed the WWE Superstar John Cena as he was there to drive the pace car for one of the few NASCAR. Not only she did not see 6'1" wrestler who weighs about 251 lbs, but she also stood in front of him reporting about the events.
When she finally turned to the other direction, the ponytail hair she had that day, was whipped by John Cena's face.
Caption: Reporter Can't See John Cena, Slaps Him in the Face With Ponytail
Well, Jon got surprised with that sudden unpleasant greeting from the hair of a reporter. In a matter of seconds, Jamie totally redefined the catchphrase of John Cena i.e. "You Can't See Me".
Jamie Little's short bio:
Jamie Little was born on April 9, 1978, in California. She currently ages 38 years. Jaime is a 2001 graduate of San Diego State University. Before Jaime joined Fox in 2001, she spent 13 years at ESPN/ABC as a NASCAR reporter.
Jaime is more widely known for being an American pit reporter for the Fox NASCAR coverage. Recently, she covered the 58th running of 'The Great American Race', The Daytona 500, on February 22, 2016. She currently has a net worth (estimated) of $500 thousand dollars. However, her salary hasn't been disclosed yet.