Entertainment
Jane Krakowski Managed To Turn Fiance Into Husband After Welcoming A Son? Wedding That Remained Just In Talks?
Though our real life is not a fairytale love story, we can still find a perfect match for us without trying out a different person. Feelings may arise anytime and eventually change, but when you find a perfect person for you, no matter what you can't stop yourself from loving your so called partner.
The forty-eight-years-old American actress Jane Krakowski's love life can prove the above case very well. We know that she is in a relationship since a long time, and also shares a son with her boyfriend-turned-fiancé, but has Jane already married her fiance? Or is still to make him her husband? Stick around to find out!
Jane Krakowski's Euphoric And Blissful Relationship:
The Primetime Emmy Award nominated actress Jane has been in a relationship with a talented designer Robert Godley for a very long time.
She got engaged to her boyfriend, Robert Godley in January 2010 after dating him for more than a year. Jane's representative confirmed her engagement through a statement that said.
"Mr. Godley proposed to Ms. Krakowski over the holidays. She is very, very happy."
A year later, Jane Krakowski, who was mistaken as Judy Greer's sister after appearing in Tropicana's TV commercial, revealed that she is pregnant with her fiancé Robert's baby.
The pair welcomed a baby boy named Bennett Robert Godley on April 13, 2011, in New York.
On June 2013, Jane and her fiancé Robert were seen enjoying lunch at Balthazar in New York City with their two-year-old son Bennett, who later strolled on his tricycle with his parents.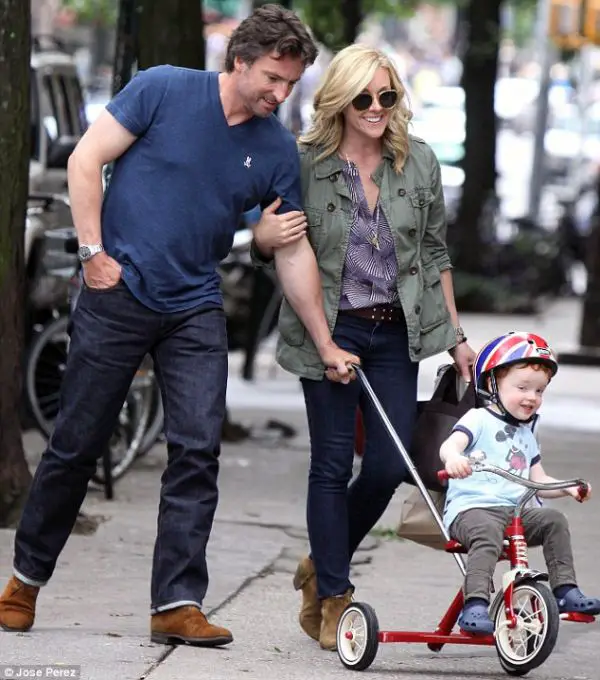 Caption: Jane Krakowski pictured with her fiancé Robert Godley and son Bennett strolling around New York on June 2013.
Photo Credit: Dailymail
Even after welcoming a son, the pair is not yet married. However, they have developed ideas for the wedding.
In September 2016, during an interview with PEOPLE, Jane welcomed her ideas for a wedding with her fiancé Robert Godley. She said-
"We're going to end up doing something that we both feel is great. I don't think either one of us came into the engagement with preconceived notions, so we'll come up with something good for us."
Jane continued-
"We've actually been enjoying hearing everyone's stories on what they do, what they did [for their weddings], and what they like and don't like, so it's good advice along the way. Now that's summer here, we might start thinking of and planning things."
She added-
"We're enjoying being engaged for awhile."
By this time, neither Jane's wedding nor the date of the wedding is announced. When some people take no any time to get married when they find their perfect partner, the people like Jane are no in a hurry to exchange vows.
It seems that Jane doesn't need to tie the knot to enjoy the relation of husband and wife.
However, we hope the pair gets married and leads a happy married life in the future.
Stay with us for the latest updates on the couple!