Entertainment
Janeane Garofalo Isn't Gay/Lesbian! Anecdote With Husband Of 20 Years Reflects
While most celebrities are open about their sexuality, some celebs remain private about it, and some fall the victim of the false rumors!
One of many celebrities who has been a prey to false gay/lesbian assumptions is an actress and Stand-up Comedienne, Janeane Garofalo. She has been in many tabloids as a rumored 'gay/lesbian.'
However, she doesn't belong to that sexuality; instead, she has a funny storytime to share with her fans that she was married for twenty years.
Well, keep reading as we unveil the funny story, as well as how Janeane dealt with the false gay rumors.
Janeane Garofalo And Gay/Lesbian Rumors:
Janeane Garofalo has faced many gay/lesbian rumors till date.
Although she has had to deal with such fake rumors, surprisingly, she is very humble to take it on a positive note. As per reports, Garofalo expressed that she instead takes it as a compliment and that it's not an insult,
"I take it as a compliment. It makes me far more interesting than an asexual atheist. If you want to imbue me with that – it's not an insult."
Well, despite the rumors, the thing that is certain is; Janeane isn't a lesbian!
Janeane Garofalo and Rob Cohen: A Marriage No One Was Aware Of:
Around two decades ago, Garofalo was romantically linked with her then-boyfriend Rob Cohen, who is a comedy writer and director. After dating for one year, they were in Las Vegas enjoying each other's company, and after several drinks, they got married 'as a joke' at a drive-through chapel in a cab. Little did they know, their marriage was all legal and real!
However, the amusing thing is neither Garofalo nor Rob were aware of the fact that they were legally a husband and wife until they met each other again at the reunion party of the 'The Ben Stiller Show' in November 2012.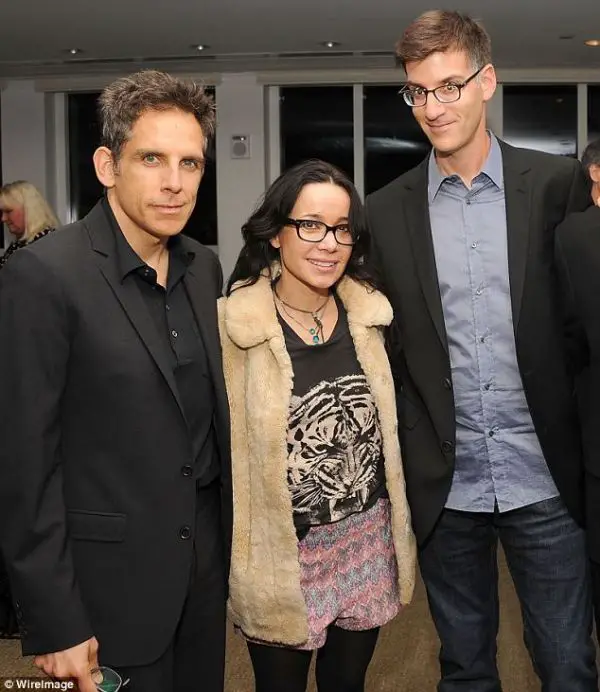 Caption: Janeane Garofalo (middle) and Robert Cohen (right) at the NY Comedy Festival Reunion along with Ben Stiller (left).
Photo Credit: DailyMail
During the event, they both found out about their two-decade-long joke. Garofalo shared her thoughts on the funny incident,
"Rob and I got married, for real, which we had to have a notary dissolve not 30 minutes before we got here tonight. We were married for 20 years until this evening."
She further added,
''We got married drunk in Vegas... We dated for a year, and we got married at a drive-through chapel in a cab. [We thought] you have to go down to the courthouse and sign papers and stuff, so who knew?."
But, they got a divorced, as Rob wanted to get married to his fiance, Jill Leiderman. Garofalo shared,
"We were married, and apparently now that [Rob] is getting married for real, his lawyer dug up something."
Garofalo tied the knot with her husband, Brody Tate in the year 2015.
Garofalo's Plastic Surgery Speculation:
Back in time around November 2014, rumors arose that Garofalo has had plastic surgeries done on her face. When Garofalo was seen walking around in the streets of New York City, there was a noticeable difference on her face.
She had plumped lips and a puffy face, which led the media to assume she had gone under the knife.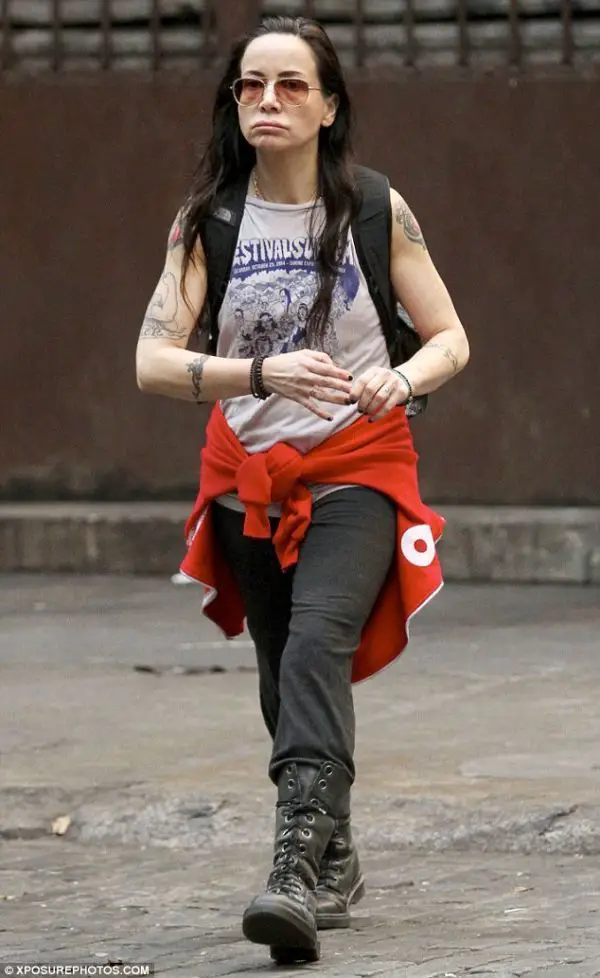 Caption: Janeane Garofalo, walking around NY city with a noticeable change on her face.
Photo Credit: DailyMail
Although Janeane is yet to confirm this particular assumption, it is known that she underwent a breast reduction surgery, back in 1984.
However, none of such assumptions and rumors help to deny the fact that Garofalo is a hard-working person who is very passionate towards her work. The 53-year old actress, comedienne, and writer has a long history of her significant works till date.
In a nutshell, she has appeared in more than 50 movies, like 'The Truth About Cats and Dogs' (1996) and 'The MatchMaker' (1997). Janeane has also appeared in TV shows 'The Ben Stiller Show' (1992) and 'Two And a Half Men' (2007).
Additionally, she has also been a part of some documentaries, like 'New York: A Documentary Film' (1999) and 'Sticky: A (Self) Love Story (2016).
Think we're missing something? Do let us know in the comment section below!