Entertainment
Janelle Brown, Mother of 6 Children, Repairing Relation With Sister Wife: Husband Searching For Fifth Wife
If you've watched Sister Wives, an American television series, which broadcasts on TLC, you would have definitely remembered about the drama which revolves around Kody Brown, his four wives, and their 18 children. Well, one of those four wives has been in the news for few reasons. What are they? We'll follow it up: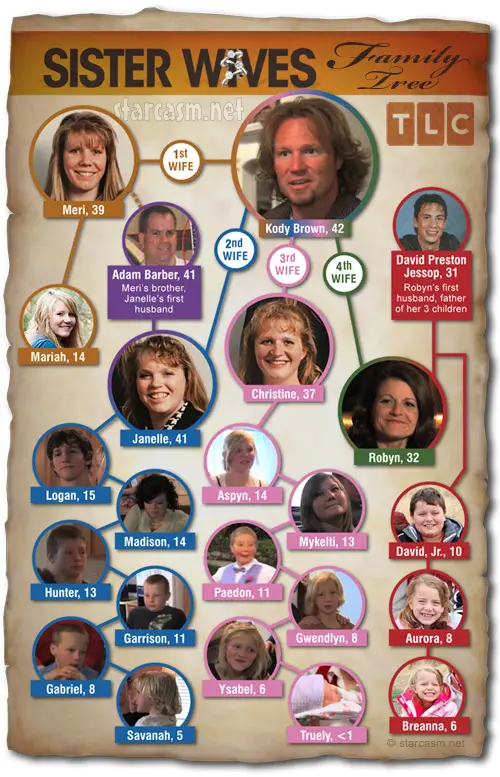 Caption: Janelle Brown and Sister Wives family tree.
Source: starcasm.net
Janelle Brown: Mother of Six Children!
Yes, she is Janelle Brown, who is an American reality star and wife of polygamist Kody Brown. Brown has six children altogether, two daughters and three sons. Daughters include Madison Brown, who married Caleb Brush in 2016, and Savanah Brown whereas sons include Garrison Brown, Gabriel Brown, Logan Brown and Hunter Brown.
Bad blood with Sister Wife:
Caption: Sister wives in a therapy season.
Recently husband Kody Brown's first and second wives, Meri and Janelle, were involved in some bad blood, and both eventually concluded that they are attempting to put their family before them.
Forwarding her perspective, Janelle said, "When I want to talk about something and you just shut down, I just think that you're not interested in what I have to say or you're not paying attention to me because you just sit there."
"You just sit there and you just blow me off," Janelle continued. "I really want to work this out, I really want to talk about these things but you're not even talking, you're not even willing to address it. You check out."
Meri also admitted that it was the exact way she feels
"I get really frustrated when she does and my wall will go right up," she says. "It's like, fine. I'm done."
In above video of Sister Wives, both Meri and Janelle took all their issues to therapy and looks like they are on the verge of solving it. Fellow Sister Wife Christine Brown couldn't be any happier.
"I'm totally excited they're going to go into therapy together," Christine Brown says in the clip. "For them, it's really exciting. It's good. It's a big, huge, scary step. It really is."
She adds, "There are so many relationships. When one is off, it really is off. It really makes everything off."
Kody's search for New Wife:
Kody Brown, who has four wives already, is seeking a new relationship. Well, he wants to add the fifth wife to his joint family.
"He's definitely seeking another wife," Robyn Brown's friend, Kendra Pollard, told Life & Style, while another source claimed:
"He's been looking for more than a year. He's wanted someone really young, like 19 or 20. And she has to be attractive and thin."
'Sister Wives' family are getting through tough times after Meri Brown's catfishing scandal. Will the addition of a new member to the family make it all well?
Kody's fourth wife Robyn Brown admitted during the family's Tell-All Special. She said, "That's OK if Kody chooses a fifth wife."
Caption: Meri talks about divorce
Finally, after five years of consideration, Meri filed for legal divorce from Kody. The reason for that was Kody's will to adopt Robyn's three children from her previous marriage. By the end of last season, Meri and Kody again concluded that they would continue their relationship.
Caption: Janelle Brown has uploaded series of videos as "Janelle Brown's Weight Loss Diary" on TLC.
Janelle Brown (born on May 6, 1969), is an American reality star. She is currently a star on the TLC series 'Sister Wives'. She is the second wife of polygamist Kody Brown, who has married four times. Janelle has four sons and two daughters from Kody. Their relationship has tickled more than 17 years. Kody has 18 kids altogether, and his net worth is that of $800 thousand.