Entertainment
Janet Mock's Dream Of Wedding Came True! Has A Supportive Husband She Never Thought Could Have Before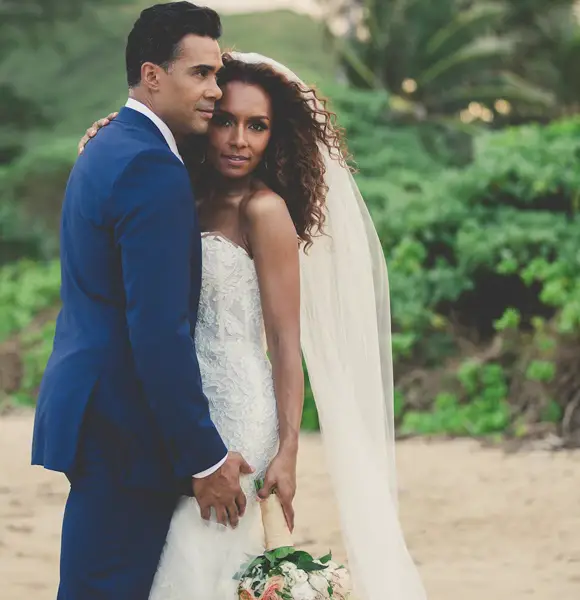 Every people dream of their wedding and have their unique plans for that, cause later or sooner one is supposed to get married. But in the crowd of daydreamers who have got distinctive plans for the wedding, here is someone who never thought of getting married. Someone who is a trans woman and so busy in her life that she believed she would never get married.
We are talking about Janet Moch, who believed that she would ever get married or so. But eventually, she did. She found someone who's so comfortable to eyes, and now she has exchanged the vows to spend the rest of life with him. Let's have a look at her life. 
Unforeseen Wedding of Janet Mock!
Being a trans woman at the very young age after going through sex reassignment surgery at the age of 18, Janet Mock thought that she cannot get married or get a husband who would actually want to be with her. But in due course, all of those happened to be in her head after she met the love of her life, Aaron Tredwell, in 2009.
The pair got along with each other for years. And after five years of dating, in 2014, Janet's boyfriend Aaron popped the question at their home. And of course, the response was a big "Yes."
The pair then took to snap to capture the memorable day and Janet shared the picture with her 100k plus followers on Instagram.
Later on 2015, the couple went on to plan their wedding ceremony, which was an unbelievable moment of Janet Mock, as she was not sure about the safety of the relationship about the transgenders like her.
But the grand day came on November 5, 2015, when Janet tied the knot with the love of her life, photographer Aaron Tredwill.
Short Wiki-like Bio Of Janet Mock:
Born on March 10, 1983, Janet Mock is the second child in the family. She was born to African American father and Hawaiian mother. She was the first from her family to go to college. However, before going for her higher study, she had to work as a sex worker to collect money for her sex reassignment.
The 34 years old author earned her Bachelor degree in Fashion Merchandising from the University of Hawaii at Manoa. Moreover, she completed her Masters in Journalism from New York University.
Being a transgender herself, the Honolulu native is also a transgender rights activist. Prior to her now career, she worked as a staff editor of People magazine for five years.
Similarly, she worked as contributing editor for Marie Claire. Janet Mock, who is also the author of the New York Times best-seller of "Redefining Realness," where she has written about her relationship with her husband, and all her words and quotes have been of great inspiration to many especially the transgenders.
Recently in June 2017, she published her second memoir "Surpassing Certainty."
Janet Mock talking about her new memoir on "The Wendy Williams Show." (Published on June 21, 2017)
The Past is past, and for now, we just like to wish the writer attains an immense height of success.