Entertainment
Jann Arden, 55, Married To Husband? Array Of Tweets Hint So!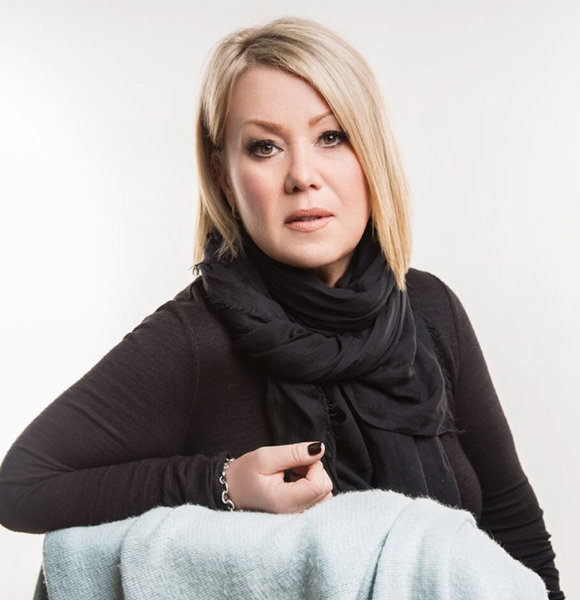 The Canadian pop singer Jann Arden is famous for her Platinum selling albums 'Time For Mercy,' 'Happy?' and 'Living Under June.' Her songs garnered a lot of attention and accumulated a lot of fans and followers, and her fans are wondering if the lady is married and is living with her husband?
If you are also a fan of the singer and are curious to know more about her, well today in this segment, we will take a short tour on the personal life of Jann and find out if she is married or not. So, let's get started!
Jann Arden's Personal Life
Jann Arden, who is also famous for her songwriting skills, seems to far from leading a marital life as no news about her marriage, or even dating has surfaced out in the media. Instead, judging by Jann's social media accounts, she seems to be single. Also, Jann is found joking on her relationship status via Twitter.
Moreover, there is also no news and not even rumors for Jann being in a relationship with anyone in her past as well. She has not been related with any man till date.
Regardless of Jann's love life being silent, she shared her desire to get married back in May 2012 and tweeted
I feel like getting married right now.
Once again in October 2013, Jann revealed her thoughts regarding her wedding and talked about her preference regarding a wedding ring.
 When I get married I hope I get an onion ring.
Besides the posts, Jann usually jokes saying that she doesn't have a husband. Previously in May 2014, Jann through her tweet said that she is excited to return home to her family and joked that "Midi" is going to be angry at her and her non-existing husband.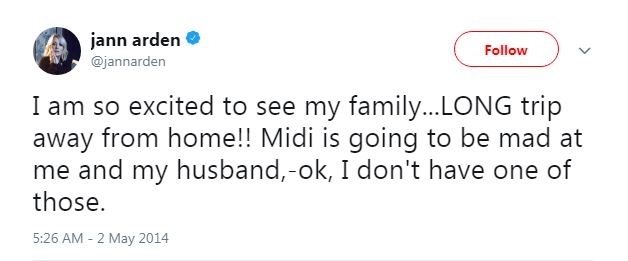 Jann mentions her non-existing husband in her tweet (Jann Arden's Twitter)
Well, Jann's tweet on husband and marriage has even made her fans question if she is eager to get married as she tweeted in that regard in July 2014.
I never went on my honeymoon- oh ya- I never got married
Furthermore, Jann through her tweet confessed that she forgot to get married but made soup.
@TheSocialCTV eating soup and watching the girls talking about marriage. I forgot to get married but I didn't forget to make soup.
Jann even jested on her Twitter by stating that she is going to marry Nick Norte back in April 2017.
Well, tomorrow I'm getting married to Nick Norte
Though Jann time and again mentions marriage and husband in her posts, she has never opened about her any possible dating life or even hinted at it. So, looking at the circumstances, it seems that the singer is not in a relationship with anyone. But who knows? She could be secretly in a relationship too. 
However, her fans have to wait until Jann opens up in the matter before arriving at any conclusion!