Entertainment
Jared Fogle's Wife Talks About The Moment She Found Out He Was A Pedophile;Finalized The Settlements Of Their Divorce
There is no any woman in the world who would accept her husband involving in crimes. She will either try to make him realize his mistake and ask him to correct them or she will leave him as she has no any options left behind.
Jared Fogle faces something similar. Katie McLaughlin, the ex-wife of former Subway spokesman Jared Fogle also left her husband Jared after she discovered him as a Pedophile.
Katie talks about the moment she found her husband a Pedophile!
In November 2016, Katie spoke with CBS This Morning where she revealed how she discovered her husband was a pedophile. In the interview, she said that she knew nothing about her husband until the FBI came their home on July 7, 2015 asking about his involvement in sex crimes against minors. She stated that she was shocked when they entered their house.
Caption: Katie McLaughlin's interview to CBS This Morning.
Right after discovering her husband a pedophile, Katie sued Subway on October, 2016 alleging the company knew of his 'depravities' since 2004. 
According to the lawsuit, subway knew about Fogle's "sexual interest in and activity with children" for at least three times but ignored it by not notify authorities and featuring him in ads.
Caption: Jared Fogle's recording revealed by Dr. Phill where we can hear him asking a woman to help him see girls naked.
Jared is now in prison as he was sentenced to sixteen years of imprisonment on November 19, 2015, for distributing and receiving child pornography and having sex with a minor.
Finalized the settlements of their divorce!
The pair who knew each other for ten years and then married in 2010 ended their relationship right after the issue. Six weeks after Katie knew that her husband was a pedophile; she filed for a divorce from her husband claiming a sole custody of their two children; 5-year-old Brady and 3-year-old Quinn. She filed for divorce on August 19, 2015, after her husband was pleaded guilty to the charges.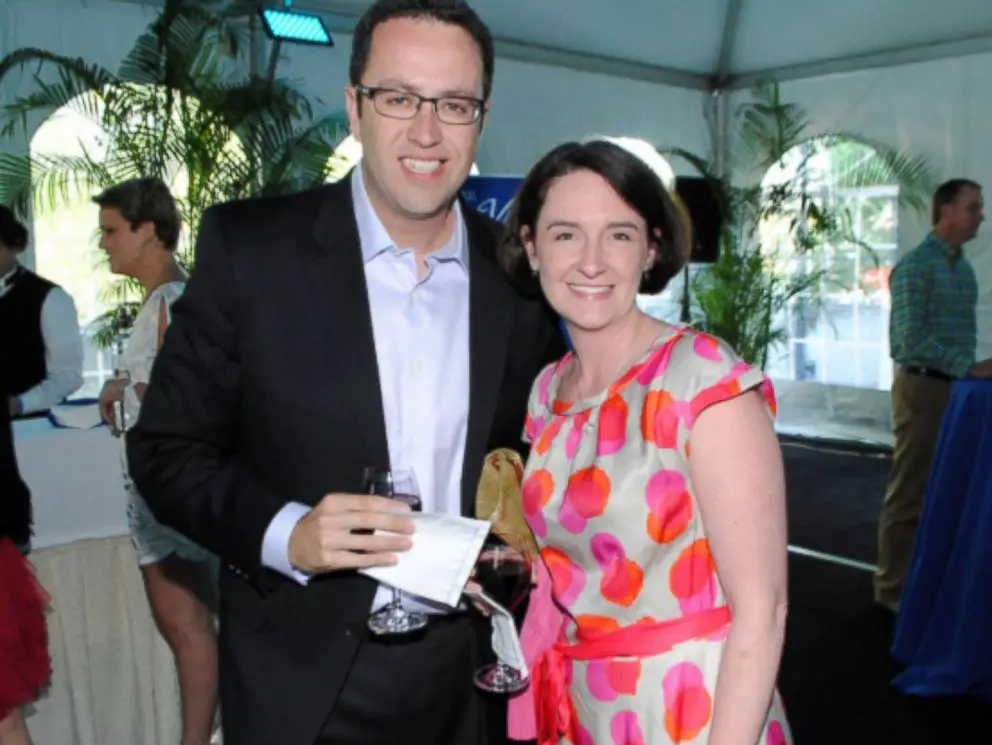 Caption: Jared Fogle and his ex-wife Katie McLaughlin together at an event.
Photo Credit:  abcnews.go.com
Jared who earned a wonderful salary from his profession which made the net worth of $12 million had to pay Katie $7 million. She was also awarded sole legal and physical custody of their children. 
However, Jared requested regular in-person parenting time during his imprisonment. Katie's lawyer denied the request stating-
"Father is an admitted pedophile and consumer of child pornography. The potential risk that Father poses to the children is both obvious and unacceptable."
Jared Fogle was previously married to Elizabeth Fogle from the year 2001 to 2007.
Similarly, the interview with CBS, Katie was asked whether she still loves Fogle or not and is there any anger for him?  She then replied-
"In my opinion, he took himself out of our lives and I -- I can't even think about him at this point in my life" "There's anger there, of course there's anger. I mean anyone would have anger for a person who was supposed to do nothing but protect his children."
Furthermore, she said-
"He had two lives going on. You know, he was home with the kids and I in one life and he was out on the road in a different life, and he was able to keep those two very separate in a way that I couldn't even fathom"