Entertainment
Jason Clarke Revealed Being Married; But Wife Is Flaunting The Real Surprise
One can't predict the future, and it is equally difficult to envision the progressive journey of the TV actors to the movie stars.
So, who was to say how high Jason Clarke would have soared? The fans of Australian TV shows know Jason Clarke from the series like Blue Heelers and Mercury. You might also have seen him in the drama Brotherhood as Tommy Caffee.
But Jason's career reached a new height after his well-praised performances in Texas Killing Fields and Lawless. Subsequently, his role as the C.I.A. operative in the movie Zero Dark Thirsty back in the year 2012 made sure his new-found fame was maintained and boosted.
Professional achievements aside, a question usually strikes in his fans' minds: is he married to his girlfriend who he has had a long dating affair with? The curiosity of his fans was not answered because of Clarke's highly private lifestyle. 
So, are you still lingering on his relationship status? Then, we must say, you have dropped to the right place!
Jason Clarke And His Relationship Status: He Has Another Surprise
Jason Clarke is better known for his plethora of blockbuster films in which he often portrays the role of the villains. But in his real life, he is different. He is often observed with his girlfriend, actress/model Cecile Breccia.
Jason and Cecile have been together since the year 2010 and share a three-year-old son. However, the privacy he had maintained over his love life made it impossible to confirm his marital status. Despite walking along with her partner, they had not disclosed anything about their relationship until 2018.
The reason for his secretiveness could be the statement he made in an interview with The Sydney Morning Herald.
"My career has worked out exactly how I like, and I am just happy to go to a coffee shop and nobody knows me or, when they do, they are complimenting me on the work they have seen and it feels very genuine."
However, the information about their relationship status is not hidden anymore. Jason and Cecile walked on the Red Carpet at the 2018 Screen Actors Guild Awards together and revealed that they are married, though the date remains a mystery.
In the award show, Cecile dared to impress the media with an intricate gown that showcased her growing baby bump. It's the most surprising news that the duo is expecting their second child and that it is a baby boy again.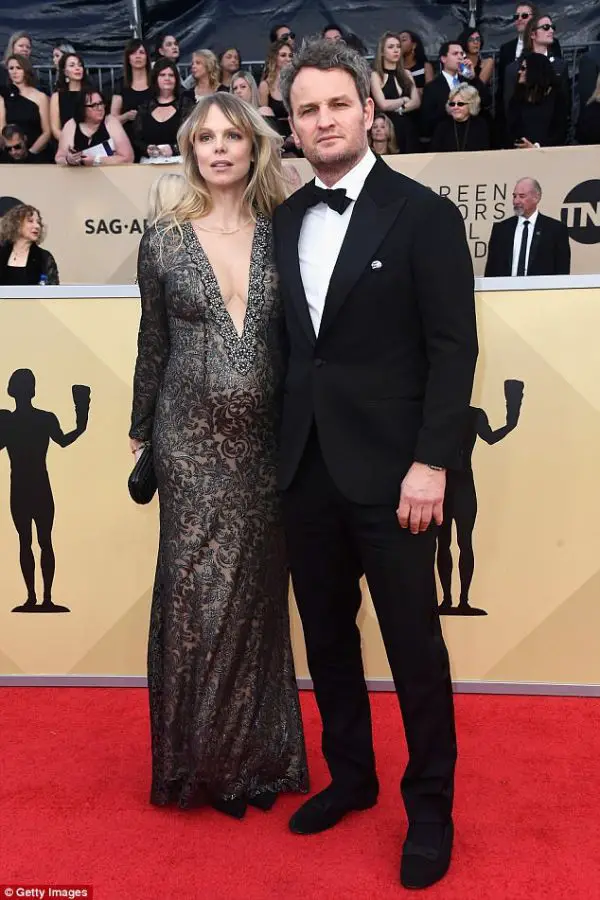 Caption: Jason Clarke and Cecile Breccia at 2018 SAG Awards
Source: Dailymail
More importantly, Clarke is a family man and finds time from his busy schedule to be with his loved ones. Jason was spotted stepping out at a farmer's market for a casual day out with his family in Los Angeles in 2016. 
The 49-year-old actor was observed taking a walk with the actress Cecile and their infant son.
If the information provided so far isn't enough, this one surely rules out the rumor that the actor is gay.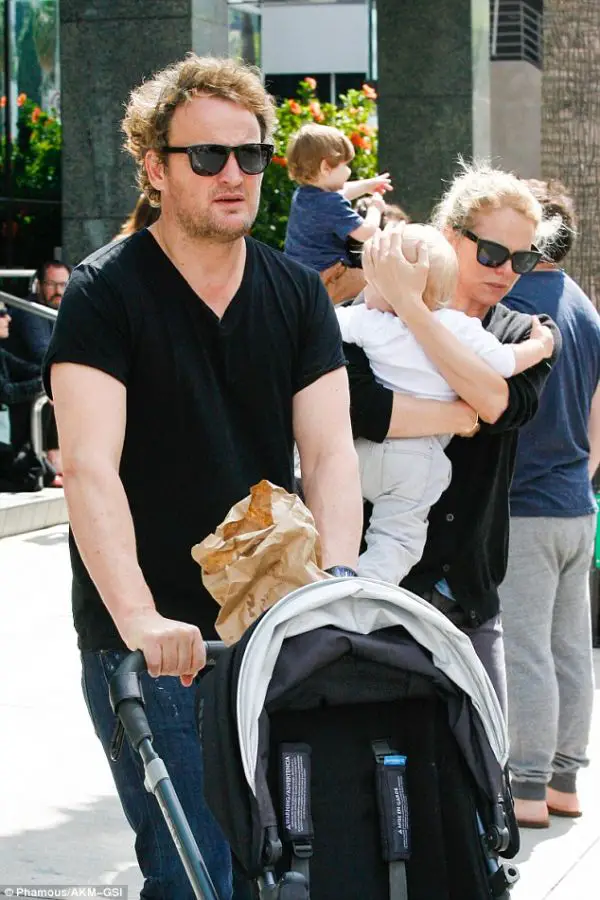 Caption: Actor Jason Clarke, his partner Cecile Breccia with their tot in farmer's mart
Source: Dailymail.
We're sure the two will make excellent parents to another bundle of joy that is on his way!