Entertainment
Jay Versace, Age 18, Funniest Impressionist, Amazes Us With Height of Popularity From Vines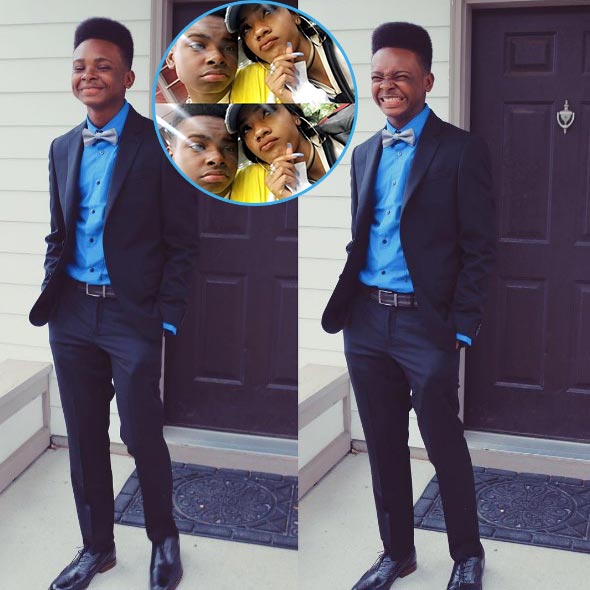 With the global reach that the internet has ensured, people with talent has been facilitated with ample opportunities to drive into the limelight. From singers, dancers to impersonators, the internet age has surely paved the way for the gifted ones to showcase their talents and shine globally.
Similarly, Jay Versace is a talented and has gain fame at such a young age. With the rise in fame, his fans desire to know every possible detail about their favorite star. So let's dig in to find out more.
Jay Versace- Already A Star at Teenage:
We all recognize that sweet little face of Jay Versace from the many vines and videos of him impersonating different R&B superstars. At the tender age of 18, Versace has accomplished so much more than any average 18-year-olds only can dream.
He has been posting videos of himself impersonating his mom or stars like Erykah Badu, Fantasia, Gucci Mane. Kylie Jenner and others. His impersonations have gained a lot of popularity so far.
With 3 million followers on Vine, 2.2 million on Instagram and 561k on Twitter, he has installed himself as one of the funniest online stars, surprising us all with the exceptional height of success he has achieved. Versace has been able to earn a substantial amount of money by sharing his funny videos and vines all over the social media sphere. No wonder, he is reportedly enjoying an estimated net worth of $700,000.
Caption: A compilation of vines by Jay Versace (Published on Feb 7, 2016)
As a class clown, he always loved making the students and people around him laugh. His family is the biggest source of inspiration for him, Versace feels proud that he could make his parents proud.
He explained in an interview with the Fader in July 2016, how the real situations inspire his skits based on his mother. His R&B skits were also inspired by his late grandmother and her love for classical music.

Caption: Jay Versace on his recent friendship with superstar Erykah Badu.
Photo Credit: thefader.com
The magnitude of humor and comicness in his videos is such that even American superstar Erykah Badu, 45, fell in love with them. It was a moment of surprise when he got a response from Badu herself when he posted a video of himself dancing to Badu's song "On and on" in June. 
And now they are best buddies.
This is How Their Friendship Started?
Does Jay Versace Have Dating Life?
Though Jay hasn't revealed his relationship status yet, it's a huge concern for his fangirls; he is seen posting a lot of photos with a fellow Vine star Summerella, raising questions from fans such as "is she is his girlfriend?" and  "Are they dating?."
Let's now explore Summerella and Jay's chemistry with the help of their social media interactions.
Summerella is so beautiful ????????????? — ????JAY???? (@JAYVERSACE) March 22, 2015
However, the answer to the question of their relationship lies within themselves only!
Jay Versace Comes Out About His Sexuality Via Social Media:
Jay Versace shared a photo via snapchat where he talked about his sexual preferences.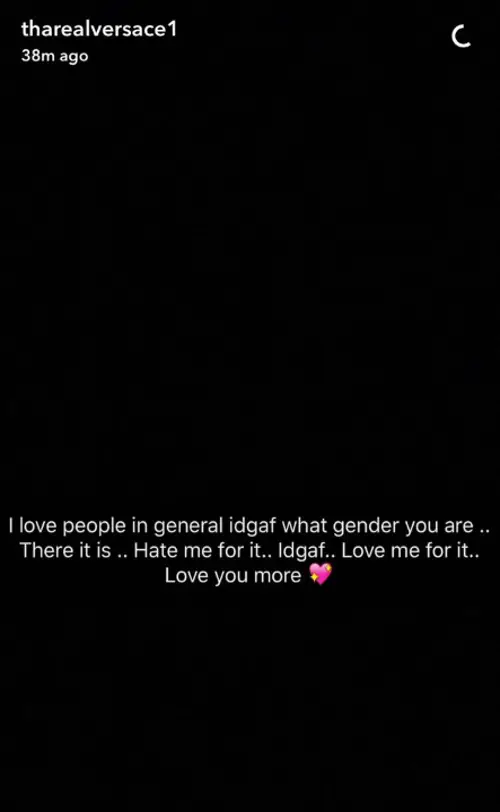 Caption: Jay Versace comes out about his sexual preferences via Snapchat.
Photo Credit: j-14.com
Not only Snapchat but he also confessed his feeling through Twitter on September 26, 2016.
Moreover, the feeling of coming out regarding his sexuality liberated him, and he even shared his happiness via a tweet. The emoticons on the tweet reflect his joy.
Comedy On Social Issues- Way to go, young man!
Apart from sharing funny videos and making everybody laugh their lungs out, he also shared some profound and meaningful life lessons, which as a teenager is crucial and yet hard to understand. That's one way to go Jay.
Don't do drugs, alcohol, edibles, nothing guys. It's lame — ????JAY???? (@JAYVERSACE) July 3, 2016
I cant hang with people in my city. they don't want to do anything with there lives but drugs, drama and sex i cant i rather Chase my dreams — ????JAY???? (@JAYVERSACE) April 12, 2015
Though Jay hasn't revealed his real name, he is known globally as Jay Versace; the name is inspired by a line from rapper Riff Raff's song which goes like "I'm feeding you Versace water from the fountain of life."
Jay Versace's Short Bio:
A New Jersey native, Jay Versace was born on January 24, 1998. He is widely known for his vines and funny Instagram and YouTube videos. He is very active on social medias, and you can follow him on Vine, Instagram, YouTube, Twitter, and Snapchat.