Entertainment
Jayne Secker, Married And Has Husband – Family Fun is Treat!
Jayne Secker, Married And Has Husband – Family Fun is Treat! The Sky News presenter, Jayne Secker, not only has a glittering career but also has a family to provide immense happiness. Jayne, the renowned reporter, and a TV presenter is living a joyous family life.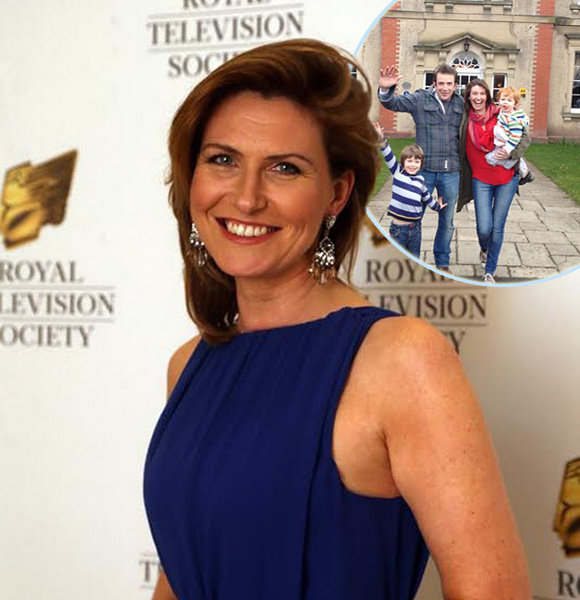 The Sky News presenter Jayne Secker not only has a glittering career but also has a family to provide immense happiness. 
Have a wish to know more about the joyous life of this brave reporter? Here are some of the things gathered up for you, so stay till the end!
Jayne Secker's Family Life In Bliss
Jayne Secker, who writes the travel column in The Daily Mail, is living a blissful family life. Jayne, who has a family of four, is busy visiting various places enlisted to her while writing an article about it.
Jayne takes her traveling adventure with her husband Dominic and two of her kids; Jake, who is ten, and Seb, who is seven. Well, if you have noticed, Jayne is seen mentioning her husband as 'Dom' or 'Dominic' in her articles. Nevertheless, she hasn't spoken much about her family anywhere else.  
Jayne has been successful in keeping her family life under the veil by only revealing the information she is comfortable in telling her readers, so no further details about her married life or kids have made it to the limelight.
Jayne, on her course of visiting different places, checks how suitable the place is for her children. The mother of two boys, Jayne is concerned for the safety of her children just like any other mother. 
While on her travel column, she sums up the pros and cons which are solely aimed at her reader's trouble-free trip. She puts in her suggestions while sharing the experience that her family faced during their visits to the place.
On one of her articles, she divulged about her travel to "The Elms" on the outskirts of Kidderminster with her family. In the article, she shared how the mini-holiday was worth it for her children who loved it.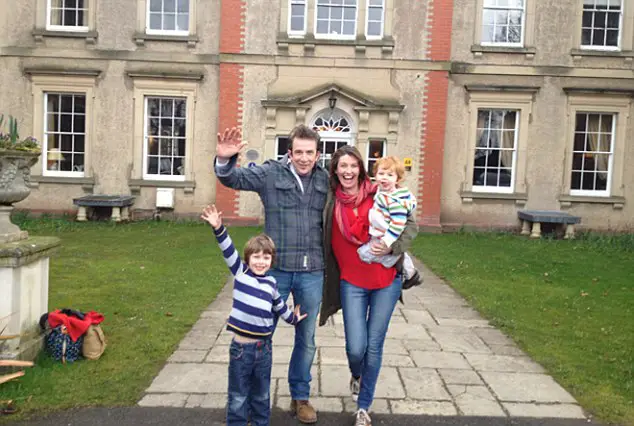 Jayne Secker with her family of four at The Elms (Photo: dailymail.co.uk)
Besides having fun with family, she even provided her readers the information about the hotels ranging from its price to contact details. She does observe everything closely, don't you think so?
Jayne Secker's Career
Jayne Secker, daughter of famous BBC presenter Kathy Secker, has her shining career just like her mother. Jayne grew up with a mum who was a real North East celebrity.
Her mother, Kathy had gone from being a model, 'the face of the North East,' to be taken up by Tyne Tees TV back in the 1970s. 
However, Jayne, who has not yet revealed her age, had her achievements as a journalist. Jayne gained her film and media degree from Stirling University. Since then, Jayne had her work experience in newspapers and radio in the North East. She first became a BBC trainee and then worked in Oxford and Bristol before joining Sky News in 2000.
Jayne worked at Sky for ten years as a foreign correspondent. Her notable works with Sky includes her live report from the Middle East, covering the Israeli / Hizbollah conflict, the death of the spiritual leader of Hamas, Sheik Ahmed Yassin and the withdrawal of settlers from Gaza, the Israeli election.
Adding to it, Jayne also covered the Iraq war. She was inside Iraq and Basra, broadcasting live for two-and-a-half weeks and away for two-and-a-half months. 
Moreover, in 2005 Jayne left to California for five months with a project to cover the Michael Jackson child abuse trial. By 2006, her life was on the front line taking its toll on Jayne's mental and physical health. Jayne had Post Traumatic Stress Disorder (PTSD) and had to counsel to deal with the trauma. 
However, after her time out, she returned to present Morning news programme on Sky. Along with it, she was up for the Week in Review Show. Moreover, Jayne also played an important role in anchoring Sky News' coverage of the Brexit referendum and numerous general elections.
Think we're missing something? Do let us know in the comment section below!